True Confession: As a Seeking Alpha contributor, I have a secret I can no longer keep. I make more money reading Seeking Alpha articles than I do writing them. I get countless tips on stocks, sectors, and ETFs as I plow through these pages each day (I am semi retired and work part time so I have plenty of time to read SA). And many have been profitable, both long and short ideas.
Not all of them work as well as Marc Gilbert's article on Elbit Systems. Since his Alpha Rich article appeared on August 19th, the shares (NASDAQ:ESLT) have jumped by nearly 18%. Ummm...can you believe this low beta stock (.75, according to Value Line) still sports a trailing P/E of just 12x? Can you believe earnings estimates have been raised recently by Yahoo and S&P?
Elbit Systems is a defense stock. That alone makes them controversial. Among their advanced technologies we must include drones, which makes them even more controversial. They are Israeli based which makes them vulnerable to the "Israel Discount" (a lower P/E given the persistent risk to that nation, given the vows by a few nations to wipe them off the map. No problem with that for Starbucks, right?)
It is hard not to slip into politics with Elbit though I'll try to do so. Instead, I want to focus on two things.
First, their very sharp spike in price recently. Has this made the company less attractive as a purchase?
What about the company's longer-term prospects?
To the first question: Perhaps investors in ESLT will suffer some short-term pain. The recent surge has brought share prices to the top of a trend channel that had often represented a selling point over the past year.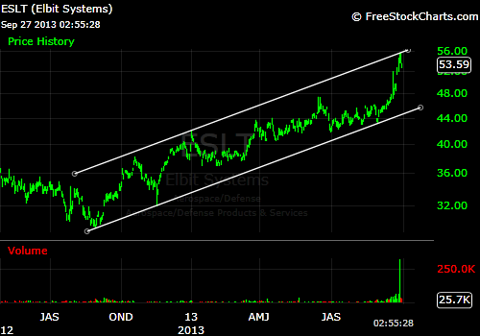 Source: freestockcharts.com
Investors would be wise to avoid using options on these shares to hedge or control risk: they are thinly traded and often mispriced.
Still, weakness is more likely to be an opportunity to pick up the shares at a great price. Trailing P/E still remains at bargain basement levels: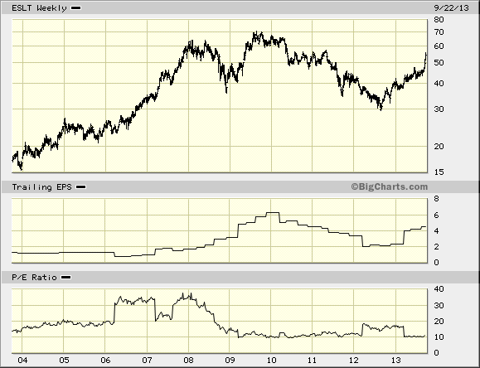 Source: bigcharts.com
Defense stocks can be cyclical and subject to the vagaries of Federal Budgeting processes. Yet here ESLT flies in the face of a government shutdown.
Revenues blinked briefly in 2010. What hurt was the decline in margins due to R&D and other expenses. Now back under control, gross profit percentages are back to the high twenties the last few years; operating margins are back to the mid teens; net profit margins back to high single digits.
Since then it has been onward and upward: Value Line projects 9% annual revenue growth the next few years. I suggest this is conservative. Why? Does the name Syria ring a bell? Did we want boots on the ground? For the first time since the 1960s, Washington listened when the people said, hell no.
No boots on the ground means missiles and drones in the air. Such advanced weaponry, and the command-and-control systems to wield them effectively, is the core of ESLT. I believe profits will swell far faster than 9% in the next few years.
But why listen to me? Earnings estimates are already rising: up 14% from earlier this year for 2013, 2014 revisions already up 7%, according to Yahoo Finance.
These shares deserve a market multiple of 16x. That, times 2013 estimates of $4.60 from Value Line gives you a price of $74 a share. Before the "defense cutbacks" and drawdowns in Afghanistan and Iraq, these shares commanded a cash flow multiple of 8.5x. Betting that Americans love drones more than boots, I'll apply that multiple to Value Line's $8.05 estimate for a target price of $70.
The $72 midpoint gives you a 35% gain from current prices.
And while you wait? Like many defense stocks, ESLT pays a nice dividend since many companies are in the doghouse. The current $1.20 payment provides a 2.7% current yield and is well covered. ESLT management does not practice a "slow and steady growth" dividend policy, however. Dividends have been cut in the past when cash flow has been squeezed: 2002 and 2010 are examples.
Disclosure: I am long ESLT. I wrote this article myself, and it expresses my own opinions. I am not receiving compensation for it (other than from Seeking Alpha). I have no business relationship with any company whose stock is mentioned in this article.
Additional disclosure: I will use the channel I draw in my article as a guide. I may pick up the shares outright, soon. I own ESLT in defense ETFs.