Misperception of value
The market thinks FAB Universal's (NYSEMKT:FU) market cap is ~160mm (according to Google, Zacks, Bloomberg and the company's own recent presentation), though when adjusted for preferred conversion, it's more like 330-390mm. This is because 250 preferred shares convert to ~20mm common shares today and the remaining 40 preferred shares should convert to another 7.5mm after next March. This alone implies the stock is 50-60% overpriced.
You might ask: doesn't the market know this is coming?
In perhaps the most deceitful and arguably fraudulent representation of the forthcoming dilution, management has been dramatically understating their diluted share count. If management is so deceitful or careless in their representation of their diluted share count - how are we to trust their financial statements?
From Fab's Sept 19th SeeThruEquity Investor Presentation: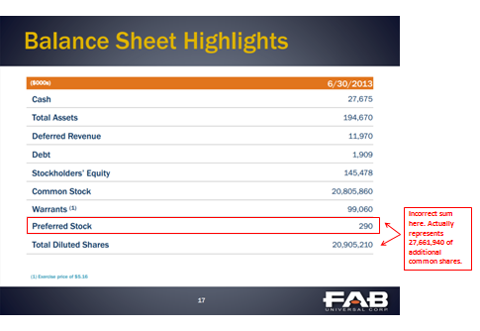 The "290" preferred shares which are summed into total diluted shares above actually convert into 27.7mm shares - 1.3x the current shares outstanding. Although the information is buried in filings, it is explained very clearly in the meat of the preferred stock documents and the footnotes of the latest Q.
Excerpt from preferred stock documents: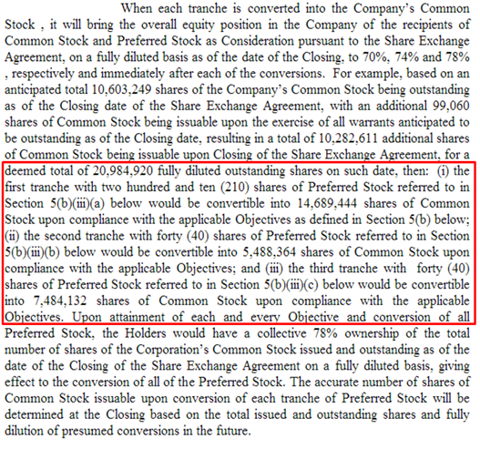 Excerpt from latest Q:

You might ask: Just because the company is misrepresenting itself - don't analysts and investors know better?
An alarming review of Zacks' recent research report would suggest otherwise. The EPS and valuation numbers on the cover of their report do not account for the expected dilution and are not footnoted. Remarkably this very material dilution is only mentioned superficially on page 15 of the report.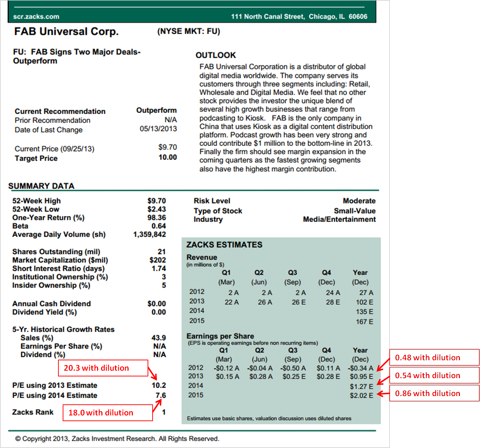 You tell me - does this belong on page 15?

Insiders selling
Since the beginning of the year, insiders have sold a net $2.3mm in shares at an average price of $3.80.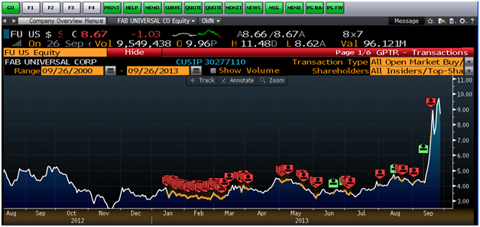 Massive overhang of existing and forthcoming converted shares
5.1mm or 29% of the float came off lock-up Friday and ~20mm shares (~1.1x the float) convert from preferred shares today. If insiders have been selling at an average price of $3.80, it seems likely locked and converted shares will similarly be puked into the market at now higher bids. Also this is pure conjecture on my part - but isn't it suspicious that management has become promotional right before the soon to be overwhelming controlling beneficial holders are able to sell?
Valuation: How do I get to $3?
Indicative:
Insiders sold $2.3mm worth from $3.00-4.00
Fundamental:
If we conservatively annualize last quarter's normalized free cash flow, we get ~25mm - assigning a generous 5x multiple to this dubious Chinese RTO +27mm in cash gets ~150mm. With ~49mm shares outstanding, that yields ~3/share.
Technical:
Before management's stock promotion, the price was $3.50-4.50 - now the cat is out of the bag, the valuation still rich, and insiders have 25mm shares to sell into a spooked market.
Conclusion
The prevailing information in the market greatly understates the company's valuation, there is a massive overhang of stock that may be sold into the market as it was previously locked or effectively locked, and insiders have overwhelmingly been selling. Add to this that the company appears to be facilitating misinformation into the market and it's a Chinese RTO.
Fortunately for stockholders and unfortunately for us, there is a short sale restriction on the stock. My only hope is that existing outside holders whack whatever bids there still are before Mr. Zhang Hongcheng and Mr. Ma Jiliang are able to sell their ~25mm shares (1.4x the current float and ~20x the last months average daily volume) into the liquidity of the NYSE they so artfully sought with their RTO and apparent hype.
I am unapologetically short FU.
Disclosure: I am short FU. I wrote this article myself, and it expresses my own opinions. I am not receiving compensation for it. I have no business relationship with any company whose stock is mentioned in this article.