J.C. Penney (NYSE:JCP) hasn't been doing well, but is this the end? Why is the enviable Goldman Sachs (NYSE:GS) recommending protection on its credit? Who would buy $800 million in equity last Friday? What is a reasonable valuation for a common share? The following piece will outline an argument to answer these questions by looking at Goldman's recent research, JCP's latest balance sheet, increases in borrowings, unaccounted for deferred tax assets, market value of real estate holdings and non-operating assets, as well as future catalysts for change.
The Smartest Guys in the Room
Goldman, Soros, Bass, Cuban, Glenview, and Shorts at $30 - smart bunch. What do these investors know that we do not. Let's start with Goldman's credit research report from Tuesday night. If you haven't read Zerohedge's coverage of the report, do yourself a favor and read their take on other side of this argument. Goldman's credit research team's outlook on JCP debt is negative. Setting an underperform rating on unsecured notes, and recommending a steepened 5 year CDS buy - Goldman sees JCP credit spreads widening. In layman's terms - don't buy their bonds, buy insurance on them. Why are they saying this? Liquidity issues. Their view is JCP has less cash on hand, or the current facility to borrow, than they will need to cover cash outflows. Although they don't currently foresee a bankruptcy, they do outline what they see as the possible result of one to current JCP security holders.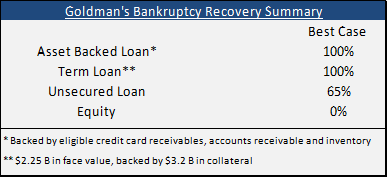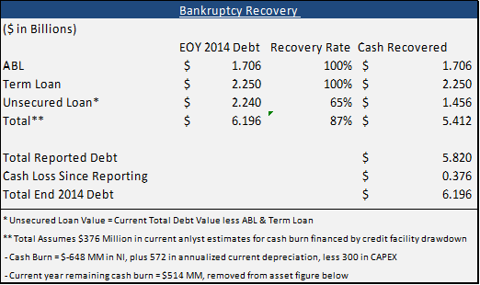 As you can see from that table, in Goldman's best case bankruptcy scenario, equity goes to zero, unsecured bondholders receive 65 cents on the dollar, and the collateralized holders receive 100% of face value. If Goldman's estimates are correct, they see only $5.4 billion recoverable in that best case bankruptcy. How much cash does JCP need to burn for that case to be realized?

If JCP were to file chapter 11, the company would continue to operate, and bondholders would be forced to restructure. To restructure, bondholders would effectively be saying that they will receive more than if the company were liquidated. It then makes sense to see a liquidation scenario for the lower boundary of the restructuring scenario. If the assets were liquidated, and sold at a discount, what would they be worth? From JCP's most recent 10-Q, you will find they have 111 million square feet in gross selling space with a book value of $5 per square foot. In a recent ISI report, floor space in malls JCP operates in, sells for $70 per square foot. Common real estate valuation practice is to discount this figure for obsolescence at 30-40%. Let's discount it 50% and say $35 per square foot. The following tables outline the resulting balance sheet adjustments.

As you can see, JCP would need to burn a lot of additional cash to necessitate a bankruptcy filing. This isn't to say Goldman's credit team was wrong, they weren't convinced an equity offering would take place, and were technically behind a Chinese wall. So if analysts expect JCP to remain unprofitable, who is buying the equity offering and why? Short squeeze. Of JCP's approximately 89 million in floating shares, 72 million were sold short as of 9/13/13 (finance.yahoo.com/q/ks). Meaning 72 million shares still needed to be bought back to complete the short trade. What's the best way to accomplish this? Buy into a dilutive equity offering, news of which causes the share price to tumble, allowing you to gracefully exit at a profit. Who else might want these shares? Vultures. Private equity, hedge funds, when there's blood in the water, there's a feeding frenzy. If one can conservatively value net assets after further years of loss at approx. $5 billion, and the current market cap is $2 billion, there is money to be made on acquiring those discounted assets.
To recap, by factoring in current analysts' estimates, and subtracting all forward cash losses from the balance sheet, we found both forward asset levels, forward liability levels to get to forward book value. Then by adjusting book value by assets which are either underrepresented or liquidatable, we found a figure of $5 billion in intrinsic value. Now we need to ask ourselves, if there is value there, how can it be realized.
Buyout Possibility
First things first, there is a poison pill which went into effect ending August of 2014. So if there is a buyer, they better bring flowers and ask Dad's permission. Will it be a PE play? Let's look at a simple LBO analysis.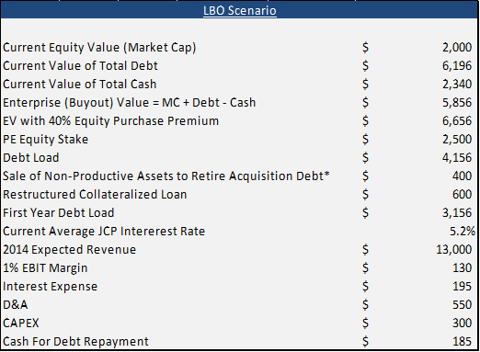 This analysis, although assuming profitability in line with competitors Macy's (NYSE:M) and Kohl's (NYSE:KSS), is well within the realm of possibility, especially for an enterprising private equity investor. Further, a bidding war could emerge, and a strategic acquirer could come into the fray or accept spun-off assets in an LBO. However, highly seasonal retailers such as JCP usually are not too attractive to stability minded PE shops. However, if JCP is as much an undervalued real estate play as it is a retail play, Blackstone's (NYSE:BX) interest may be piqued. On the other hand, Vornado also just exited. Could Blackstone's real estate/PE background be the necessary formula? These scenarios are still speculative and must be discounted as a possibility, but not a certainty.
Decision Time
What we do know. In a recent 8-k filing, JCP reported >10% year over year revenue growth online, and expects positive comparable store sales in the 3rd and 4th quarter of this year. Also, in a downside scenario where the company continues to burn cash, the current equity offering pulls in $800 mill (low end of the range), and the company needs to be restructured: the resulting assets would either be greater than the debt by ~$5 billion, or the company somehow burned more than 2.5X their current market cap (& 8X expected cash loss up to 2015) in cash in the interim. Further, we know that Goldman owns 1% of the equity, an undisclosed amount of term loans, and the option to acquire 12.6 million additional shares. At current forward month option prices, assuming a simple linear relationship between option price levels, this option is worth slightly over $3 million. Will Goldman leave that on the table? Additionally, if a PE firm can make 36% IRR at a 40% premium to Friday's close, without having to spin off core assets into a lucrative REIT like Dillards (DDT) accomplished, or use other feats of financial engineering, does that not suggest shares may be at a discount? If you could buy a dollar's worth of assets for 40 cents (as in the downside scenario), and potentially make 40% within a short time period in an acquisition, would you not want to?
Assuming you now want to play this long, what is the strategy? First, you can definitely expect volatility until lunchtime Tuesday. If Goldman decides to unwind warrant risk, both open interest and volume will tip you off in the option chain. Further, the stock may continue to see reverberations from the "30% diluting" equity offering late last week.
As a side note, look at this value dilution formula.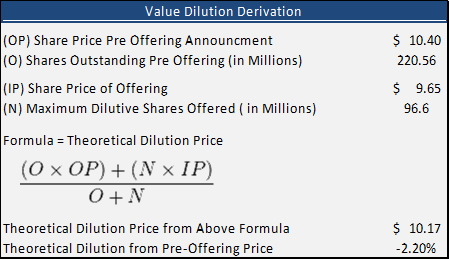 The dilution is lower here, and more accurate, than if you were to simply divide 96.6 Mill by 220.56 Mill. This is because when you issue equity, you receive something in return - cash. Although each share is worth a smaller portion of the company, the company is larger. For a more detailed explanation see here.
However, we should get back on topic. Barring new news (one can hope), this volatility should die out in the afternoon which marks the beginning of your opportunity. It is not advisable to put > 5% of your holdings in any one stock and that advice holds here. Further, you should spread buying over a couple days to mitigate micro term valuation fluctuations. If you want increased protection, at 5% cost, $8 October 19th puts seem attractive to mitigate short term prospective risk. October 19th call options exploded yesterday - very high volume and open interest. If you like to roll the dice and Goldman is still holding call options (and not selling into that demand) - maybe you should as well. Please stay tuned for updates, and comment below with any questions or concerns.
Disclosure: I have no positions in any stocks mentioned, and no plans to initiate any positions within the next 72 hours. I wrote this article myself, and it expresses my own opinions. I am not receiving compensation for it (other than from Seeking Alpha). I have no business relationship with any company whose stock is mentioned in this article.