Sprint (S) is moving ahead with a new strategy after its long-time, troublesome merger with Nextel. The partnership finally came to end after the Nextel network shutdown in June 2013. The month of July was quite busy for Sprint; it acquired Clearwire (CLWR) and was acquired by Softbank (OTCPK:SFTBF). In our last report, we discussed the potential synergies of two acquisitions that would help Sprint create a platform for the 4G technology in the U.S. Now with the help of Clearwire's spectrum and the financial muscle of Softbank, Sprint is strategizing to challenge the duopoly of AT&T (T) and Verizon (VZ).
It's raining iPhones
The most awaited launch in the smartphone market came on Sep 11, when Apple (AAPL) introduced iPhones 5s and 5c. In just three days post launch, it sold 9 millions of its new iPhones. With such record sales, Sprint launched iPhone 5s and 5c on its network on Sep 21. It rolled out its upgrade plan "One Up" to give users unlimited 4G speed and the option to upgrade their phones every 12 months. It is also waiving $100 from the price of iPhone 5s and 5c to lure new subscribers from rival networks, after losing many of its subscribers due to the shutdown of its iDen network and Clearwire's Wimax network. Nextel shut down in June 2013 since it was a slow and aging 2G network, and other carriers had already moved from 3G to ultimately 4G networks. Thus, Sprint is late in offering 4G wireless services, where the emphasis is more on high-speed and network coverage.
Wireless convergence: LTE coverage of Big 4 national carriers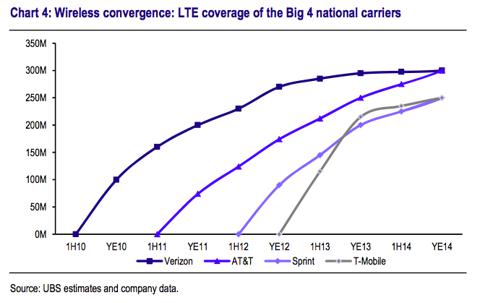 In order to compete against its rivals AT&T and Verizon, and keep up with the growing demand for high-speed data, it plans to expand its 4G LTE services in 34 additional markets, totaling 185 markets in U.S. wireless service market. In comparison, Verizon has over 500 markets, and AT&T has 400 markets. Softbank acquisition gave Sprint strong financial backing and advanced 4G technology. With the help of Clearwire's vast spectrum and Softbank 4G technology, Sprint will be able to build a strong 4G LTE network in the U.S. and compete against the market leaders.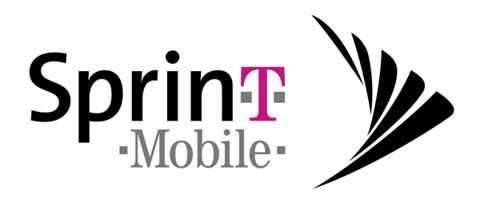 Why Sprint-T-Mobile is a bad idea
Amidst 4G expansion and iPhone launch, suddenly there are talks of a potential merger between Sprint and T-Mobile US (TMUS). T-Mobile CFO said that he expects more consolidation in the U.S. wireless market and sees a Sprint merger as an ultimate logical combination. CFO Carter said, "We think it's not a question of if but when that there's further consolidation in our industry."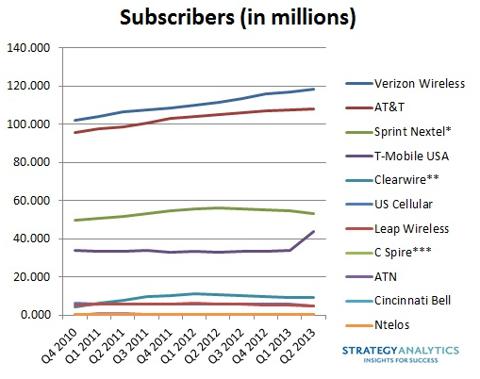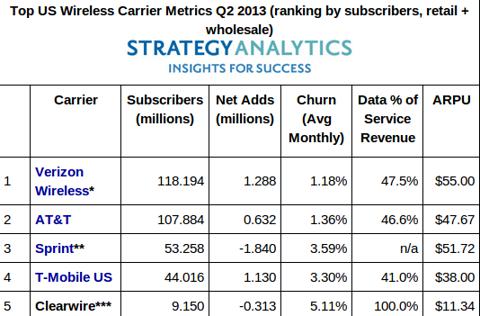 (Source: fiercewireless)
Sprint is currently the third largest mobile carrier with 53 million subscribers, and T-Mobile is the fourth largest with 44 million. Currently, AT&T and Verizon dominate the market; each claims twice as many subscribers as Sprint and T-Mobile individually. The merger of Sprint and T-Mobile would make the combined company at par with Verizon and AT&T, and could create a more competitive environment in the U.S. wireless service market.
On the other hand, it is unlikely that U.S. regulators would allow such a deal, indicating that the market needs four national operators to remain competitive. Back in 2011, they blocked the proposed sale of T-Mobile to AT&T for $39 billion. In addition, both carriers have different, incompatible networks; Sprint has CDMA while T-Mobile has GSM network. Last time Sprint merged two different networks, Nextel's iDen with its own network, the result was disastrous. It incurred significant expenses due to integration and technological problems. Therefore, a similar merger of these networks is likely to create integration problems, which will affect subscribers and ultimately its revenue.
Although Sprint has a larger coverage area than T-Mobile, it suffers in terms of speed and connectivity. Sprint has been expanding its 4G LTE network across U.S., but the deployment has been slow. One of the key problems in the slow deployment is the network infrastructure. Fiber-optic lines are used as a preferred connection for next generation networks. Installation of fiber optics has been a difficult task for Sprint. It didn't have problems earlier since it used 4G technology Wimax, which didn't employ fiber lines. However, the new 4G technology requires fiber lines, and its lack of infrastructure is creating all the installation problems. T-Mobile spent many years in ensuring infrastructure was in place to handle the new technology, and thus it didn't face any problems. Therefore, a merger between these two could be drag on T-Mobile and affect its quality of service and speed.
Dish backs off from spectrum auction
While the competition in the wireless service market is heating up, mobile carriers are upgrading their infrastructure to support their wireless services. The Federal Communications Commission, or FCC, has decided to auction off H Block spectrum on Jan 14, 2014, the first spectrum auction since 2008. H Block, or AWS-2 Block, is a 10MHz block of spectrum for providing wireless services in the U.S. Dish Network (DISH) and Sprint were the two main contenders for the H Block spectrum auction. However, Dish Network has indicated that it doesn't plan to participate in the auction due to regulatory requirements for H-Block, and will place a minimum bid of $0.50/MHz. This bid is not meaningful as the subsequent bids are likely to go beyond this amount.
The regulation attached to the FCC auction will prevent Dish Network from meaningfully participating in the auction. The FCC has mandated that DISH Network must cover at least 40% of the population in the areas covered with wireless spectrum within four years and 70% within 10 years or it would face penalties. If DISH Network fails to meet these requirements, they would lose the right to deploy broadband services.
Now that Dish has withdrawn its interest in the auction, Sprint is the sole bidder for H Block spectrum. Sprint already has a block of spectrum adjacent to H Block spectrum, given below in the figure. With the combined block of spectrum, Sprint could enhance its LTE network across the U.S. Customers had expressed dissatisfaction in their inability access faster speeds due to Sprint's poor LTE network coverage. The new spectrum will not only add more coverage but also improve Sprint's credibility as a wireless carrier.

(Source: dailywireless)
Bottom-line
Sprint may be well on its way to 4G roll out, but is still very distant from the market leaders. With the help of Softbank and Clearwire's spectrum, Sprint expects to have a dominant position in the wireless market in the coming years. Looking at the valuation of the company, it has negative EPS of $1.44, mainly due to the loss associated with the shutdown of its Nextel network. However, if we look at Price/Sales, or P/S, Sprint looks attractive with a ratio of 0.70 in comparison to Verizon's ratio of 1.15 and T-Mobile's ratio of 0.92. Sprint is aggressively targeting AT&T and Verizon with its promotional offers and unlimited data service, but it remains to be seen how quickly it will expand its 4G network and grab market share in order to show positive earnings to investors.
Disclosure: I have no positions in any stocks mentioned, and no plans to initiate any positions within the next 72 hours. I wrote this article myself, and it expresses my own opinions. I am not receiving compensation for it (other than from Seeking Alpha). I have no business relationship with any company whose stock is mentioned in this article.
Additional disclosure: Fusion Research is a team of equity analysts. This article was written by Rohit Gupta, one of our research analysts. We did not receive compensation for this article (other than from Seeking Alpha), and we have no business relationship with any company whose stock is mentioned in this article.