Shares of Post Holdings (NYSE:POST) ("Post" or "the company") are offering investors an attractive entry point after giving up 20% of its market value over the last couple of months. While an investment in a boring breakfast cereal business may seem a bit prosaic to some investors, this business should benefit from a number of recent accretive transactions and from renewed investor demand should market volatility ratchet up at the prospect of government shutdown fears, causing investors to refocus on defensive businesses.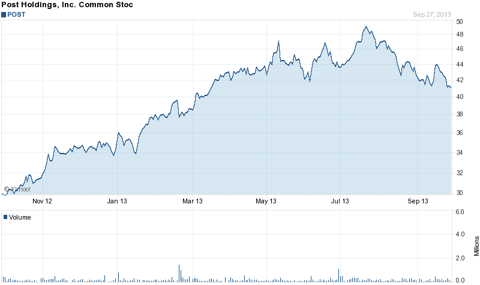 The Business
Post is a storied franchise in the United States, owning a collection of well-known cereal brands.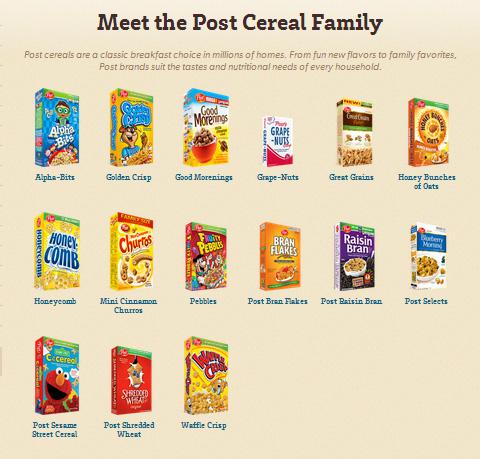 After Post's spin-off in early 2012 from Ralcorp [which was recently bought out by ConAgra (NYSE:CAG) for $6.8 billion], Post has begun to acquire numerous businesses, diversifying away from its core cereal brands.
In particular, Post purchased Attune Foods for $9.2 million which owns a collection of premium, non-GMO organic brands. I think the move was a stroke of genius as Post now has a platform to satisfy niche and higher end segments of the breakfast food market, including gluten-free offerings.
These sorts of smart acquisitions shouldn't be considered an abberation at Post. It's CEO William Stiritz is well-regarded as a terrific manager and value creator. He came over to Post in the spinoff from Ralcorp, where he had spent most his career creating value at Ralston Purina, part of which became Ralcorp (human foods) and part of which was sold to Nestle Purina (OTCPK:NSRGY) (animal foods).
Other recent acquisitions include Premier Nutrition Corporation ("PNC") and Dakota Growers Pasta ("DGP"), adding premium protein bars, vitamin supplemented juices and pasta to Post's collection of cereal brands. Collectively, the two deals cost Post $550 million but should add nearly $70 million in EBITDA. Moreover, it broadens Post's product offerings, and could make it more attractive to strategic buyers such as Kraft Foods (KFT), ConAgra, General Mills (NYSE:GIS) or a host of other strategic players interested in acquiring growth in a low interest rate environment.
Catalysts
While there isn't any firm-specific catalyst in place to push Post's stock quote appreciably higher, I do think that macro related fears with respect to a government impasse will make investors refocus their investment sights on defensive businesses.
Investors interested in the Post value proposition must ask themselves: "Will a government shut down have any impact on Post?" I seriously doubt it. People still have to eat irrespective of the goings on in Washington. If a haircut on Post's market value occurs as a result of a spurious connection to a government impasse, Post will only become a better buy, especially since it is run by terrific managers.
Secondly, we have already seen a number of acquisitions in the food staples space, including the Conagra/Ralcorp deal, and a number of recent Post deals. Now that Post is diversifying away from cereals and into other niche markets such as protein bars and pasta, the collection of Post brands may become increasingly attractive for other large food manufacturers. In the absence of significant improvement in domestic consumption and coincident with low interest rates, a leveraged buy out of this storied franchise may be on the radar screens of strategic or opportunistic buyers.
While Post shares look fully valued based on a 10.4x TTM EV/EBITDA, those numbers do not include the accretive transactions recently announced. I understand the PNC and DPG transactions should add $70 million in EBITDA this year, value which isn't picked up in the TTM numbers. I expect Post can generate roughly $300 million in EBITDA once the transactions are implemented and after certain restructuring activites are wrapped up at its plant in Modesto, California. If we apply a modest 10x multiple to a $300 million run rate in EBITDA (which is a discount to the 11x takeover multiple ascribed in the ConAgra/Ralcorp deal), it yields an enterprise value of $3 billion, suggesting 25% upside from the pro forma $2.5 billion enterprise value ($1.4 billion equity value based on 33.2 million fully diluted shares and pro forma $1.1 billion net debt after the PNC and DGP deals close).
Also, investors considering shares in Post should take a look at the mismatch between depreciation expense and maintenance capital expenditure requirements. Currently, depreciation far exceeds the capital expenditure run rate, obscuring traditional measures of value such as P/E ratios. Over the last reported six months through June 30, 2013, depreciation charges were $55 million, while capital expenditures were only $18 million. Once the PNC and DPG deals are closed, annual run rates of capital expenditures will likely increase, but I don't expect by much and which will be covered by those businesses cash generation.
Conclusion
Post looks undervalued here. It is a defensive business that will continue to compound returns for years to come.
Investors seeking safety in a turbulent market can rest easy owning Post shares. At a $1.4 billion price for a business that has been around since the late 1800's and led by a CEO with a demonstrated track record of value creation, this investment may be prosaic insofar as the investment deals in a boring business.
However, I think investors won't be put to sleep by the investment returns that will likely unfold as the Post story plays out.
Disclosure: I have no positions in any stocks mentioned, but may initiate a long position in POST over the next 72 hours. I wrote this article myself, and it expresses my own opinions. I am not receiving compensation for it (other than from Seeking Alpha). I have no business relationship with any company whose stock is mentioned in this article.