What drives bank valuation multiples? If investors are rational, then they'll pay higher valuation multiples for banks with higher expected EPS growth and higher expected return on equity.
The chart below shows valuation and operating statistics for the eight largest depository institutions by market cap with price/tangible book value per share ("P/TBV-PS") multiples over 2.0x: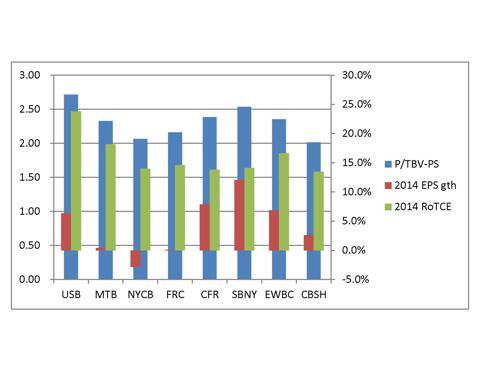 The blue bars measure P/TBV-PS multiples (the left vertical scale applies). US Bancorp (NYSE:USB) is the winner among the group, with a 2.71x P/TBV-PS multiple. Why do investors award it such a high multiple? Two related reasons. The red bars measure the expected growth in mean estimated 2014 EPS over 2013 (estimates are from FactSet, via SNL Financial LC), and the green bars approximate 2014's return on tangible common equity ("RoTCE") (the right vertical scale applies to both of these). USB has a "best in class" RoTCE of 23.8% and an attractive 6.4% EPS growth rate. That's a powerful combination. Hence the full valuation multiple.
Second-place Signature Bank (NASDAQ:SBNY) has a 2.54x P/TBV-PS multiple, nearly as high as USB's. Its EPS growth rate of 12.1% is "best in class", well above USB's, but its estimated RoTCE is only 14.1%, materially lower than USB's. SBNY's growth, although high, is worth less because it's relatively low margin. SBNY has less earnings to support future asset growth and/or pay dividends with. That's why the multiple differential between USB and SBNY is rational.
The other six institutions' RoTCEs range from 13.5% to 18.2%, with an average of 15.1%. But the EPS growth rates range from -2.8% to 7.9%, with an average of only 2.5%. New York Community Bancorp's (NYSE:NYCB) expected EPS growth rate is negative! M&T Bank's (NYSE:MTB) is only 0.4%; presumably the wild card here is whether MTB will close its acquisition of Hudson City Bancorp (NASDAQ:HCBK). First Republic Bank's (NYSE:FRC) expected EPS growth rate is only 0.1% At least NYCB's 6.5% dividend yield is a somewhat logical explanation for its multiple. FRC has no such explanation.
This chart tells me that investors care about more than EPS growth, and in some cases for logical reasons. How should that impact what metrics bank management teams focus on?
Disclosure: I have no positions in any stocks mentioned, and no plans to initiate any positions within the next 72 hours. I wrote this article myself, and it expresses my own opinions. I am not receiving compensation for it (other than from Seeking Alpha). I have no business relationship with any company whose stock is mentioned in this article.