Employment has been in the spotlight all this week, with the Bureau of Labor Statistics' employment report (a.k.a. the "big one") coming out on Friday. We all know more six digit job losses are in store for months to come, so even if it's "less bad" than the previous month there's not going to be anything to cheer about.
The staffing sector for instance has had a disappointing earnings season. Robert Half (NYSE:RHI), TrueBlue (NYSE:TBI), MPS Group (MPS), and Kforce (NASDAQ:KFRC) all reported soft third quarter sales, most of them decreasing from the second quarter or falling short of consensus. In n all five of Robert Half's major segments, for example, year over year comparisons weren't even "less bad", they were basically the same as the second quarter. Not only were the third quarter results lackluster, but check out their guidance for the fourth quarter:
RHI: $675.0 million - $725.0 million (down from $726.0 million in the third quarter)
KFRC: $216.0 million - $221.0 million (down from $228.0 million in the third quarter)
TBI: $240.0 million - $250.0 million (down from $285.0 million in the third quarter)
Although there's a little bit of seasonality built into the guidance, the fact remains that these companies are expecting to get fewer people hired than they did in the third quarter. That includes slow trends that they saw continuing through the end of the third quarter and into October. These types of announcements can give a little bit of insight into employment for the months ahead, and to some extent could be seen as a leading indicator. Back in the tech bubble days, Robert Half shares seemed to fall ahead of the actual unemployment rate, and also troughed before the peak unemployment.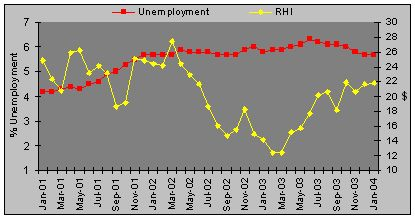 The moral of the story is that unemployment is showing no signs of abating for the time being. There is still a long way to go. Not only are job losses still in the realm of 200,000 per month, but even when those 200,000 job losses are eventually slowed to 0, it still generally takes upwards of 100,000 jobs created per month to take unemployment down.
In essence, we need to make a 300,000 job per month reversal, so the employment news is going to have to get exceptionally good for me to be at all optimistic about our country's situation. Although there is still some "stabilization" in jobs, one slipup in the economy and the numbers could start deteriorating again at the drop of a hat.