Arbor Realty Trust, Inc. (NYSE:ABR) shares were recently trading for about $7.60, but a recent selloff has created an ideal buying opportunity. With the stock now trading just below $7, there appears to be significant rebound potential and a chance to collect a high yield. Furthermore, a savvy investment billionaire likes this stock and a major investment bank also sees major upside potential from current levels.
This company is set up as a real estate investment trust "REIT", which focuses on investing in multifamily, commercial real estate-related bridge and mezzanine loans as well as in preferred equity and other real estate assets. It is based in New York and is externally managed by Arbor Commercial Mortgage, LLC. Since it is a real estate investment trust, it is required to distribute at least 90% of its taxable income to shareholders and that is why it offers a very generous yield of about 7.6%.
The reason the stock dropped recently is because the company announced a 6 million share secondary stock offering. In the second half of September, these shares were trading for around $7.60, and the secondary offering was priced at $7.08 per share. That means you can buy the stock for much less that $7.60 and even for a discount to the secondary offering price. This stock also looks cheap based on book value which is also $7.60 per share.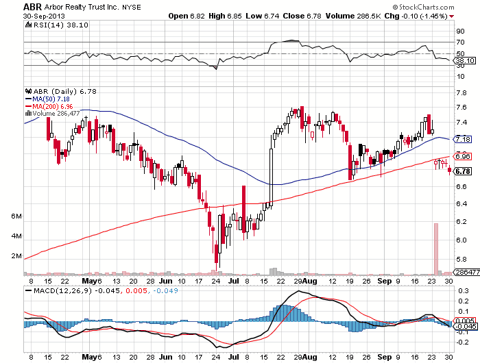 As the chart above shows, this stock has been in an uptrend recently. However, the recent secondary offering and the weakness in the market over concerns about a potential government shutdown has created a significant buying opportunity. The stock offers a generous yield and it could be poised to rebound back to around $7.18 per share, which is the current 50-day moving average.
Earlier this year, analysts at Deutsche Bank gave this stock a buy rating and set a $9.50 price target. The Thomson/First Call price target estimate for the stock is $9.25. That implies upside of about 30%, and investors can collect a yield of 7.6% while waiting for a higher share price.
Billionaire investor Leon Cooperman named Arbor Realty as one of his top picks for high income with growth for 2013, at the Delivering Alpha Conference. It's worth noting that all ten of his top picks for 2012 at this conference have been winners. Mr. Cooperman has an outstanding long-term history of finding bargain stocks that lead to big gains for his investors and himself. Following billionaire investors is a potentially savvy way to build a portfolio, especially when the stock offers such a great yield and significant upside in terms of capital gains.
With the secondary now out of the picture and the stock trading below book value and at a discount to the recent offering, the downside risks could be limited at these current cheap levels. One potential risk to consider with high yielding stocks is whether or not the dividend appears sustainable, and it does with Arbor Realty. The annual dividend is 52 cents per share and analysts expect the company to earn 57 cents per share this year and for earnings to grow by about 11% to 64 cents per share in 2014. That means the dividend appears sustainable and even poised to rise along with earnings in the coming years.
Here are some key points for ABR:
Current share price: $6.90
The 52 week range is $4.72 to $8.60
Earnings estimates for 2013: 57 cents per share
Earnings estimates for 2014: 64 cents per share
Annual dividend: 52 cents per share which yields 7.6%
Chimera Investment Corp. (NYSE:CIM) is another high-yielding stock that Leon Cooperman has selected as one of his top ten picks for the rest of the year. Chimera is a mortgage real estate investment trust. It invests primarily in mortgage securities and is managed by Annaly Capital Management (NYSE:NLY) through a subsidiary which is called the "Fixed Income Discount Advisory Co."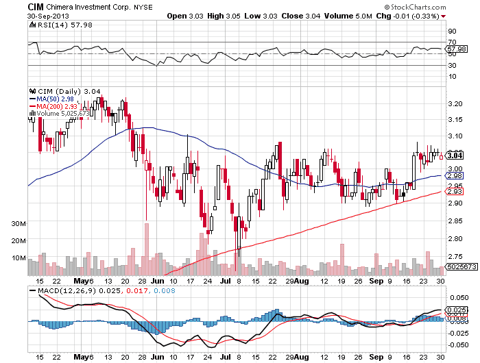 As the chart above shows, Chimera shares have been trending higher since hitting lows of about $2.90, in September. It is now trading just above $3 per share as investor concerns over the plans of a "taper" have subsided. It's easy to see why Mr. Cooperman likes this stock, especially as it has shown relative strength recently when compared to other mortgage REIT stocks. Furthermore, the dividend is very compelling with a yield of about 11.8%.
Analysts expect the company to earn about 38 cents per share for this year. With the annual dividend at 36 cents per share, the current yield appears sustainable, at least for now. Chimera will trade ex-dividend, for the quarterly dividend of 9 cents per share, on October 2, 2013. This dividend will be paid on October 31, 2013.
Investors in mortgage REIT stocks should consider certain potential downside risks. A big move up or down in interest rates could lead to volatility for stocks in this sector. Additional risks include Federal Reserve policy, and regulations on the status of REIT's, as well as potential secondary offerings. However, buying this stock on any weakness and keeping it down to a small percentage of your portfolio to limit risks, could be a rewarding way to collect a very big yield.
Here are some key points for CIM:
Current share price: $3.04
The 52 week range is $2.49 to $3.34
Earnings estimates for 2013: 38 cents per share
Earnings estimates for 2014: not available on Yahoo Finance
Annual dividend: 36 cents per share which yields 12.2%
Data is sourced from Yahoo Finance. No guarantees or representations are made. Hawkinvest is not a registered investment advisor and does not provide specific investment advice. The information is for informational purposes only. You should always consult a financial advisor.
Disclosure: I am long ABR. I wrote this article myself, and it expresses my own opinions. I am not receiving compensation for it (other than from Seeking Alpha). I have no business relationship with any company whose stock is mentioned in this article.