The SPDR Gold Trust (NYSEARCA:GLD) hit a brand new high yesterday. Indeed, the commodity is outperforming the S&P 500 in 2009.
Yet some investors confuse Commodity ETFs — investments that offer exposure to the spot price of a physical substance — and Hard Asset ETFs. The latter look to gain exposure to "stuff" by investing in a basket of commodity companies rather than investing in the physical commodity itself.
For instance, the Market Vectors Gold Miners Fund (NYSEARCA:GDX) tracks the Amex Gold Miners Index, seeking to replicate its total return. The index gives targeted exposure to roughly 30 companies around the globe that mine for precious metals. GDX does not, however, seek to replicate the spot price of gold.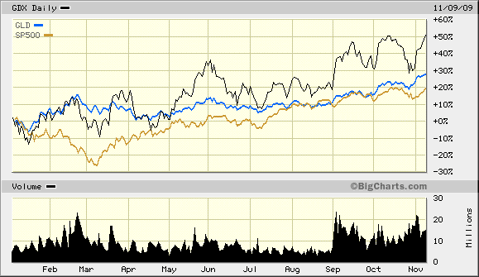 A quick glance at the chart above demonstrates the volatility of the Market Vectors Gold Miners Fund (GDX), estimated at about 1.5x that of the S&P 500. Of course, the reward often justifies the risk, as GDX has more than doubled (2x) the unrealized gains for the S&P 500 YTD.
Although price variability in the shares of Hard Asset ETFs may be greater than the respective commodities, this may not always be the case. Crude oil's epic drop from $150 per barrel to $33 per barrel was far worse than Oil Producing Company ETFs.
The two biggest take-home facts on hard asset companies? First, hard asset investing is an indirect recognition of emerging market growth; that is industrializing nations need companies that are engaged in the production and/or distribution of physical "stuff."
Second, you should expect hard asset ETFs to demonstrate a high correlation to stocks. Why? Because they are stock ETFs… not commodity ETFs! Indeed, you're getting indirect exposure to critical commodities but you're investing in companies.
Here, then, are 5 of the most popular Hard Asset ETFs today:
Note: You can learn more about the ETFs in the table above by clicking on the link for the specific ETF.