In today's article, we will provide readers with a one-stop report on today's markets with our current thesis on the market, pertinent news and analysis, and a look at what is on the schedule for tomorrow. Additionally, our report will provide you with two investing ideas for stocks that were in the news today as we give our analysis on these companies. Today, we will be looking at a bullish case for Costco (NASDAQ:COST) and bearish case for Google (NASDAQ:GOOG).
Oxen Group Market Thesis
In yesterday's article, we commented that the government was in full-control of the market, and that has not changed as of today. The government has still not done anything to get the market excited, and (despite a nice response for the market) if the shutdown persists for any lengthy period of time, we could see some definite correcting in the market. The S&P 500 is holding support well, but its not going to be able to do that forever.
Right now, we are staying mostly in cash until the government comes to some resolution. Here are charts on the S&P 500 (NYSEARCA:SPY) and Dow Jones (NYSEARCA:DIA):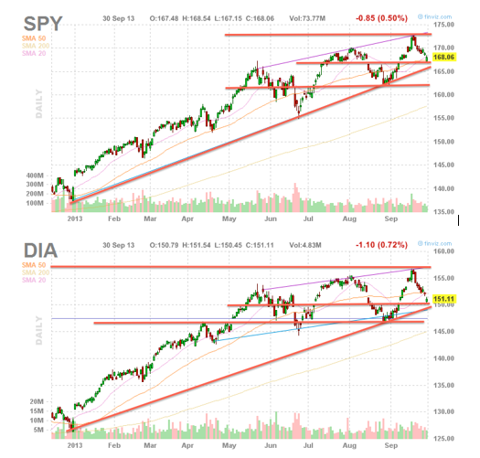 As we can see, we will still are holding the key 50-day MA on the SPY as well as some crucial support. The Dow Jones broke those levels, but it is still holding a key breakout level. The DIA needs to hold these levels or we likely see another sizeable move down. 15000 may not hold in a shutdown, which would definitely hurt. The SPY is holding the 50-day MA, and if that breaks, we could see 1650.
Pertinent News and Analysis
On Tuesday, the market was mostly moving on economic data reports, the government, and some news from Walgreen (WAG).
The prime story is the government shutdown. A partial shutdown began today, but the market was mostly shrugging it off as another drama-filled political stunt. The real impacts of a shutdown won't be felt until October 17 draws nearer. That day is when the Treasury says we will run out of money and default on debt. The developments on Tuesday around the shutdown were the House GOP wanted to pass three bills to fund the National Park Service, Veteran Affairs, and the District of Columbia, but they had not drawn closer to a budget bill. The Senate rejected a motion passed by the House for a conference to discuss issues. For now, the stalemate appears to be not progressing.
The market was rejoicing over some better than expected economic data from the ISM Index and auto/truck sales. The ISM Index, which is a major data point that shows the health of the manufacturing industry, came in at 56.2 versus the 55.0 expectations. It is the best reading on the ISM Index in 1.5 years. Manufacturing production was strong but the backlog contracted for the fifth straight month. One bright spot on the index was employment jumped significantly, which could signal some improving employment trends for September. Auto sales were down for the month of September, but Ford (NYSE:F) and Chrysler both saw positive gains despite Labor Day being in August for 2013 versus in September in 2012. F, in fact, saw over 5% growth in sales while Chrysler was up 1%. That is a big win as Labor Day is one of the best selling days for cars.
Walgreen reported some very solid earnings on Tuesday. The company saw earnings grow 86% on the back new inventory accounting as well as growth from buying a stake in Alliance Boots, a European drugstore. Revenue jumped 5% to nearly $18B. The results just beat expectations, and it's a good sign for the market to see an economic bellwether showing success. The company noted that generic drugs helped their margin expansion as well, which is a big reason for the earnings growth. While the drugstore business is vastly different than other retailers, the company shows good demand in August and July, which is good for Q3 earnings season.
Buy of the Day - Costco Continues To Impress
Costco continues to be a favorite of The Oxen Group. The company, which has risen 18% YTD has pulled back somewhat over the last couple weeks, and we believe it may be at a nice point to pick up shares. Moving forward, we see upside in shares based on several factors. First, we like the stock as a low-beta play to battle volatility, has consistency in revenue/earnings, and has growth potential with store expansion.
During times that are more volatile, like we are experiencing now in the market, we like to look at low beta names to park some cash in for outperformance. COST has a beta at 0.70, which means that it will move at 0.7x of the market in upside and downside. With uncertainty in upside, though, its better to be in safety. We believe that COST is a safe name because of its business model. During uncertain times, regular superstores lack membership revenue. COST offers clients lower cost goods as well. During good times, the company offers more premium products like televisions, electronics, etc. that can appeal to customers as well. We believe this mix is a very solid way to battle volatility and uncertainty.
The plan appears to be working as the company saw same-store sales rise in August by 4% and revenue grew 7%. Competitors like Target (NYSE:TGT) and Walmart (NYSE:WMT) have seen flat and negative same-store sales. WMT just recently cut orders. The benefit of the membership plan is that it takes out a lot of the guesswork with attracting customers. We believe this gives consistency in earnings and revenue, and it is why the company has seen revenue growth for 9/10 years and margins solid at 2.5% - 2.9% in every single year.
The key for growth of the stock, though, is in store expansion. The company is planning 28 new stores this year, and the company is planning to accelerate openings in the next several years. The company expects to add 30-35 new stores in each year 2014-2016. Each new store brings in about 3.2M in net income per year. If we look at another 100 stores being added over the next three years, that brings net income to around 2.4B or an EPS of 5.5. That brings future PE to 20.3, which shows around 25% growth in PE to get to the 25 level it currently holds. The potential is solid with COST to see 25% growth over the next twelve to eighteen months. Its not going to be a 3D Systems (NYSE:DDD) return, but you can also sleep at night holding this name.
Add COST to your mix to add consistency and safety.
Sell of the Day - Google Still Doesn't Impress
We have been banging the table that GOOG has limited upside moving forward. We first put our argument on the table in mid-January that upside was limited, and since then, GOOG has moved up over 20% (but the QQQ is up over 20% as well). We still are confident that GOOG will be a tech underperformer. The problem we continue to see for Google is multi-pronged with a declining return on assets, issues with their mobile, and the company not driving enough revenue from advertising despite a lot of businesses attempting to do so.
The main issue that we see for GOOG is their declining return on assets as we noted in January:
The company continues to dedicate a lot of money to new ventures that are not paying off. How do we know? The argument we are making above about increasing capex and working capital can be seen in the company's decreasing ROA and ROIC. The company has seen ROIC come down from 23.7 to just under 16 in the TTM from 2005 to present. Return on assets have also decreased in the same timeframe from 21.6 to 13.3. Both declining measures of profitability show that assets are growing much faster than profits. The decline in profits is shown in our model as well as continued strong working capital increases as those assets continue to grow. What we are getting at for GOOG is that its business has added to the business (assets) but it has not been paying off (profits).
The TTM has not shown GOOG breaking this cycle. ROA is now at 12.4%, down from 12.9% in 2012 and 18.1% in 2009.
Further, we see issues with the phone business continuing to persist. The new iOS 7 and iPhone 5S/5C have been big hits from Apple (NASDAQ:AAPL). Here were some comments from our June article:
At the end of April 2013, the company owned 52% of market share, according to ComScore. That number was down from 52.4% in January 2013. It was up from 50.8% in April of 2012. Overall, though, the gain in market share has slowed. With BlackBerry and Microsoft owning only 8% of market share left, there is not a ton of potential for Google to grow their pie piece with potential switches likely done for now. Further, a new iPhone is on the horizon and could result in some actual switchbacks.

Growth of mobile, therefore, is from general growth versus share stealing at this point. Expectations for smartphone growth in 2013, 2014, and 2015 are 19%, 15%, and 12%, respectively. We see GOOG lining up with these levels as their Android saturation may have started to peak.
Updating that, in July the market share came down below 52%. The new releases from Windows Phone and Apple continuing to be a threat are going to challenge Android, and the move to mobile, which is expected to be the long-term creator of native advertising, may not be as strong as all expect. The recent releases as well from Apple may challenge the market share for GOOG further.
With a PE below 27 and price/sales at 5+, we believe that GOOG does not offer value or outstanding outperformance of the market. We remain locked into our Google sell mode.
Future Outlook
Moving forward, the market will be moving fully based on what happens with the debt crisis. There is some hope for some short-term resolutions to restart the government. The Democrats in the House hope to get moderate Republicans in on a deal for a clean bill, but this is not needed until a larger crisis is on the government's hands. Washington is literally the only thing that matters right now. Data, foreign markets, and anything else the market can cook up will not matter. Data, additionally, looks like it will be limited in its coverage with the shutdown.
Stay safe out there!
Disclosure: I have no positions in any stocks mentioned, and no plans to initiate any positions within the next 72 hours.
Business relationship disclosure: I have no business relationship with any company whose stock is mentioned in this article. The Oxen Group is a team of analysts. This article was written by David Ristau, one of our writers. We did not receive compensation for this article (other than from Seeking Alpha), and we have no business relationship with any company whose stock is mentioned in this article.