According to the Medical Market Forecasts issued by espicom.com, the global medical device, technology and equipment market is expected to be worth more than US$440.5 billion by 2018. Similarly, the pharmaceutical industry is also expected to grow at a CAGR of 5.1% per annum for the next five years. These forecasts show that significant growth opportunities exist in these industries and I think Johnson & Johnson (NYSE:JNJ) is well positioned to capitalize on these opportunities. I have selected JNJ on the basis of its diverse geographical presence and strong historical performance in its medical and pharmaceutical segments.
JNJ is a leading healthcare manufacturer operating in 60 countries worldwide. The company derives its sales from three business segments: medical devices and diagnostics, consumers and pharmaceutical. The company derives approximately 44% of its revenues from the domestic market. During the first half of fiscal 2013, JNJ acquired Synthes, which changed its revenue mix. Now, a larger portion of sales will be contributed by the two higher growth segments: MD&D and pharmaceutical.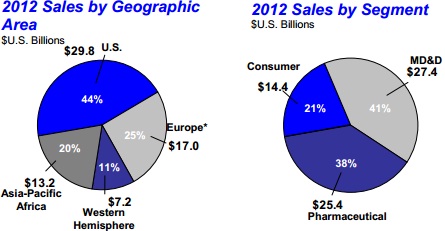 Most importantly, innovation is the critical success factor for JNJ and the company seems to be aware of this fact. In pursuit of gaining a comparative advantage over its peers, JNJ has added 25% new products to its existing product pipeline in the last 5 years.
Total return comparison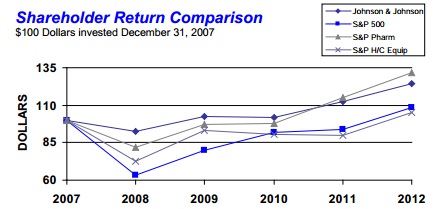 JNJ provided a total return of 4.44% per annum to its shareholders during the last 5 years compared to 1.66%, 5.67% and 1.07% provided by S&P 500, S&P Pharmaceutical and S&P Health Care Equipment index, respectively. JNJ slightly underperformed S&P Pharmaceutical mainly because it is a diversified company and its profitability was adversely affected by the low margin consumer segment.
Future outlook
The Affordable Care Act is expected to increase US Health spending which will ultimately benefit JNJ. In a recently published report by IHS, revenue expansion of the consumer medical device industry is projected to grow at a rate of 5-9% for the next few years. The positive trend in the demand for consumer medical devices will be seen mainly due to the implementation of the Affordable Care Act. Since the Affordable Care Act emphasizes more preventive care, the consumer medical device industry will be the direct beneficiary. Medical devices and instruments contribute almost 44% to the company's total revenues. Hence, the enforcement of this Act is expected to boost JNJ's top line growth.
Moreover, the company has recently signed a definitive agreement to acquire a privately held company, Argon pharmaceuticals. This acquisition will add new products to JNJ's existing product line.
Historical performance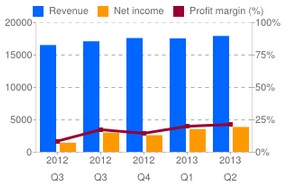 The financial performance of the medical industry was adversely affected by the weak economic environment that prevailed after the financial crisis of 2008 and the debt crisis of Europe. However, JNJ managed to increase its revenue at a CAGR of 1.36% during 2008 to 2012. As now dust is settling in Europe and the US economy is back on its track to recovery, significant growth is expected for JNJ in the upcoming years.
The company posted trailing twelve months revenue of $69.99 billion, with a quarterly (yoy) revenue growth of 8.5%. During the second quarter of fiscal 2013, the revenues of JNJ's MD&D segment increased by 9.6% year over year. This increase was mainly driven by growth in cardiovascular and orthopedic sales. The Pharmaceutical division saw its revenue increase by 11.7% (yoy) due to the successful launch of medicines like Zytiga, Xarelto and Incivo. Consumer business was relatively stable with an increment of 1.1% year on year in its worldwide sales.
Talking of the company's margins, JNJ has performed exceptionally compared to its peers. Trailing twelve months operating and net profit margins were 26.68% and 18.38%, respectively. Net earnings and diluted earnings per share for the second quarter were $3.8 billion and $1.33, respectively. These results include some nonrecurring gains and one-time expenses. Normalizing these earnings we get net income of $4.3 billion and diluted earnings per share of $1.48, which represents an increase of 17.7% and 13.8%, respectively, compared to same period last year.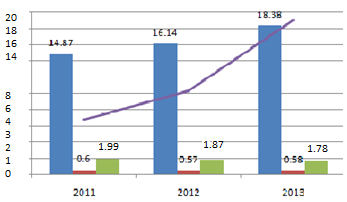 The above chart breaks down the company's return of equity into three main ratios: net margins, asset turnover and financial leverage. A major portion of JNJ's ROE was contributed by the net margins, which is a positive signal as it indicates increasing stability of the company. Moreover, the company has managed to consistently decrease its financial leverage from 1.99 in 2011 to 1.78 in 2013.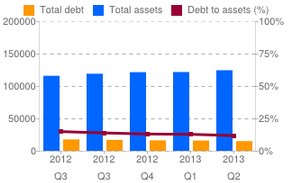 Talking of JNJ's balance sheet position, assets totaled $51.27 billion in the second quarter of fiscal 2013 representing an increase of 23.1% from the second quarter of fiscal 2012. Total debt reported on the company's balance sheet in the second quarter of FY13 was $14.98 billion. This represented a decrease of 14.7% from the corresponding period last year. This explains the falling trend in the company's debt to asset ratio, which was down to 13.76% in the most recent quarter.
JNJ is among the four public companies that were rated AAA by the top credit rating agencies.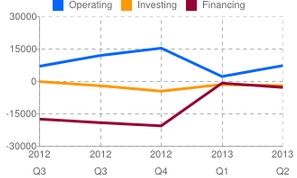 The trend taken by JNJ's cash flows from operations was consistent with the path followed by its net income. During the first half of fiscal 2013, the company generated $7.33 billion cash flow from its operations.
Valuation
JNJ has a strong history of returning value to its shareholders through dividend payouts and share repurchases. Hence, I have employed the dividend discount model to calculate the intrinsic value of JNJ.
For the valuation of JNJ, I assigned different weights to analyst estimates and historical growth rates. I have also adjusted the company's beta to incorporate the fact that beta has a tendency to revert towards market beta.

The fair value of this stock shows that it upholds an upside potential of 9.46%. Along with the fair value calculation, I have conducted sensitivity analysis for those investors who want to see the stock's performance at different required returns and growth rate estimates.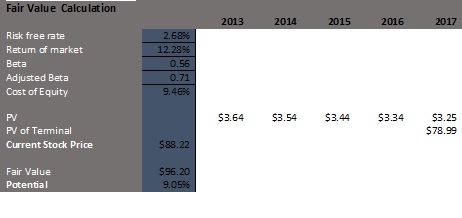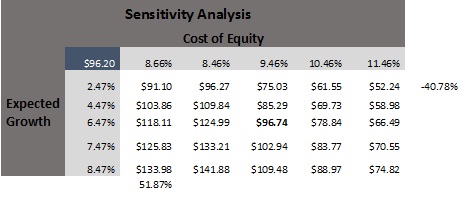 Final take away
The titan of the medical industry sells everything from orthopedic devices to bandages. The combination of well-known brand names, sustainable cash flows and a fabulous history of dividend payments make JNJ a potential investment. The full enactment of the Affordable Care Act in 2014 is expected to boost the healthcare industry. Healthcare is a capital-intensive business. With its strong brand image and financial position, JNJ is ready to capitalize on these upcoming growth opportunities. Moreover, its increasing presence in the emerging markets will continue to bring growth in its top line, which will eventually trickle down into its bottom line.
Bright future outlook, lower debt profile and increasing dividends make JNJ an attractive investment for investors who are looking out for a regular and stable source of income.
Disclosure: I have no positions in any stocks mentioned, and no plans to initiate any positions within the next 72 hours. I wrote this article myself, and it expresses my own opinions. I am not receiving compensation for it (other than from Seeking Alpha). I have no business relationship with any company whose stock is mentioned in this article.