Or maybe more appropriately: "If you can't dazzle them with brilliance, baffle them with..."
Or so seems the errant task "Short Seller" Richard Pearson has used in numerous attempts to bail out his poor judgment decision of being a disclaimed Short Seller in China-based, Nasdaq-listed Kandi Technologies (NASDAQ:KNDI). It would really be farcical and almost entertaining, if it weren't for the financial damage caused by the "fear mongering" he creates in his own mind and then passes out as fact to innocent, but less savvy shareholders. This done in hopes they will sell their shares allowing he and the other 3.3 million reported "short" shareholders to cover before their financial damages become too extensive.
Yes, I am the "messenger" and primary target of all of Pearson's attack articles against KNDI. (well at least I was until this latest article where I get to share the honors with Harris Goldman). In all fairness to Pearson, his has not been the only Seeking Alpha attack writer to go after me instead of the company. ShareSleuth, whom he mentions in his latest, as well as all, diatribes, also tried going after me personally about a half dozen times in years past.
Why go after me, Arthur Porcari? Two reasons:
One: Because I have a long and proud resume as a successful Wall Street professional dating back forty years beginning with a tenure with Merrill Lynch as first a broker, then Investment Banker, on to a co-founder and President of a regional Stock Brokerage/Investment Banking Firm. In addition to heading up the firm, I also presided as head of OTC "Market Making" where I worked closely with some of the top short sellers in the late '70's to late '80's. However, since selling the firm in the late '80's, I have had the luxury of plying my experiences initially as an Investor Relations consultant and in more recent years simply as an individual investor. And since the advent of the Internet, an educator of thousands of less knowledgeable individual investors in the sometimes dark and seamy ways of Wall Street. In other words, "Knowledge is Power", and I have the knowledge in how to do in depth Due Diligence on public companies, as well as the often underhanded but amazingly legal tricks allowed in the stock markets today. It is because of my supposed "power", that I am a threat to those who do not have the facts on their side and must resort to obfuscation and disinformation. It is because of my pride in what I do that I publish articles in my own name and always provide personal access to anyone who wants to contact me by giving my personal email: art@corstratinc.com (I would also give my personal phone but SA has a prohibition against this so email mail me and I will provide my telephone contact if you desire).
Two: I confess Pearson is right, guilty as charged. I was accused by the SEC, though not convicted, as an admitted participant in a short squeeze of a company my public relations consulting firm assisted in bringing public in 1989 (yes, 25 years ago). It was a small one million share offering at around $2.50 a share. After several months of inordinate selling in the stock, one day I came to the realization that my client's shares on the books of the underwriters totaled over 1.25 million shares of this one million share offering. While there was no Internet at that time, I did suggest the Underwriting Brokerage firms to make this revelation public to their investors, which in turn created more aggressive buying in the stock causing the stock to quickly rise some 800%. For about six years and some $100,000+ in legal fees, I fought the SEC proclaiming my innocence since I did not tell the "sour grapes" financially damaged short seller complainant to illegally naked short sell my clients stock. But finally in 1994 to relieve my continuing legal expenses, I did finally settle with the SEC with the only penalty to me being: (Excuse the caps, this is a direct copy and paste from the actual SEC order Pearson provided the link to in his article):
"…THAT FOR A PERIOD OF THREE YEARS, PORCARI MUST PROVIDE A COPY OF THIS ORDER TO ANY MANAGING UNDERWRITER WHICH IS PARTICIPATING OR IS ABOUT TO PARTICIPATE IN ANY OFFERING OF SECURITIES FOR ANY SUCH PUBLIC COMPANY PREVIOUSLY DESCRIBED, AS WELL AS TO ANY INDIVIDUAL OR ENTITY WHICH INQUIRES INTO PORCARI'S BUSINESS AND PROFESSIONAL BACKGROUND OR EXPERIENCE IN CONNECTION WITH PORCARI'S FINANCIAL PUBLIC RELATIONS ACTIVITIES ON BEHALF OF ANY PUBLIC COMPANY"
After likely spending at least a half million dollars of tax payer money on bringing this case against me, I am sure the SEC was relieved my attorney offered the above settlement after I was long out of the business, though as you can see; no cash or other punitive penalties. My solace in wasting $100,000 was that some well-deserved naked short seller was squeezed out of many millions' and shareholders made exceptional returns.
Is there any wonder why short selling writers want me out of the KNDI picture?
But so as not to confuse; in the case above 25 years ago, I was a paid consultant; which has never been the case with KNDI. In the seven years I have followed KNDI, which includes a trip to NY in 2008 for a KNDI investor meeting, a trip last year to Atlanta, also an investor meeting, along with two trips to China to visit the company's home operations (most recent made just last week). My total expense to KNDI over this time was six lunches and five dinners. I covered my own transportation and lodging expenses.
Which brings me to the likely timing of Pearson's most recent desperation attack article published on Seeking Alpha yesterday. Pearson's timing of his article is not surprising. He selected it to fall on the day which begins China's second biggest holiday week, "Fall Festival" where all Chinese companies go on a one week holiday making it less likely the company would be able to immediately respond to his almost totally false and unfounded accusations should they desire. Additionally, Pearson knew from tweets I made last week from China, that I would be publishing a series of Seeking Alpha articles on my return, ripe with pictures and video showing solid visual evidence of KNDI's amazing accomplishments and proof to the fact that KNDI is the uncontested leader in EV technology in China (Why else would multi-billion dollar #1 manufacturer of passenger cars, Geely Auto select KNDI to be their 50-50 partner putting their EV future in the worthy hands of KNDI's CEO Yiaoming Hu, as the EV JV General Manager).
You see Pearson also knew from my tweets that I didn't spend $2500 sitting cramped for a total of 34 round trip hours in a coach middle seat just to confirm to myself what I already knew about the company based on many thousands of hours of due diligence to include scouring the China media with the aid of Google translator each night. I was accompanied on this trip by large shareholders and credentialed researchers from the US and China to include:
Daryoosh Ardalan, a Professional University of Colorado Urban Planner who has extensive knowledge of China as a guest lecturer in the China. Daryoosh is also a Seeking Alpha author who recently published an exceptional long distance study on KNDI titled: Kandi Technologies: Exceptional Strategy For China From An Urban Planning View and as promised in his last article will also be writing a follow-up article for SA on KNDI soon.

Aaron Rockett, an acclaimed Washington DC based Video Documentary producer who will be producing a Documentary on KNDI and its leadership role in EV's in China. Aaron is still filming in China as I write this.
And joining us in for the three day tour of KNDI's amazing facilities and projects were two China-based bilingual "Buy Side" Financial Analysts (one an American Chartered Financial Analyst (NASDAQ:CFA) ) who provide independent research on China based companies to Brokerage Firms and Funds based on Wall Street, Hong Kong and other World markets. Out of respect for their independence, I will not mention their names here, nor do I know for sure they will be initiating coverage as KNDI's first Research Analysts. But what I can attest is that they saw everything that we did which makes it hard for me to believe that they will pass at this rare opportunity to be first to cover a fledgling but inevitable public leader in China's potential trillion dollar EV space. To be clear, due to their home base in China being several hours flight from Hangzhou, along with other expenses, I am sure they also have a few thousand dollars invested in their visit.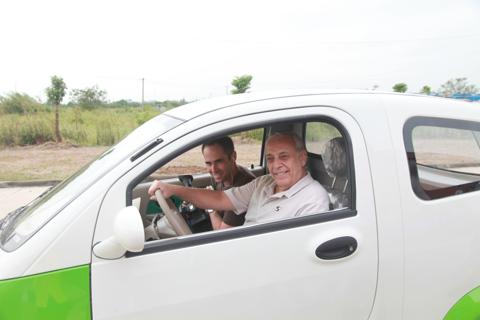 (Myself and Documentary Producer Aaron Rockett Test Driving A KNDI JNJ6290EV Fresh Off The New Pure EV Changxing Assembly Line)
While I could, as in Pearson's former articles, debate the redundant and almost identical dubious charges he provides in his current article, for now, let me just provide you with the same link that Pearson amazingly provided, (but bet you wouldn't take the time to read) in his article of yesterday to my in depth comments to his past KNDI attack articles.
But one total case of new total obfuscation he desperately grasped on to in his recent article need be quickly addressed. That having to do with this quote from his article"
"But any statement that Kandi is the "only" company who will benefit from Chinese subsidies is 100% false. In fact, any statement that Kandi is a meaningful player in the Chinese EV market is 100% false. Investors who wish to confirm this can do so quite easily for themselves."

"A link to prices and descriptions of literally hundreds of identical vehicles from different manufacturers can be found here on Alibaba."
Curiously, one of the few true statements made in his article is the first sentence in the above quote. I have no idea where he came up with such a ludicrous accusation since only a fool would believe that China's National Government would spend five years developing a subsides program and then give all of the subsidies to one company.
However, though he claims expertise in China, the third sentence above, meant to insinuate that there are "literally hundreds of identical vehicle (to KNDI)" on the provided Alibaba link is beyond foolish to anyone who understands the mission of the Alibaba website.
Alibaba is a China based site providing an online platform for Chinese exporters to advertise and provide their goods for sale. That's right. Exporters. China, as an exporting nation has no problem in allowing its national businesses to sell whatever they want to foreign markets and in some unregulated cases, even domestically. Millions of these products are posted on Alibaba. There is no law or rule in China that prohibits its manufacturers to make, market and export any type of car they desire. HOWEVER, when it comes to regulated markets such as Highway autos of all types, they are not allowed for sale and open road use unless approved by the Ministry of Industry and Information (MIIT) and certified by all four Ministries if to be included in the National subsidy program.
Of the "hundreds" of EV's referred to by Pearson you see on this Alibaba link, there are few, if any, that are on both lists for mass sale and use in China. And that includes the Kandi KD5010 EV you see on the first page. That EV, along with two Kandi "CoCo" models later on in the list are not authorized for National "road use" or subsidies in China. As in the case of 98% of these EV's listed, they are powered by Lead Acid batteries which cannot receive subsidies. At least not at this time. A further point he should know as a China expert, is that in the case of these export EV's, the pricing does not include the battery in that batteries, due to their high risk, are not allowed to be shipped with the vehicles. So in the cases where prices are provided, the most expensive item on the cars is not included in the price.
I know, in a separate paragraph, Pearson also expounded more obfuscation by providing a link to the MIIT list and said:
"The problem with this announcement is that the MIIT list referenced by Kandi included literally thousands of other vehicles made by hundreds of other manufacturers."
First of all, the link he provides in the comment above is not to the "list" but to the KNDI PR. However, in a different part of his article, he does provide the link to the MIIT list. Here it is. But once again, betting that no intelligent investor would take the time to look over that whole list, he makes a "half-truth" statement. Yes, there are thousands of vehicles on that list. In actuality around 3,700. But, and that is a big but, this list includes all types of vehicles to include gas and diesel powered cars and trucks. To be sure, there are only a total of 7 EV cars on the list and none but the two KNDI inclusions are low priced pure EV's; Something that took me all of five minutes using pdf search capabilities to discover. It should be looked at as a travesty that he has so little respect for the intelligence of his readers, or quality of his work, to not at least take the time to get something as simple as this correct.
Over the next several days, I will be compiling the myriad of information attained on my recent trip to China in likely two Seeking Alpha articles. As always in my articles, I will be providing honest detailed information with back-up links that will once again confirm my prior statements of fact, but even more excitingly confirm many items in progress found on the China Media websites, that have not yet reached the level of mandatory announcement by this very conservative company. Facts with information that should show the easy path KNDI has ahead to potentially reach more than a triple of first half sales reaching as much as $100 million in the second half of this year now that the Subsidy program has been put in place.
While it has in the past not been my intention to distract from the incredible advancements of this exciting speculation, by formally publishing a response to personal attacks on me, I had been advised by Seeking Alpha management to do so if I had a problem with what was written.
I want to apologize to readers for having to take this measure and also thank Seeking Alpha for making their worthy forum available to help set the record straight.
Disclosure: I am long KNDI. I wrote this article myself, and it expresses my own opinions. I am not receiving compensation for it (other than from Seeking Alpha). I have no business relationship with any company whose stock is mentioned in this article.