Commodities were quite strong yesterday, depriving us of adding anything on a pullback. It appears that with the comments yesterday from Republican staffers, and the escalating political tensions in D.C., we could very well be dealing with a shut down government until the looming debt ceiling fight arrives. That is the line in the sand no one wants to cross, and playing with the full faith and credit of the United States is not only wrong, it is reckless. The implications are far reaching, from Wall Street to Main Street, and impacting not just our financial markets but financial markets worldwide.
This is becoming a dicey situation, but we would keep your firepower dry and be ready to deploy it should the Washington politicians have a brief lapse in judgment.
Chart of the Day:
Gold has really taken it on the chin lately, but one has to wonder how much more negative it can get in the precious metals complex as a whole. The SPDR Gold (NYSEARCA:GLD) appears to be at three-month support levels, so could a rebound be due?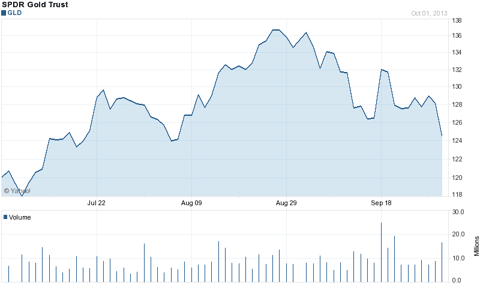 Source: Yahoo Finance
Commodity prices this morning are as follows:
Gold: $1291.30/ounce, down by $35.70/ounce
Silver: $20.74/ounce, down by $0.968/ounce
Oil: $101.47/barrel, down by $0.86/barrel
RBOB Gas: $2.5936/gallon, down by $0.0346/gallon
Natural Gas: $3.631/MMbtu, up by $0.071/MMbtu
Copper: $3.267/pound, down by $0.056/pound
Platinum: $1380.30/ounce, down by $32.10/ounce
Copper
The underlying price of copper has remained strong and if the government shutdown here in the US leads to a pullback in either the physical metals market or the copper equities, we think that one has to be a buyer. Freeport-McMoRan (NYSE:FCX) has been a huge winner as of late for readers and any weakness seen there should be bought - unless of course it is caused by production or geopolitical issues at the company. We like the diversification at the company that occurred with its last two acquisitions and continue to look at it as one of the better long-term diversified commodity plays out there.
Oil And Natural Gas
Stifel came out yesterday with bullish comments on Gulfport Energy (NASDAQ:GPOR) throwing out a potential $100/share price target by the end of 2014 based on the progress being made in the Utica by the company and its peers. A lot of the focus these days is on the southern extension of the Utica's wet gas/condensate window, and over the next few months we should have further confirmation that this acreage is going to in fact be productive. Stifel noted that there are quite a few news events due out soon, including the IPO of Antero Resources which just reported monster results further south than one would have expected and pad drilling results from PDC Energy (NASDAQ:PDCE) from its acreage in Noble County, Ohio. The potential price of $100/share really caught us off guard when we saw the news and really reaffirms our belief that Gulfport is going to remain among the premier names in the Utica as the play is further developed.
The past few attempts to break through the 200-day moving average have failed, but we are watching this move to see if it has what they call "staying power" and "substance."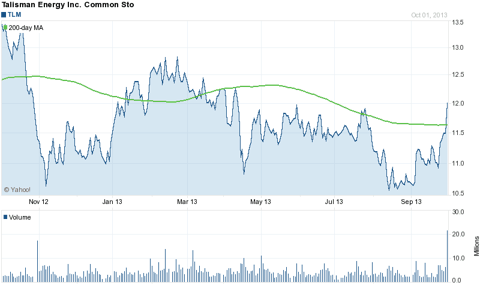 Source: Yahoo Finance
Shares in Talisman Energy (NYSE:TLM) continue to rally on the back of the comments made by the CEO that the company's board is willing to entertain offers for certain assets in its portfolio or even the entire company. The strength has been impressive, but readers should be aware that this has been the case because historically the board of the company has been reluctant to sell because they always felt that the shares were undervalued. In hindsight, it would seem that had they sold out to interested parties the returns for shareholders would have been higher, but one cannot know for sure. Yesterday the shares rose over 4.40% as the entire E&P space rose and Talisman crossed its 200-day moving average. That is big for traders, and can sometimes lead to the start of prolonged rallies.
Agriculture
Monsanto (NYSE:MON) announced today that profits were down even though revenues rose. Seed sales were weak which caused the fall in profits, but we expect to get further details on this from the company's conference call. Monsanto also announced a $930 million acquisition of a company called Climate Corporation in a deal that will be all cash. Climate Corp. analyzes weather patterns and assists farmers in planning their planting and other activities. This is a bolt on acquisition to add to the company's sales tools, but we think this is a service that will be beneficial to assisting the company's current client roster and could be used to integrate the best times to plant various genetically modified crops produced by Monsanto. There seem to be some synergies here and the potential for positive externalities for the company's product line if Monsanto plays its cards right.
Disclosure: I am long GPOR, PDCE. I wrote this article myself, and it expresses my own opinions. I am not receiving compensation for it (other than from Seeking Alpha). I have no business relationship with any company whose stock is mentioned in this article.