It is not easy introducing a new technology. For Solazyme (SZYM), a renewable tailored oil producer, the typical earnings call may sound more like a chemistry lecture than it does a financial update as management often attempts to explain its ongoing innovations. Yet as difficult as the science may be, it is the complex business arrangements, hazy timelines for scaling and unclear pricing structures that continue to vex those who follow the company closely.
Yet there are also those who appear to exploit this uncertainty. On October 1st, I received several concerned messages from Seeking Alpha followers pertaining to a recent article written by contributor Maxx Chatsko of the Motley Fool. In his article titled "Has Wall Street Doomed Solazyme?" the author makes a rather blunt attempt to instill fear by asserting that Wall Street analysts have exaggerated their revenue estimates for 2014. Whether or not this is the case, his article prompts several key areas of concern that are worth clarifying further.

1) Will The Bunge Joint Venture Be Fully Consolidated?
There is a large amount of revenue expected to come out of the Moema facility in Brazil which is now under construction. The plant is owned by Solazyme Bunge Renewable Oils, a joint venture between Solazyme and agribusiness leader Bunge (BG). Although Chatsko suggests that Solazyme's production at this facility should be counted at half of the working volume when it comes to determining revenue, this is simply not true.
According to the joint venture framework agreement, the language appears to suggest otherwise. Based on financial consolidation, the document states the following:
"Bunge, Solazyme and the Company shall provide reasonable accommodations to enable Solazyme to be able to consolidate the operations of the Company in the Solazyme financial statements to the extent allowable under U.S. generally accepted accounting principles."
Likewise, management was asked a similar question pertaining to this concept in the Q4 2012 earnings call found here:
Brian Lee - Goldman Sachs

Hey guys. Thanks for taking my question. I guess first thing I wanted to clarify on your revenue guidance for 2013 does that imply full consolidation of the Bunge JV?

Tyler Painter - Chief Financial Officer

Brian good question, so during the construction phase the Solazyme Bunge Renewable Oils JV is not consolidated. We do expect as the facility comes online there are certain things that change that we would be able to consolidate the results.
With this in mind, it is important to understand the implications. There is a reason why Solazyme owns 50.1% of the joint venture, compared to Bunge's 49.9% holding. Based on the concepts of full consolidation and non-controlling interests, Solazyme should be able to consolidate the financial results of Solazyme Bunge Renewable Oils into its own financials. Therefore, the joint venture's full revenue should be reflected on Solazyme's financials even if almost half of the income will ultimately be attributed to Bunge.
2) How Fast Can Solazyme Scale Its Production?
Management itself has asserted that the plant will be the determining factor in knowing how much time is needed for scaling. This can only be discovered once the facility is turned on. Nevertheless, Solazyme remains confident on a 12- to 18-month timeline for the facility to be ramped up to full nameplate capacity. CEO Jonathan Wolfson had this to say in the Q1 2013 earnings call found here:
"What I would say is understand that we've been running our own technology in large scale industrial fermentors since 2007, and when we give you an estimate of what we think the timeline will be, we're not trying to shorten it. I'd love to tell you that it was a quarter or 2 quarters, it's likely to be longer. 12 to 18 months, we think is a very reasonable timeframe. It's been done in quite a few other industries, and one of the big things we think about a lot is risk. And, frankly, Peoria has removed significant amount of that rest from that ramp-up schedule."
This response was initially prompted by a compared expectation found in Bioamber's (BIOA) S-1 filing found here. That biotechnology company estimated that ramping up production in its facility would take three years. It goes on to state that approximately 45% of its capacity will be sold after one year, 80% sold after two years, and 100% sold after three years. Both companies utilize fermentation technology.
Presuming upon the reliability of Wolfson's statement and Bioamber's model, using a proportional ramp of Bioamber's estimates may provide a more accurate forecast. For 2014, it would seem realistic that Solazyme could produce similar levels on an accelerated timeframe. Conservatively, it would therefore be reasonable that Solazyme could produce at 62.5% (the average between 45% and 80%) of its full capacity in 2014. This would amount to roughly 75,000 MT in 2014. In comparison, Chatsko's table suggests an estimate of 86,366 MT for Moema and 13,334 MT for Clinton in 2014. His table therefore suggests 99,700 MT in 2014 on a fully consolidated basis, or 83% of full nameplate capacity for 2014. My estimate appears to be more conservative.
3) What Kind Of Average Selling Prices Should One Expect?
Average selling prices (ASP) remain an important part of determining Solazyme's future revenue. In his article, Chatsko suggested that Solazyme will need to produce product at an ASP of $2,713/MT in order to meet analyst expectations of $232 million. This might seem like a high figure based on the product chart found below, but it is not one that is entirely out of reach with the right product mix.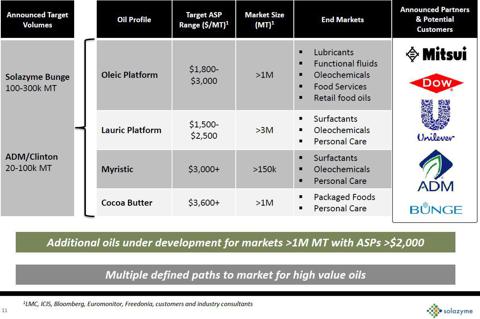 Yet how reliable is this estimate? Chatsko himself admits that he "arbitrarily chose to start at half of the maximum (capacity)." Because Chatsko's model lacks full financial consolidation of the Moema facility, he arrives at an ASP calculation of $2,713/MT. This figure is based off of $172 million in analyst revenue estimates for 2014. While he generously set aside $60 million for current production growth, he errantly used a 15-month capacity figure of 63,334 MT for the 2014 production calculation.
As stated above, a more realistic figure to use might be the production target of 75,000 MT for 2014. This target is based on a more conservative figure than Chatsko's own estimates when converted on a fully consolidated basis (99,700 MT).
For my own estimates, I will also use the same figure of $172 million which represents the analysts' estimate for new production revenue absent of $60 million for current production growth. Ultimately, the use of 75,000 MT now calculates to an average selling price of $2,293/MT. Considering that Solazyme has largely pursued markets with ASPs greater than $2000/MT (as noted in the company graphic shown above), I find that this result appears reasonable.
4) What Happened To Food and Nutritionals?
Another point to consider is the company's future product mix. Investors should bear in mind that Solazyme has more products on its agenda than Chatsko was willing to credit. His article fails to mention any of Solazyme's nutritional products which were given back to the company following the dissolution of the Solazyme Roquette Nutritionals joint venture. This includes high-lipid and high-protein ingredients. It also includes whole algal protein and whole algal flour according to the Q2 2013 earnings call.
This is important because nutritionals are likely to serve as a very high-margin, high-revenue market in Solazyme's future product mix. The company's products are expected to sell for more than $5,000/MT. In February 2013, CFO Tyler Painter had the following to say at the Morgan Stanley Technology, Media & Telecom Conference concerning this subject:
"Within the food and nutritional business, Solazyme Roquette Nutritionals, as that product ramps, we expect the average selling prices will be north of $5,000 a metric ton in that food business."
Solazyme is currently outfitting its small Peoria plant in order to start producing this line of product. Despite its nameplate capacity of 1,800 MT of oil, the facility appears capable of increasing its usefulness. According to Wolfson in his prepared remarks found here, he stated that the facility will service the same customer demands as the SRN JV Phase 2 facility in early 2014. The remarks are shown below:
"We have begun adding the necessary downstream equipment at Peoria. We expect to begin producing whole algal flour and whole algal protein this year at Peoria in large-scale equipment. We will initially produce commercial development size quantities and then look to ramp production into 2014.

Peoria is a very good solution for addressing immediate production requirements. And by early 2014, we should be able to service the same customer demands as was contemplated by the SRN JV Phase 2 facility."
The facilities at Moema and Clinton are more than capable of being refitted to process Solazyme's nutritionals product line. Indeed, this already appears to be part of the plan. Yet for now, the company remains dependent on Peoria. With Peoria expected to start production by the end of 2013, the conversion of the facility will have been achieved in less than 6 months. Should a similar schedule apply to Moema and Clinton, this short timeframe suggests that it is possible that Solazyme might even start producing food products from its large facilities by the end of 2014.
Final Thoughts
Solazyme is far from being doomed by high analyst expectations. In actuality, the current analyst estimates appear reasonable when we consider the markets Solazyme expects to be in. Based on these figures, we see that ASPs appear to settle in the low $2000/MT range. This falls in line with the company's intent to be in markets with ASPs greater than $2,000.
One of the largest stumbling blocks for investors appears to be the way that analysts are accounting for the company's future revenue. Solazyme's corporate structure is difficult to follow without considering the full consolidation of the joint venture with Bunge. Whether this accounting practice will happen or not is yet to be seen. However, the joint venture is clearly structured to allow for full consolidation once construction is complete. As for the analyst estimates, they have already been prepared with this full consolidation in mind.
Solazyme now trades with a market capitalization of $685 million. Analysts expect for revenue to increase by more than 330% from 2013 to 2014. While such growth may seem exuberant to some, it remains firmly rooted in an expansion of supply. The company is now completing construction on two facilities that will increase its production capacity from 1,800 MT to more than 120,000 MT per year. Solazyme may be a complex company to fully understand, but there is little denying that their rapid growth is now underway.
Disclosure: I am long SZYM, BG. I wrote this article myself, and it expresses my own opinions. I am not receiving compensation for it (other than from Seeking Alpha). I have no business relationship with any company whose stock is mentioned in this article.