Nationwide Health Properties Inc. (NYSE:NHP), a real estate investment trust (REIT) investing in healthcare related assets in the U.S., has reported a 3.4% increase in total revenues in the third quarter of 2009 to $97.8 million compared to $94.6 million in the year-earlier quarter.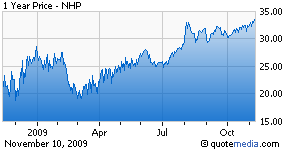 During the quarter, FFO (fund from operations) was $63.3 million or 56 cents per share, compared to $58.4 million or 56 cents in the year-ago period. Fund from operations, a widely used metric to gauge the performance of REITs, is obtained after adding depreciation and amortization and other non-cash expenses to net income.
Despite challenging market conditions, Nationwide Health decided to acquire various healthcare properties from Pacific Medical Buildings LLC to capitalize on potential growth opportunities. Pacific Medical specializes exclusively in developing and managing medical office buildings, outpatient facilities and parking structures for hospitals, medical groups and universities.
According to the terms of the deal, Nationwide Health would acquire three medical office buildings, the remaining 55% interest in two medical office buildings, and the majority ownership stake in two other medical office buildings. The total acquisition costs are estimated to be $275 million to $300 million, with the properties initially contributing an annual net operating income of $21 million to $23 million.
During the quarter, Nationwide Health issued 5.5 million common shares at $30.12 each, raising net proceeds of $163 million. Subsequent to the end of the quarter, the company also issued 897,500 common shares at $32.30 each, raising net proceeds of $28.7 million. During the quarter, Nationwide Health retired three mortgage notes at a profit of $1.3 million. At quarter end, the company had $300 million of cash and full capacity of its $700 million credit facility.
Nationwide Health is structured as a triple-net lease healthcare REIT, which includes base rent (a regular income in the form of rent payments), pre-set thresholds (retail percentage rent clauses), and financing options (in the form of mortgage loans). The base rent and pre-set threshold agreements help eliminate operational risks, which are transferred to the lessee. The lessee also benefits by obtaining operational control and a larger share of profits without investments.