One of the most surprising mistakes that market forecasters made last year was the blanket dismissal of nearly all the major defense contractors. But the forecasters were not the only prophets of doom here; the companies themselves were predicting huge revenue losses ahead of the planned US Government's spending cuts. A lot of official stock pickers were also top on the list of defense stock naysayers.
But any seasoned trader will tell you that few things in life can be as capricious and changeable as a fickle market. Nearly ten months into the year 2013, the revenues of most defense companies remain rather flat, mainly due to sequestration issues, and there is good reason to believe that more than just a few will eventually make it into this year's ''stocks-of-the year'' list. Revenues for major defense contractors were expected to be cut to the bone.
So far this year, large defense companies have reported some of the market's best returns among large cap stocks. Shares of companies such as Honeywell International (NYSE:HON), Lockheed Martin (NYSE:LMT), Raytheon (NYSE:RTN), General Dynamics (NYSE:GD) and Northrop Grumman (NYSE:NOC) have shot up at least 28% YTD, compared to the average S&P 500 gain of 19% YTD. And no, these gains are not related in any way to the planned US airstrikes on Syria.
Northrop led the defense pack in price gains by shooting up 45.58% YTD followed by Lockheed Martin with a 40.19% price change. The remaining three stocks: Raytheon with 38.72%, Honeywell gained 34.39% and General Dynamics with 27.65%.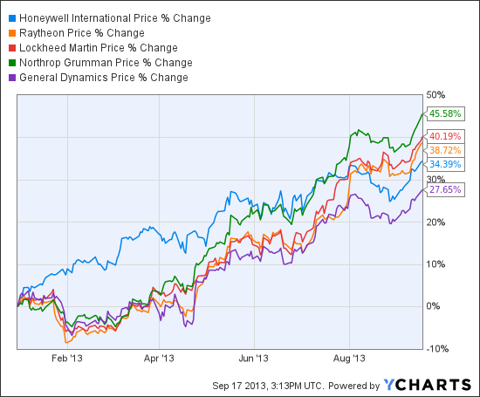 If we factor in the dividends paid out so far using the total return price, these companies have racked up an impressive 35%+ gains this year. Northrop leads the pack with 49%, Lockheed Martin comes second with 45.05% and Raytheon is third with 41.21% return. Honeywell and General Dynamics come up at the rear with 36.67% and 29.59% respectively.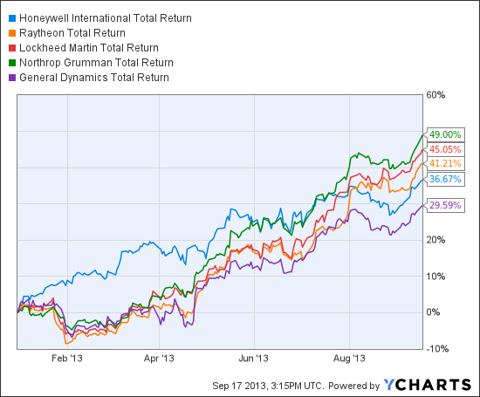 The companies are certainly feeling the heat of sequestration, and their revenues have been pretty flat throughout this year. Honeywell recorded the most impressive growth at 2.73%, Raytheon came in second with 2.05% and Northrop was third with 0.325% QoQ revenue growth. General Dynamics and Lockheed Martin recorded negative growth with -0.14% and -4.30% respectively.
.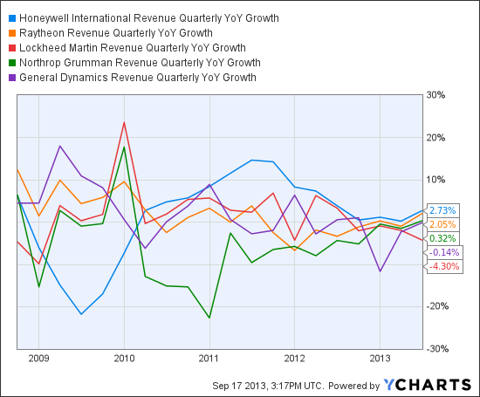 Earnings and forecasts have, however, come in higher-than-expected. This is partly because there is more upside from the companies' cost-cutting efforts than what had been predicted. In recent years, leading defense companies have cut employee counts and pensions costs by a significant amount. The cost reduction has more than offset the sliding sales.
A good case in point here is Lockheed, whose earnings per share shot up 11% in the second quarter, even after a 4% decline in revenue. The erosion in revenues for defense companies is expected to continue this year up to around mid-next year. However, the mean EPS forecast for defense stocks by end of 2014 is $9.48, which is 12% higher than 2012 EPS. These companies will continue to grow in the long-term, whether or not sequester continues.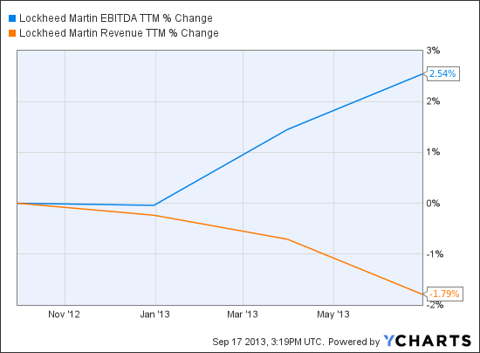 These companies have also continued to record impressive gains in productivity, which can be seen from their revenue per employee figures.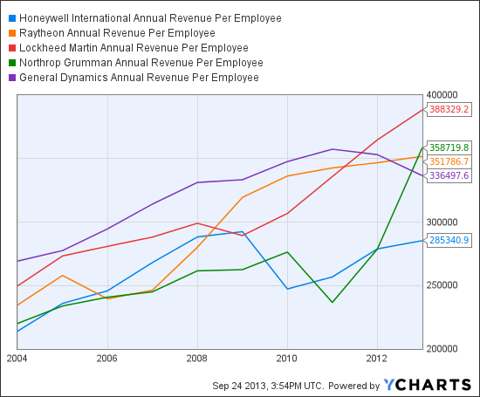 The defense stocks' main attraction this year has been due to their solid reputation as cheap industrial stocks. This year industrial stocks have become a popular pick, especially amongst market gurus, as they watch the recovery of leading global economies around the world. The improved world economies make them better capable of paying for expensive machinery.
Some defense companies have in fact been turning some pretty strong sales figures right in the midst of sequester, although these sales have not been dependent on the U.S. Department of Defense. Think of Raytheon whose international sales climbed 10% in the second-quarter compared to the comparable period last year. General Dynamics, whose specialty is Gulfstream private jets, also racked up impressive sales in the second-quarter, managing to record a trend-defying 29% increase in kits aerospace revenues. Honeywell is also pulling quite some weight in the aerospace market, and the rapidly recovering automotive market.
Northrop cheapest defense stock
Defense stocks have kept up their well-earned reputation as some of the cheapest large-cap stocks (more than 10 billion market cap), with Northrop taking the cake as the cheapest of the five leading defense stocks. Lockheed Martin and General Dynamics are also cheap while Honeywell comes in as the most expensive, although not by a wide margin compared to the other four, as was the case in early 2011.Northrop has the lowest forward PE ratio of 12.67. General Dynamics is also cheap with a 12.72 PE ratio while Lockheed Martin comes third with 13.64. Raytheon has a PE ratio of 14.11 while Honeywell is the most expensive stock of the five with a 17.26 PE ratio.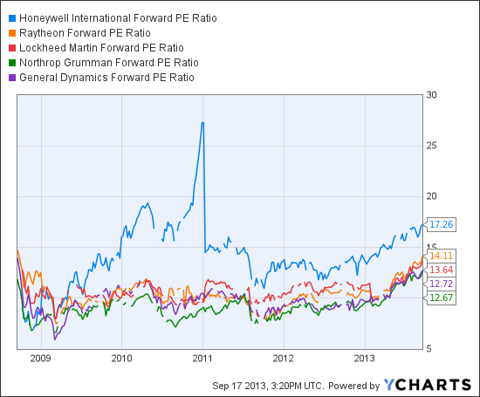 Cash Ratio still impressive
Defense companies have been busy doing what prudent companies do during tough times; showering their shareholders with dividend hikes and well-calculated share repurchases. These tactics are, of course, short-term and are meant to keep investors happy before the tide finally turns and good times return. Defense companies have strong cash flows that make it possible for them to pull off such moves, and their investors will probably forget all about the U.S budget cuts; at least for now.
Northrop boasts the most impressive cash ratio with 0.8697 and is followed by Raytheon with 0.4523. Honeywell is third with a cash ratio of 0.3375 while General Dynamics and Lockheed Martin have the lowest cash ratios with 0.3173 and 0.2322 respectively.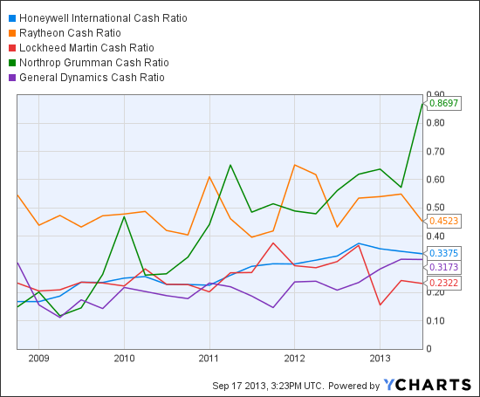 Ge
Conclusion
Following the impressive performance of most defense companies this year, many investors are now wondering if the defense industry deliberately overhyped the supposed negative effects of the sequestration, by presenting a worst-case scenario, perhaps in a bid to impress Congress. Some analysts believe that the full effects of the sequestration won't be felt by defense companies until a couple of years have elapsed. It is this uncertainty that has led most analysts to give a ''Hold'' rating to most of these stocks. Honeywell has, however, received a strong ''Buy'' rating.
Disclosure: I have no positions in any stocks mentioned, and no plans to initiate any positions within the next 72 hours. I wrote this article myself, and it expresses my own opinions. I am not receiving compensation for it (other than from Seeking Alpha). I have no business relationship with any company whose stock is mentioned in this article.