In the example below, we show that Exeter Resource Corp. (NYSEMKT:XRA) has reached a condition that warrants special attention. This condition, a potential completed capitulation and the beginning of a retracement move (or a new bull move) was spotted when XRA met our model criteria.
A model is no guarantee of price movement. A model is only useful for identifying that certain criteria have been met. Therefore, the vehicle (stock, future, or index) has the potential to move.
Long‑Term Retracement or new Bull Move Model Criteria:
Steady and sustained multi‑year decline of 70% - 90% or more
Potential capitulation at the low
Relatively low institutional holdings
Apparent disregard by the financial and investment community
Balance sheet or portfolio that indicates unrecognized or ignored asset(s)
Low amounts of debt
Management change at the bottom (or potential bottom) of the price decline
Management purchases of stock in the open market
Potential for a significant increase in revenue and/or asset value
Chart sub-divisions lower have changed to sub‑divisions higher
Vehicle (stock, future) price targets well above current levels
Unusual trading activity or volume(s)
A more detailed description of the model is listed below:
Multi‑year decline:
XRA has been hit hard, declining approximately 94% from a high of 9.41, to a low (thus far) of 0.62. This decline has taken place over an extended three‑year period and satisfies the requirement of squeezing out speculative (momentum trader) excesses.
Capitulation at the low:
Capitulations tend to be wide price‑bar, high‑volume affairs. In the case of XRA, the potential capitulation takes place over a period of three trading days with one of those days as the high‑volume mark.
As can be seen from the chart below, there was a high volume day accompanied with what appears to be the capitulation low in XRA at 0.62.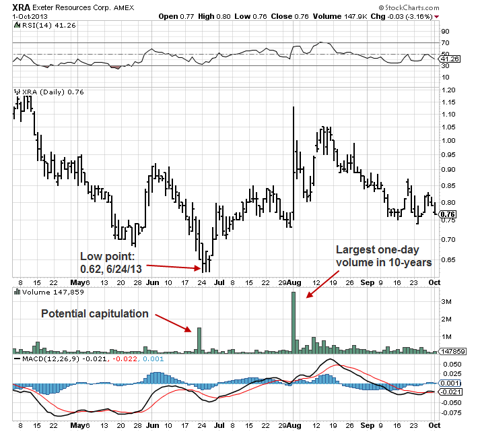 Charts by StockCharts.com
Low Institutional holdings:
At around 33% being held by institutions, XRA has the potential to move higher if more firms decide to add to or initiate positions.
Apparent disregard by the financial and investment community:
With a current (at time of press) price in the area of 80‑cents, and a corresponding Market Cap of: 73-million, it is reasonable to say that not many are paying attention.
Balance sheet or portfolio that indicates unrecognized or ignored asset(s):
The momentum‑trade excitement over Caspiche wore off years ago and at this time, results from La Buena are unknown.
However, the combination of both of these assets may be worth many multiples of that currently reflected in the share price. More on this is detailed below.
Low amounts of debt:
XRA has no debt.
Management change at the bottom (or potential bottom) of the share price decline:
This was the event that began the analysis process on XRA in earnest.
From a model standpoint, a high‑level management change (such as CEO, CFO, or legal council) after a multi‑year share‑price decline indicates a willingness of the board to get on with it and make changes.
Wendell Zerb, the new CEO, joined XRA at the beginning of this year.
Mr. Zerb hired in from Canaccord Capital Corporation, which is one of the significant underwriters for XRA. In the past, Canaccord was involved (along with other underwriters) with executing market offerings that succeeded in brining in over 178 million (CDN) to XRA's treasury.
Thus, Mr. Zerb brings to XRA his previous technical background as a geologist as well as his personal connection(s) that he has in the capital markets.
Management purchases in the open market:
Corporate officers typically buy their stock for only one reason. They think that share price is going up. The new CEO and other officers of the company have been making purchases in the open market (on the Toronto exchange) since the beginning of 2013.
These are not option grants at zero cost to the receiver, but actual open market purchases of XRC (on the TSX) exchange.
Potential for a significant increase in revenue and/or asset value:
XRA has no significant revenue stream so the consideration is on asset values.
In our model, if there is no apparent existing increasing revenue or the potential for increasing revenue, then to meet the model criteria there needs to be the probability for a significant (discontinuous) increase in asset value.
In this case, 'discontinuous' means that the value of the asset literally changes overnight.
In our view, the La Buena property, and more specifically, the Julia Zone, has the potential to change significantly in value.
As Mr. Zerb indicated in his initial video, La Buena (the Julia Target) is a high risk, but potentially a high value target. At Time Stamp: 22:12, in the March 28th 2013, video, Mr. Zerb states that "We think it's the type of target that could be a company‑maker type target". The comment almost slides by and we had to watch the video several times before we picked up on the nuances of that comment.
In the video, Mr. Zerb was appropriately low key but firm about the future prospects for XRA. However, if we look at our list shown in the Corporate History section towards the end of this report, we conclude that the La Buena property may actually turn out to be much lower risk and higher reward than anyone (except XRA) expects.
Note: Details of how XRA came to have the rights to La Buena (a unique bit of corporate intrigue on its own), is planned for a follow‑on report.
Chart sub-divisions lower have changed to sub‑divisions higher:
The weekly chart of XRA below is annotated to show that price action (as of this writing) is now sub‑dividing higher: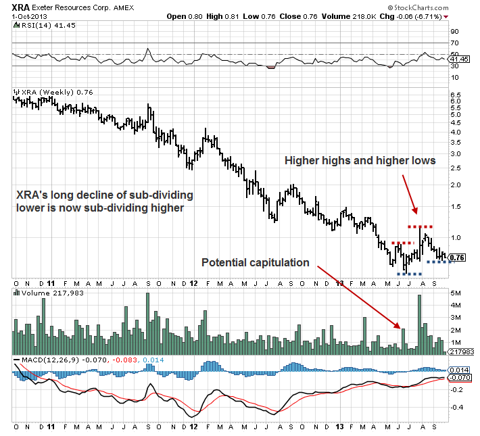 Charts by StockCharts.com
Vehicle (stock, future) price targets significantly higher from current levels:
The weekly chart above does not include the data that goes back to the year 2008, where XRA made a low of 0.91 on 10/27/2008.
This low, in conjunction with the 9.41 high made on 3/18/2010, and then the subsequent low of 0.62 on 6/24/2013, effectively sets up a wide trading range of approximately 8.50‑points.
At the current levels (in the area of 0.75 - 0.85), a partial retracement of either, 38%, 50%, or 62%, would all result in a significant percentage gain from current levels.
Again, the model does not guarantee that XRA will return to these retracement levels or to the top of the range, it only indicates the potential of a move to those levels.
With the entire precious metals sector at multi‑year lows (and being hit especially hard today, 10/1/13) , the potential for a recovery of the sector on a go‑forward basis, even if only a retracement off of the lows, is not an unreasonable expectation.
Unusual trading activity or volume(s):
The daily chart of XRA shown earlier includes a massive volume spike pushing price upward on 8/1/2013.
As far as we can tell from our data, this spike of over 3.5 million shares is the highest one‑day volume ever in XRA. The next highest volume day occurred just after the break from the all‑time high on 4/6/10, with 2.28 million shares traded.
Corporate History:
It is one thing to meet model requirements. It is another thing to realize the potential.
Part of the supporting analysis of our model and the corresponding gain potential is whether or not the current entity has the internal structure, the internal character if you will, to rise to the occasion and deliver on significantly increased asset value.
To get a sense of whether or not XRA has that type of internal structure we reviewed every XRA press release available, from 2003, to present. From our own experience of decades in the corporate world, there is much understanding to be gained by listening to what management says and then watching what they do. A lot is revealed from such observations.
In the case of XRA, a total of 191 press releases over the ten‑year period were accessed, reviewed, cataloged and stored in our data vault. The purpose of this effort was to obtain a history of decisions and subsequent follow‑on actions that would provide insight to the inner workings of XRA.
Having done so, we have reached the following conclusions:
The company has a proven track record of exploration and discovery. This established track record was also mentioned in Wendell Zerb's initial video at Time Stamp: 17:00
Management changes are a predictive indicator to subsequent company operations. An example of this was the hiring of Mr. Roger Walsh in 2009. Mr. Walsh brought to XRA his experience with acquisitions and divestitures. Less than a year after coming on board, the Argentinean spin‑out was announced. Approximately six months after the announcement, Mr. Walsh resigns, apparently after a job well done.

What then does this indicate of the entrance of Mr. Zerb who not only has a technical background, but first hand contact(s) into the capital markets?

XRA has proven the ability to raise substantial (for their size) amounts of capital and they have typically done this as share prices were increasing.
XRA has used their treasury judiciously. If one reviews just a few of the other exploration, discovery and mining operators, you can get a sense of the rarity of this characteristic.
Summary:
As can be seen, identifying the potential for a significant gain from depressed levels involves meeting not only the requirements of our model, it also means that the supporting factors detailed above play significantly into the mix.
There is never any guarantee. Un‑seen events could occur that change the overall structure of XRA or the surrounding environmental or political landscape. Those conditions are to be expected when attempting to position for the opportunity of a significant potential move.
At the time of press, we are currently positioned long in XRA at 0.82, and have a stop in the area of 0.70 - 0.74. If we are stopped out, it may or may not mean that the assessment above is incorrect. From our perspective, it only means that we are free to re‑evaluate from the sidelines and make a new determination.
Disclosure: I am long XRA. I wrote this article myself, and it expresses my own opinions. I am not receiving compensation for it (other than from Seeking Alpha). I have no business relationship with any company whose stock is mentioned in this article.
Disclaimer: This report is for discussion purposes only as well as to publicly document our thinking and market analysis actions within the Three Ten Trading entity. We are not advocating any stock or in any way offering portfolio management advice or stock selection service.