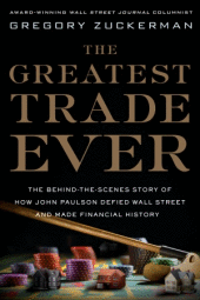 There is a lot of chatter out there about Greg Zuckerman's new book about John Paulson's subprime trade. Titled The Greatest Trade Ever (Broadway Business 2009) the book chronicles how Paulson's risky trade came together and how it paid out, controversies, warts, timing and all. I have a copy on the way and am looking forward to reading it, but here is an opening excerpt:
The tip was intriguing. It was the fall of 2007, financial markets were collapsing, and Wall Street firms were losing massive amounts of money, as if they trying to give back a decade's worth of profits in a few brutal months. But as I aid at my desk at The Wall Street Journal, tallying the pain, a top hedge-fund manager called to rave about an investor named John Paulson who somehow was scoring huge profits. My contact, speaking with equal parts envy and respect, grabbed me with this: "Paulson's not even a housing or mortgage guy … And until this trade, he was run-of-the-mill, nothing special."

… Paulson's winning were so enormous they seemed unreal, even cartoonish. His firm, Paulson & Co., made $1 billion in 2007, a figure that topped the gross domestic products of Bolivia, Honduras, and Paraguay, South American nations nations with more than twelve million residents. Paulson's personal cut was nearly $4 billion, or more than than $10 million a day. That was more than the earnings of J.K. Rowling, Oprah Winfrey and Tiger Woods put together. At one point in late 2007, a broker called to remind Paulson of an account worth $5 million, an account now so insignificant that it had slipped his mind. Just as impressive, Paulson managed to transform his trade in 2008 and early 2009 in dramatic form, scoring $5 billion more for his firm and clients, as well as $2 billion for himself. the moves put Paulson and his remarkable trade alongside Warren Buffet, George Soros, Bernard Baruch, and Jesse Livermore in Wall Street's pantheon of traders. They also made him one of the richest people in world, wealthier than Steven Spielberg, March Zuckerberg, and David Rockefeller Sr.