CommonWealth REIT (NYSE:CWH) has been a piggy bank for RMR and the Portnoy posse for quite some time now. CWH was started back in '86, and is now a $7B+ office/industrial focused property REIT. It owns 500 office buildings.
Notable hedge funds Corvex Management and Related Fund Management (Related Fund Management is run by the real estate firm Related Companies) have taken notice and are looking to take the company private for $24.50 and/or remove the entire Board of Trustees. The news really helped boost its stock nice, now trading back over $22. But there could still be room for the stock to move higher.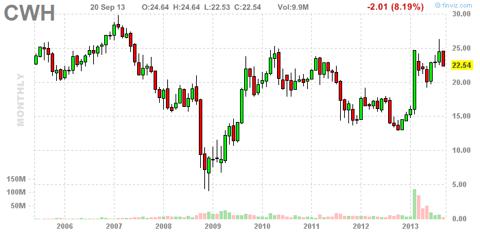 The ordeal started back in Feb., when Corvex and Related Companies snatched up just under 10% of the REIT. The horrid management structure is what has caught Corvex's eye. The idea is that CWH is paying unnecessarily high fees to RMR. RMR is a private management company that's owned by Barry Portnoy and son Adam Portnoy. Also, Barry Portnoy is CWH's Chairman and Adam Portnoy is its President. All the executive officers of CWH are RMR officers.
Corvex is pushing to remove the board, which requires a supermajority vote. Due to the poison pill in place, Corvex/Related are limited to 10%. And by replacing the board, Corvex could then have the new members remove the pill. Corvex/Related and CHW are currently in arbitration (more on this later).
Once it's clear that RMR is no longer an issue, other bidders could well come to the table. And even if there's no deal, Corvex believes that by replacing CWH's board and making management an in-house affair (it's currently outsourced to RMR) the stock could easily see $44 by the end of 2014, which is nearly 100% upside.
Before Corvex got involved, CWH was struggling to keep its stock above $15 per share. The stock got a nice boost, but it's still trading at an over 8% discount to the buyout offer.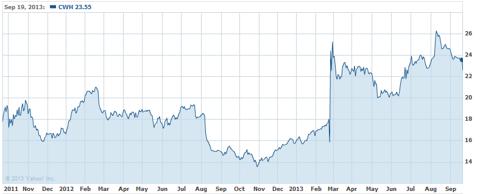 Back in April, Corvex detailed its thesis via a letter to CWH. Outlined below are some highlights (emphasis ours).
"The Portnoys, along with their hand-picked trustees, have in our view managed CommonWealth in a way which has enriched themselves rather than representing the interests of shareholders...

Based on Related's extensive due diligence and expert analysis, and with the assistance of highly qualified external consultants, we recognized that CommonWealth's real estate assets trade at a substantial discount to fair value due to a misalignment of incentives between RMR and shareholders, and what in our view is plain mismanagement by the Portnoys and the trustees...

...We firmly believe this external manager structure must be removed and replaced with an internal management team that is truly focused on creating value for ALL shareholders.

THE PORTNOYS AND THEIR TRUSTEES HAVE ENGAGED IN AN ACCELERATING CAMPAIGN TO DISENFRANCHISE SHAREHOLDERS AND DESTROY VALUE.

...We are proposing CommonWealth take the following simple, yet decisive actions:

Internalize Management Structure, and transition to having its own management team instead of relying on the conflicted, overpaid services of RMR or another external manager. We note that RMR has received over $336 million just in the last five years from CommonWealth, while managing at least 5 other entities in the Portnoy Empire and engaging in over $2 billion of related party transactions at CommonWealth alone. During the same period CommonWealth has seen its stock decline by over 49% and cut its dividend by 70%.

Adopt Corporate Governance Best Practices, amending CommonWealth's existing charter and bylaws to improve them and conform to ISS and Glass Lewis best practices, increasing rights for all shareholders CommonWealth's board should no longer be insulated by a classified board, a "poison pill" with a "slow hand" provision and other entrenchment devices.

Cease Affiliate Transactions With, Or Managed By, RMR, which we believe are resulting in the transfer of enormous value to RMR and the Portnoys at YOUR expense.

Cease all acquisition and development activity until CommonWealth's stock price exceeds its NAV, and use excess cash flow to buy back CommonWealth's undervalued shares until its stock price exceeds NAV"
Portnoy's buying spree
The inherent problem with the CWH-RMR deal/agreement structure is that the fees are tied to assets owned by CWH. Thus, RMR has a vested interest to buy up assets, irrespective of how these assets perform.
Per CWH's SEC filings:
"RMR is authorized to follow broad operating and investment guidelines and, therefore, has discretion in determining the types of properties that will be appropriate investments for us, as well as our individual operating and investment decisions."

We pay RMR fees based in part upon the historical cost of our investments (including acquisition costs) which at any time may be more or less than the fair market value of those investments...

Our fee arrangements with RMR could encourage RMR to advocate acquisitions of properties, to undertake construction activities or to overpay for acquisitions or construction...Our management agreements were negotiated between related parties, and the terms, including the fees payable to RMR, may not be as favorable to us as they would have been were they negotiated on an arm's length basis between unrelated parties."
Over the last 6 years, CWH has managed to grow net acquisition/CapEx at nearly 200% its market cap, versus the peer average of only 28%. CWH spent $2.7 billion on acquisitions from 2007 to 2012. Its peers acquired at about one-seventh of CWH's rate over the same period

Source: Related
So the fee agreement allows RMR to get paid based on the assets under management, irrespective of asset performance. And so, RMR has gone on a destructive asset purchase spree to boost CWH assets.
It's quite puzzling, where having an external REIT manager makes little to no sense and creates inherent conflicts of interest. The majority of publicly traded REITs have internal management teams to better align shareholders and management. As far as the external management of a REIT, Green Street Advisors notes (emphasis ours):
"For most externally advised REITs, the fee paid to the advisor is predicated on the company's size - not on its success (or lack thereof). Therein lies the conflict of interest. The advisor carries a strong incentive to constantly sell common stock in order to raise funds for acquisitions. The price at which the equity is raised matters little to the advisor - making the REIT bigger and increasing the advisory fee is a primary objective.

The externally managed REIT structure creates conflicts of interest that are so severe, we don't believe we can quantify the share price discount an investor should require to buy any of these companies. As a result, we have long deemed the Portnoy REITs to be 'uninvestable.'

...while the externally advised structure remains the norm in the nontraded REIT world, where conflicts of interest run rampant, the Portnoy REITs stand out like a sore thumb in the publicly traded REIT domain. If the conflicts of interest are so detrimental to shareholders, why don't they and the Boards of the REITs terminate the advisory contract and staff the REIT with its own employees?"
Show me the money!
And so, RMR has taken CWH on a buying spree to help boost assets, ultimately boosting its fees. RMR was paid $77 million last year to operate CommonWealth and paid a total of $395 million from 2007 to 2012, equal to nearly 30% of the REIT's market value prior to March. But the real troublesome part of all this, company performance has been abysmal, while the fees paid to Portnoy's RMR have continued to rise. Over the last three years CWH has grossly underperformed its major peers: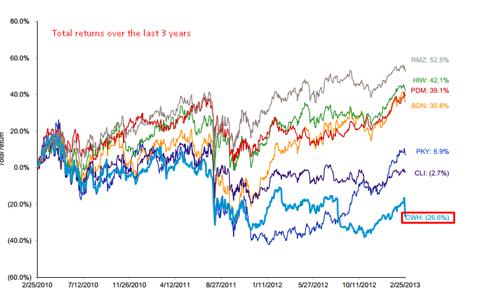 Source: Related
And while CWH's share price tumbled 38% in 2010, 39% in 2011 and 6.9% in 2012, the fees paid to RMR increased 3.4%, 11.7% and 11.2%, respectively, during those years...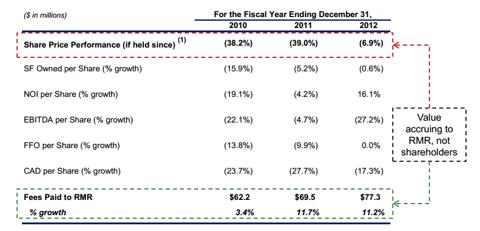 Source: Related
Taking a longer-term look, from '07 to '12, RMR fees grew 29.5%, while CWH's total stock return is a negative 67.9%.

See the problem?
And Corvex and notable investors point to the fact that Mr. Market has a hefty discount attached to the company because of the unscrupulous management. We've noticed a similar story over at TravelCenters of America (NYSEMKT:TA), which, on the surface is extremely cheap at 5x earnings, but the Portnoy stranglehold makes the company a value trap. As far as CWH, the stock traded at 5.5x 2014E FFO, which was a steep discount to the 11.5x peer average.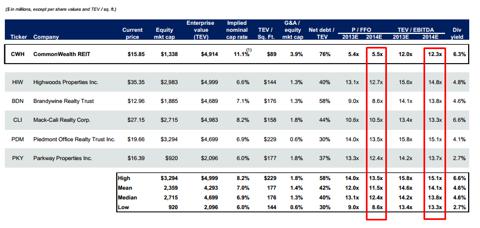 Source: Related
As a side note, Portnoy's RMR also manages a couple of other notable REITs. These include Government Properties Income Trust (NYSE:GOV), FIve Star Quality Care (NYSE:FVE), Select Income REIT (NYSE:SIR), Senior Housing Properties Trust (NYSE:SNH), Hospitality Properties Trust (NYSE:HPT). With the exception of CWH, thanks to the recent run up, the five RMR managed REITs have underperformed the market over the last five years.

Corvex is rallying the troops
Per a 13D filing in August, Corvex now owns 11.36 million CHW shares, just around 9.6% of the company. Corvex founder, Keith Meister, is known as one of billionaire Carl Icahn's proteges. Before leaving Icahn to start Corvex, Meister was considered Icahn's right hand man. And Meister is following in Icahn's footsteps, taking the activist approach to concentrated investing.
As a side note, Corvex got his start in 2011 with seed capital (some $250 million) from billionaire George Soros. Although he's only been on the hedge fund scene a couple of year now, Meister has already had a huge win by orchestrating the sale of Ralcorp Holdings to ConAgra. Ralcorp initially walked away from the deal, and then Meister got involved -- the rest is history. Corvex turned a 50% profit on its investment in a matter of months.
Corvex and Related are at the forefront of this fight over CWH, but there are a number of other funds that own shares of CWH and that are rooting for Corvex. Perry Corp jumped into the fight shortly after Corvex waged its activist campaign. Perry now owns 6% of CHW and have publicly announced support of Corvex. You may remember hearing Perry's name in the news of late, as the fund cuts its stake in J.C. Penney.
As well, billionaire Bill Ackman's protege, Richard McGuire, and his Marcato Capital own 3.25% of CWH, Fir Tree owns 3.63%, Highfields Capital owns 3.18%, Macquarie Group owns 2.8% and notable activist fund Jana Partners owns 2.5%.
Back in June, Institutional Shareholder Services, a proxy advisory firm, recommended that shareholders vote in favor of the consent solicitation (basically encouraging shareholders to vote with and for Corvex's). ISS noted that the removal of all existing directors is warranted given the dismal returns, which, in part, is due to the gross conflicts of interest in the external management structure.
Around that time Marcato Capital sent a letter to CWH. Outlined below are their highlights (emphasis ours):
"Following our own analysis, we agree that the shares of CommonWealth trade at a substantial discount to the fair value of its underlying real estate assets. We further agree that this discount is due to a misalignment of incentives between REIT Management & Research ("RMR") and CommonWealth's shareholders that rewards RMR for capital allocation decisions that destroy shareholder value and have resulted in a disappointing track record of underperformance...

The many actions taken to further entrench the Company's underperforming leadership in the past months have reinforced our belief that the Board and RMR are operating CommonWealth solely for the benefit of the Portnoys..."
Even Standard & Poor's piled on, lowering CWH's credit rating in June. The company was downgraded from BBB- to BB+, with S&P citing management's inability to "improve the competitive positioning of its office portfolio given weak office market conditions."
We are also backers of another one of Marcato's activist battles, over at Sotheby's (NYSE:BID). Where he and billionaire Dan Loeb are looking to boost shareholder value for the owners of the auction company.
Things are looking up
Back in August, the arbitrators threw out CWH's amended bylaws, which would require a consent of shareholders who owned their shares for three years. As well, it threw out a statute that would prevent shareholders from removing trustees, thus, allowing trustees to be removed without cause by shareholders. That means the big hurdles are out of the way. The evidentiary hearing is set for October 7th, where the arbitrators plan to render a "final dispositive award."
Just this week, CWH announced a restructuring of the management agreement with RMR and better shareholder governance practices. The purpose of restructuring the management agreement between RMR and CWH is to supposedly align the interests of RMR with CWH shareholders. CWH also announced plans to increase the independence of CWH's board, the annual election of trustees, and terminate the poison pill in place.
Needless to say, Corvex and Related were not impressed with these moves. In their statement, they said:
"Today's announcement is nothing more than hollow rhetoric and a desperate attempt to keep Barry Portnoy and his son Adam in control of CommonWealth. In particular, the "governance enhancements" lack substance and constitute mere window dressing by a rogue board that was removed from office over three months ago by the holders of more than 70% of the outstanding shares. Shareholders should note that these "to-be proposed" governance changes contain widespread caveats and would not even be considered, if ever, until after the arbitration is expected to be completed. It should also be noted that we consented to the dismissal of the damages claim to expedite the arbitration process. We remain confident that the arbitration panel will validate our prior consent solicitation at the end of next month's hearing."
Bottom line
All in all, we are rooting for Corvex, and ultimately believe they will prevail. We think the Portnoy's are worried Corvex will prevail as well, evidenced by their recent efforts at corporate governance this week ahead of the evidentiary hearing next month.
As Corvex notes, "we are focused on liberating CommonWealth from the Portnoys any way we can." We see this an interesting merger-arb opportunity. A deeply discounted one at that. The latest offer price is $24.50, and there's an opportunity for other bidders to come in once the RMR overhang is dealt with. The stock also pays a 4.4% dividend yield.
We'll know after the evidentiary hearing on October 7, but we look for Corvex to get the win and expect trustees will be clearing out their desks soon. Corvex and his known hedge fund supporters own almost 20% of the company, meanwhile, the board of trustees (Portnoy's included) own less than 1% of CWH.
Once RMR is out of the picture, the NAV per share is around $35 (according to Corvex) and their price target is $44 by the end of 2014. This Icahn protégé (Meister) has proven to be resilient in his short time as an activist. We have no reason to doubt that he, or the funds in his corner (Related, Perry, Marcato, etc.), will be shoved to the side by the Portnoys. We're buyers for the short term merger arb opportunity, but hope CWH removes RMR and manages to stay public, where the upside could be 75% in just over a year. Yet, if the deal does fall through, the stock could tumble to pre-Crovex levels, around $18, and so it wouldn't be a bad idea to buy some protection with covered calls (an income oriented strategy).
Disclosure: I have no positions in any stocks mentioned, and no plans to initiate any positions within the next 72 hours. I wrote this article myself, and it expresses my own opinions. I am not receiving compensation for it (other than from Seeking Alpha). I have no business relationship with any company whose stock is mentioned in this article.