The company that allows you to "start learning a new language in less than 5 minutes" is having trouble communicating its message to Wall Street. During the third quarter Rosetta Stone Inc. (NYSE:RST) booked revenue of $67.2 million and earnings of $0.29 per share. The result showed growth over the same quarter last year, but failed to revive investor confidence which had been falling for several months.
In August, ZachStocks discussed marketing expenses at Rosetta, explaining that the company was "purchasing sales" by exorbitant spending on sales and marketing in order to reach target revenue rates. While the targets were being hit, profit margins suffered and the stock took a significant hit when third quarter guidance was issued on August 17th. Last week when the company issued the actual third quarter report along with guidance for the fourth quarter, the stock once again gapped lower, this time violating the $18 IPO price.
Once again, management tried to paint a positive light on the numbers, stating that the company saw strength in institutional and international markets while acknowledging that there were challenges with the US consumer. While the press release did not break out the international versus domestic sales figures, it did lay out the fact that 76% of sales come from consumers while only 24% are institutional. So it appears that the major portion of the company's business is under pressure and unlikely to generate meaningful growth in the next few quarters.
While we resolved our Internet marketing issues during the quarter, we feel that the current economic environment is having an effect on our US consumer business, resulting in greater variability in our operating results as we head into the holiday season.

~Tom Adams, CEO
With Friday's payroll report showing a worse than expected number of jobs lost and the unemployment level reaching 10.2%, it is unlikely the US consumer will add to sales for Rosetta. While the company was able to land a meaningful contract from the military this month, it is still an uphill battle to generate meaningful sales growth. International sales could pick up, but there is not significant strength in the global economy. One positive could be a weak dollar which makes international sales cheaper, but Rosetta has yet to prove that this source of revenue can add meaningful growth.
Initial investors who bought on the IPO have to be extremely frustrated at this point. After experiencing more than a 75% increase within a few weeks of the offering, positive returns have now evaporated. As RST probes new lows and slides below the IPO price, there are now no investors who actually have a profit in the stock. Ironically, this is taking place at the same time the Dow is hitting new highs. As we mentioned in the ZachStocks Newsletter this week, investors are quickly fleeing risky assets and putting capital into blue chip investments. This doesn't bode well for investors in RST.
When discussing the stock in August, I mentioned that I would not be interested in buying the stock unless it reached $15. I stand by that statement but want to add a caveat. As we approach that level (which represents a 16% decline from the IPO price), I do not want to buy Rosetta simply because it reached that price level. In order to buy this name, I want to see a clear picture for how the company will grow revenue and translate that to significant earnings growth. Until the picture for the consumer picks up, or the company proves it can ramp up its institutional business quickly, there is too much risk to own this under performing stock.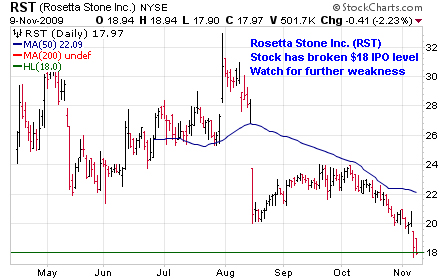 Disclosure: Author does not have a position in RST