Introduction
As a dividend growth investor, I am always on the lookout for companies that not only pay dividends, but increase them year after year. By investing in the stocks of such companies, I aim to build a sustainable and rising stream of dividend income. To read about my dividend growth investing progress thus far, please see my latest quarterly review.
When contemplating whether to invest in a particular dividend growth stock, one of the many things I pay attention to is valuation. No matter how great the company, I will not buy its stock if it is overvalued. For that reason, I typically determine a fair value estimate for every stock on my watch list, and I make an investment only when I deem a stock to be attractively valued. While I prefer dividend growth stocks that are undervalued, I don't mind paying fair value for a high-quality company. A few days ago I noticed that Wal-Mart Stores (NYSE:WMT) was trading near my estimated fair value, which motivated me to make it the 31st stock in my dividend growth portfolio.
Wal-Mart Stores: A Retail Heavyweight
Wal-Mart is one of the largest retailers in the world, operating more than 10,000 stores in 27 countries. Last year the company opened its 4,000th store in the United States and it continues to grow its international operations. The company sells groceries and a wide variety of consumer goods to approximately 245 million customers on a weekly basis, attracting customers with its "everyday low prices."
Low prices become even more appealing to consumers when they have limited money to spend. As shown in the figure below, median household income has fallen during the past few years, largely due to the recent recession. Low- and middle-income consumers may find that a dollar goes further at Wal-Mart than at other stores nowadays. Personally, I shop at my local Wal-Mart once in a while because of its convenient location, variety of merchandise, and low prices.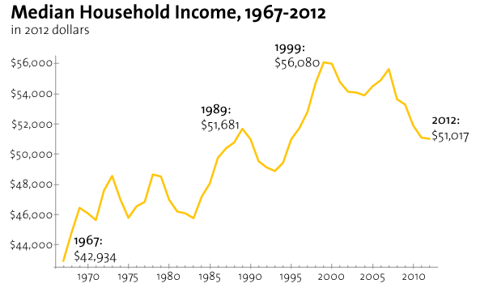 Source: Census Bureau [data] and Mother Jones [figure]
Besides continuing to offer low prices, Wal-Mart aims to grow its business through several initiatives. To complement its brick-and-mortar stores, Wal-Mart has an e-commerce website that offers a more extensive array of products than can be found in stores. The company has been testing various ways of integrating online and local shopping, such as same-day delivery of purchases from its U.S. website and in-store pickup of items ordered online. In addition, smaller store formats such as Neighborhood Markets are being deployed in areas that may be less amenable to Supercenters. In the next section, I review some of the company's fundamentals over the past several years.
Fundamentals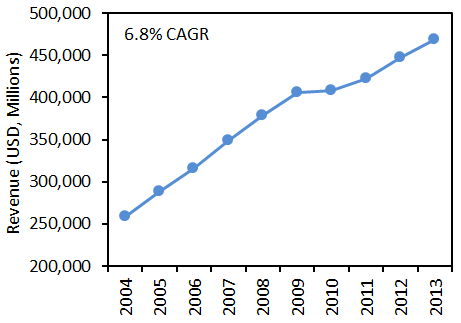 Data by fiscal year. Source: Morningstar
Despite already being the largest retailer in the world by revenue, WMT has been very consistent in continuing to grow its revenue. Total revenue grew at a healthy compounded annual growth rate [CAGR] of 6.8% over the past nine years, and it did not dip during the recent recession.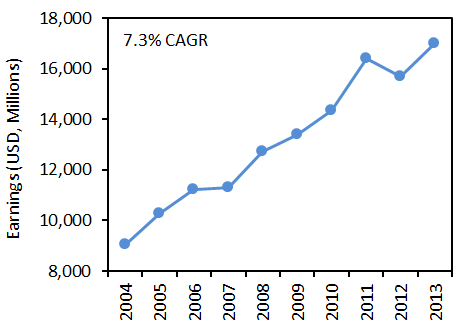 Data by fiscal year. Source: Morningstar
With a low but steady net profit margin of 5.9%, only a small fraction of the company's revenue becomes earnings. Total earnings grew at a respectable CAGR of 7.3%. The next figure shows the growth of earnings per share [EPS] and dividends: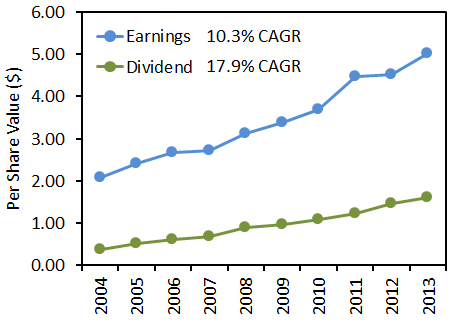 Data by fiscal year. Source: Morningstar
Notice that the CAGR for EPS is 10.3%, which is higher than the CAGR for total earnings. This resulted from WMT executing an effective stock buyback program for several years: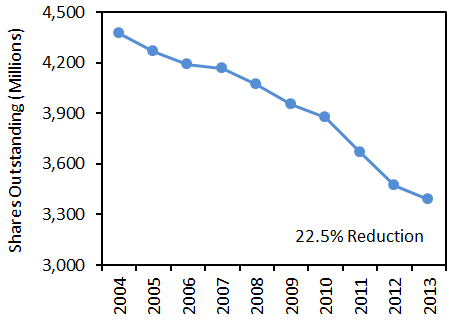 Data by fiscal year. Source: Morningstar
Over a span of nine years, WMT decreased its total share count by 22.5%. With total earnings divided among fewer shares, EPS was able to grow at a higher rate than total earnings. As shown in an earlier figure, dividends grew at a CAGR of 17.9%, which is higher than the CAGR for earnings. This resulted from WMT gradually increasing its payout ratio over time: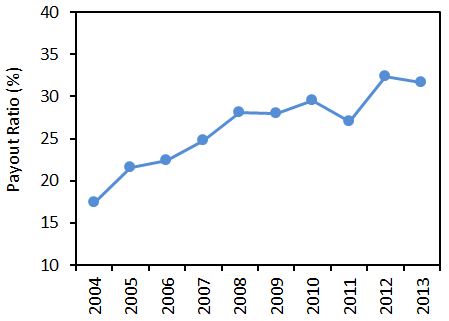 Data by fiscal year. Source: Author calculation
Even after the increase in the payout ratio, WMT is still paying out less than 40% of its earnings as dividends. WMT is classified as a Dividend Champion, having increased its dividend for 39 consecutive years. The current dividend yield is slightly above 2.5% and the most recent dividend increase was 18.2%, announced on February 21, 2013.
The preceding figures and metrics provide a clear picture of the company's recent growth. As a dividend growth investor, an important consideration for me is the source of a company's dividend growth. If it reflects an increasing payout ratio with flat earnings, then that would be problematic because the dividend growth would not coincide with actual improvement in the company's operating performance. However, this is not the case for WMT. While some of the dividend growth reflects an increasing payout ratio, it is also supported by actual earnings growth.
An additional consideration is whether earnings growth in terms of EPS reflects actual improvement in earnings or simply a reduction in total share count. For example, a company could have flat total earnings but still show increasing EPS if they buy back shares every year. Once again, this is not the case for WMT. While some of the EPS growth reflects a reduction in total share count, it is also supported by total earnings growth.
Thus, one can conclude that WMT's dividend growth is supported by earnings growth, but it is also helped by an increasing payout ratio and a reduction in the number of outstanding shares. I think it is unlikely that WMT will be able to maintain such a high dividend growth rate for many more years. As I showed in a previous article, companies with relatively high past dividend growth rates were unable to maintain such high rates in the future. In the case of WMT, at some point the expansion of its payout ratio will halt and the dividend growth rate will probably match the EPS growth rate of about 10%. Incidentally, Value Line expects a dividend growth rate of 10% over the next few years.
Balance Sheet
WMT has a moderately strong balance sheet, with a debt/capitalization ratio of 35%, debt/equity ratio of 74%, interest coverage of 12.4x, and current ratio of 0.8. Given its steady revenue and earnings, I am not concerned about the company's ability to pay its debts or the interest on them. Value Line gives WMT a safety rating of 1 and rates its financial strength as A++.
Valuation
One way to gauge the valuation of a company is to compare its current P/E ratio with its historical average annual P/E ratios: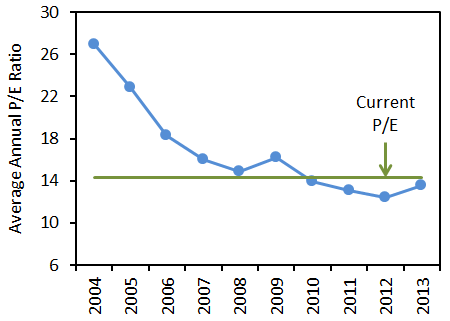 Data by fiscal year. Source: Value Line
The market was pricing WMT at a premium in the early part of the time period shown in the figure. However, the average annual P/E ratio has since come down to around 14. The current P/E ratio of about 14.3 is nearly equivalent to the 5-year historical average P/E ratio, which also happens to be the case with the current price/sales ratio of 0.5 and its historical average (according to Morningstar). The current price/book ratio of 3.4 is slightly above the historical average of 3.1 and the current yield of around 2.5% is higher than the historical average of 2.1%. Based on these comparisons, I think it is reasonable to conclude that WMT is fairly valued.
WMT has a fair value of $74.00 according to Morningstar, which gives the stock a 3-star rating. WMT has a fair value of $72.70 according to S&P Capital IQ, which gives the stock a 4-star rating. (Interestingly, just a week ago the fair value estimate from S&P Capital IQ was over $79.) Using a Dividend Discount Model with a projected dividend growth rate equal to 10% (Value Line's estimate) and a discount rate equal to the current yield plus the projected dividend growth rate, I calculate a fair value of $81.09. The average of those three estimates is a fair value of $75.93, which implies a margin of safety of about 3% at the current trading price of around $73.72. Once again I think it is reasonable to conclude that WMT is fairly valued. This conclusion is consistent with that of an article published by Chuck Carnevale back in July, when the stock was trading a bit higher. A similar conclusion was reached in an article published more recently by Dividend Growth Investor.
Action
I do not mind paying fair value for a high-quality, blue-chip company such as WMT. The retailer continues to grow its revenue, earnings, and dividends at steady rates, and that kind of consistency is very desirable. Consequently, I started a position in WMT at $73.44 per share on October 1, 2013, by combining new capital with accumulated dividends in my taxable brokerage account. This purchase gives my portfolio some diversification in the retail sector and has the potential to be a solid long-term investment.
Disclosure: I am long WMT. I wrote this article myself, and it expresses my own opinions. I am not receiving compensation for it (other than from Seeking Alpha). I have no business relationship with any company whose stock is mentioned in this article.