Value Investing is about buying a security at a significant discount to its intrinsic value, so that the investor can have a realistic expectation of attaining a profit. Often the best opportunities are found in out-of-favor industries, where the short-term outlook is rather cloudy. Joy Global Inc. (NYSE:JOY) has been a beneficiary of a robust commodities cycle that has coincided with the rapid development of China and India's respective economic development, due to its position as a leading supplier of mining tools. Unfortunately for the company, for the first time in over a decade, most mined commodities are in or near a supply surplus, and that means rapidly declining demand for the equipment that JOY Global manufactures. This disconnect is unlikely to correct itself in the near-term but the resulting selloff in the stock has allowed long-term investors to buy one of the most attractive commodity equipment manufacturers at a substantial discount to intrinsic value.
Despite the best efforts of the central banks, the global economic recovery has been quite disappointing. While the seemingly endless money printing seems like it should create an inflationary scenario, the historically high unemployment in Europe and the United States, in addition to slowing growth in Asia have had a deflationary impact in many markets, including on commodities tied to global growth such as coal and copper. Despite the rapid ascension of the large emerging markets such as China and India, which house roughly 35% of the global population, it is estimated that about 20% of the global population is still off of the electrical grid. This leads to demand for coal generated electricity and other basic materials such as copper that is directly tied to infrastructure development. JOY generates the most profitability from its aftermarket services, which help provide an earnings ballast even during difficult operating environments such as 2009.
JOY has been riding the high-life over the last decade with returns on invested capital greater than 20%, and returns on equity greater than 25%. Return on assets has consistently been greater than 10% and the company has been able to gain scale through several key acquisitions over the last few years. The company generates a lot of free cash flow, which has helped fund these acquisitions without over-burdening Joy Global with too severe of a debt load. This is the type of business that has been mentioned as a potential acquisition target for the likes of a Berkshire Hathaway [(NYSE:BRK.A) (NYSE:BRK.B)] or a Caterpillar (NYSE:CAT), but the valuation has been much more demanding over the last several years. Intelligent businessmen and investors tend to buy businesses during times of severe turmoil, as that is what allows them to acquire companies at prices that offer both a margin of safety and attractive return potential. While there are some promising signs for increasing coal utilization globally despite the terrible environment for the commodity in the United States, the stock doesn't have a clear catalyst, so only a long-term approach makes sense.
Joy Global reported 3rd quarter financial results that were expectedly quite poor given the current environment for the business. Net sales were $1.3 billion, down from $1.4 billion a year ago. Bookings totaled $685MM, down 36% from a year ago, and down 28% excluding the impact of exchange rates. Bookings from underground mining machines decreased 43% YoY, while surface mining equipment bookings were down 27%. Operating income was down to 20.8% from 21.6% in the 3rd quarter of 2012. Earnings per fully diluted share were $1.71, down from $1.82 in the year-ago period. Backlog at the end of the 3rd quarter was $1.6 billion compared to $2.2 billion at the beginning of the 3rd quarter. Cash provided from continuing operations were $350MM, which was actually up from $157MM in the year-ago period. One notable positive for the company was that the Board of Directors authorized the company to repurchase up to $1.0 billion in shares of common stock over the next 36 months. Given the price that the stock is trading at in relation to intrinsic value, I view this as an exceptional opportunity to grow per share intrinsic value.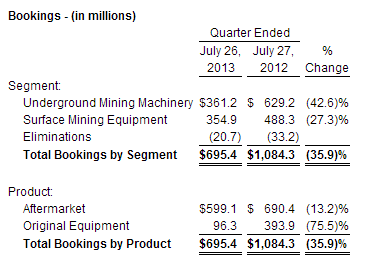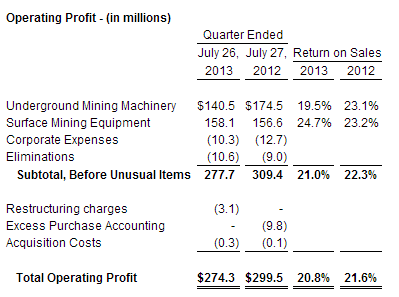 Source: 3rd Quarter JOY Investor Press Release
The current outlook is unlikely to support annual revenue above $4 billion, which is a pretty steep decline for the company, but due to a reasonable start earlier in the year, management was comfortable reiterating its 2013 outlook for diluted earnings per share of $5.60 to $5.80 on revenues of $4.9 to $5.0 billion. The company should continue to generate reasonable cash flows, as its capex spend is declining from $240MM in fiscal year 2012, to a sustaining rate of $125MM per year. Pensions funding costs have been heading lower and the company expects to reduce it by a further $115MM in fiscal year 2014, which helps enable a buyback program.
Based on a 107.312MM shares outstanding and a recent price of $51.87, Joy Global has a market capitalization of $5.566 billion. The company also has long-term debt of $1.269352 billion, which is partially offset by $.486050 billion of cash and cash equivalents, equating to an enterprise value of $6.35 billion. In 2012, 2011 and 2010 JOY has generated $1.173 billion, $0.920 billion and $0.697 billion in operating income, respectively. Average net income over the last three years is about $611MM, which at 13 times earnings would result in a market capitalization of about $7.943 billion, or 42% higher than the current market cap. 2012 EBITDA was nearly $1.3 billion, which means that the EV/EBITDA ratio is only about 4.88. Many of the same trends that have led the company to be so successful in terms of providing mining supplies are still in place over the long-term, albeit the short-term outlook is not likely to get rosier any time soon. Stocks can always get cheaper, especially when there isn't a catalyst for a short-term correction but I believe that JOY offers a reasonable margin of safety and attractive return prospects once the fundamentals of its industry improve. Dollar cost averaging is highly recommended as usual.
One way to manufacture an even cheaper price for the business is through selling cash-secured put options on the stock. Currently, you can sell the $50 puts for about $7.70 per contract, which equates to an 18.2% return on the maximum risk of $4,230 in 471 days, assuming the stock expires above $50. The worst case scenario would be that you would end up owning 100 shares of Joy Global at a breakeven price of $42.30 per share, which would equate to a market cap of about $4.53 billion. Because the company is in the midst of a $1 billion stock buyback, any material sell-off should give the company the opportunity to increase its intrinsic value through discounted purchases. While I don't believe that shareholders' would be happy with even a $60 takeout price, I believe that JOY would be a very attractive acquisition candidate for a number of larger companies, so that would be a potential catalyst, although it is highly unlikely that anything is in the works.
Disclosure: I am long JOY, BRK.B. I wrote this article myself, and it expresses my own opinions. I am not receiving compensation for it (other than from Seeking Alpha). I have no business relationship with any company whose stock is mentioned in this article.