By Jake King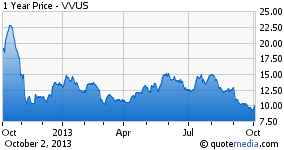 It seems Vivus Pharmaceuticals (NASDAQ:VVUS) may have some important news coming.
Two Vivus patent applications covering Qsymia appear to be in a condition for allowance according to the USPTO. Assuming the allowed applications issue as patents, Qsymia's patent term may extend into 2028. This is important as Vivus' ability to protect Qsymia has been a major point of contention for investors. We were turned on to the news by Mr. Robert Diggs of the VivusPatent Blog, which we've followed with interest for the last year. The blog is worth tracking for any biotech investor, particularly those interested in the obesity landscape - here's part of the Wednesday post:
As of market close on October 1st, the prosecution status of two pending Qsymia patent applications (US Application Nos. 12/481,540 and 12/481,548) was updated on the USPTO's Patent Application Information Retrieval (OTCPK:PAIR) site indicating the applications were now in a condition for allowance. More specifically, the transaction history for both applications was updated with a "Reasons for Allowance" event notice (one dated September 27th and the other September 30th), and the image file wrapper for the '540 application showed a terminal disclaimer had been filed.

Both of these events strongly suggest the applications are now in a condition for allowance (although a formal Notice of Allowance has not yet been issued by the USPTO). After allowance, Vivus will have three months to pay the issue fee and applications typically issue as patents about 6-8 weeks thereafter. There are instances when either the patent examiner or the patent applicant may pull an application from issuance (e.g., if new prior art is introduced), however, this is generally not the case. . . To be clear, the strength of the new Qsymia patents will be highly material to the value of Vivus. In many ways this development further illustrates the binary nature of Vivus' future. It is still the opinion of RFD that the earlier Najarian patents (listed here in the Orange Book) are not likely to survive a validity or enforceability challenge from a generic that files a paragraph IV challenge - not to mention the unresolved assignment issues associated with the Najarian patents. For these reasons, RFD predicted the entry of generic competition during the second half of 2015 or some time in 2016 (see the report here) - far before the scheduled expiration of the Najarian patents in 2020. However, with the presumed issuance of new Qsymia claims, the Qsymia patent term now extends into 2028 (plus any patent term adjustment).
The issuance of two new patents, outside of the original Najarian patent family, would extend the patent term for Qysmia by an additional 8-9 years and introduce new Orange Book patents that appear to be free of the problems and deficiencies of the earlier Najarian family, which were the subject of much of Mr. Diggs' VivusPatent blog. Moreover, application issuance serves to reinforce the bull case for Vivus in that generics will now have to contest two additional patents in order to open the door to generic Qysmia. It should be noted, however, that the generic substitutes for Qsymia, phentermine and topiramate, are still available and are likely taking some market share from Qsymia. Although Vivus has yet to officially disclose these patent developments, shares have been trading higher in Wednesday's trading session. Mr. Diggs notes two caveats to this news:
The information from the US Patent and Trademark Office is not always complete. For example, sometimes prosecution information is not offered in chronological order or the corresponding documents are not immediately available for download. However, based on the information available as of market close on October 1st, it seems reasonable to conclude the applications have been allowed.

It is unclear when the company will publicly disclose these patent developments. Most companies wait until the patents actually issue, however, the USPTO PAIR site is available to the public so the company can direct investors and potential investors to the site for patent-related updates.
For those that have not followed in detail the questions raised regarding Vivus' ability to protect the weight-loss drug Qsymia (made mainstream with Citron Research's July 19, 2012 expose that was based on Mr. Diggs' first VivusPatent report), the strength of Vivus' existing patent estate has been contested by a number of investors, analysts, and outside observers. Mr. Diggs has analyzed in detail the Qsymia patent estate and expounded his views in a series of reports on the VivusPatent blog.
Mr. Diggs writes in his Wednesday post that he is surprised by the USPTO's decision to allow the patent applications and he is withholding judgment as to the validity and enforceability of the new patents. However, he notes this is a significant development for Vivus because it greatly extends Qsymia's patent term and reduces the company's dependence on the earlier Najarian patents.
Further, it's important to note that the blog was recently cited by Vivus' patent counsel in an official disclosure to the U.S. Patent and Trade Office, which adds a new level of validation of the blog's content and suppositions. On September 16, 2013 all ten reports at the VivusPatent wordpress site were submitted in an Information Disclosure Statement (IDS) by Vivus' patent counsel Mintz Levin to the USPTO. By submitting these reports in an IDS (seen here), Vivus and its patent counsel acknowledge that the content of these reports is sufficiently material to warrant disclosure to the USPTO for applications 12/481,540 and 12/481,548. With this, the entirety of the VivusPatent blog will be considered by the patent office when examining these pending applications. You can read Mr. Diggs' evaluation of the event here.
The first VivusPatent report, which lays out the author's initial thesis, can be found here and is worth reading for those unfamiliar with Qsymia's contentious IP. Again, Mr. Diggs latest analysis of the Vivus patent situation, published Wednesday, can be seen here.
The market is clearly reacting favorably to the possible patent allowance, although many investors we spoke with were not yet aware of the latest news. PropThink has no view on the long-term outlook for VVUS.
Disclosure: I am long VVUS. I wrote this article myself, and it expresses my own opinions. I am not receiving compensation for it. I have no business relationship with any company whose stock is mentioned in this article. PropThink is a team of editors, analysts, and writers. This article was written by Jake King. We did not receive compensation for this article, and we have no business relationship with any company whose stock is mentioned in this article. Use of PropThink's research is at your own risk. You should do your own research and due diligence before making any investment decision with respect to securities covered herein. You should assume that as of the publication date of any report or letter, PropThink, LLC and persons or entities with whom it has relationships (collectively referred to as "PropThink") has a position in all stocks (and/or options of the stock) covered herein that is consistent with the position set forth in our research report. Following publication of any report or letter, PropThink intends to continue transacting in the securities covered herein, and we may be long, short, or neutral at any time hereafter regardless of our initial recommendation. To the best of our knowledge and belief, all information contained herein is accurate and reliable, and has been obtained from public sources we believe to be accurate and reliable, and not from company insiders or persons who have a relationship with company insiders. Our full disclaimer is available at www.propthink.com/disclaimer.