Given the state of politics currently occurring in the U.S. and the inability for compromise on either side, it looks like there is potential for a rough time on Wall Street as investors decide whether they are willing to deal with the uncertainty and bail out of their positions/take profit. At this point investors have two options: 1) act like this scenario has not played out before in recent memory and dump large portions of their portfolio in an effort to reduce exposure and take profits, OR 2) go ahead and look at what stocks went on fire sale the last time this sort of scenario happened and perhaps use some of that dry powder to go ahead and start a new position in a company with excellent fundamentals that is being punished this week/month due to uncertainty driven by politics.
In an effort to demonstrate this point, I will rely on historical charts from June 1 to December 31, 2011, which encompass the time period of the last debt ceiling crisis that resulted in a last minute compromise on August 2, 2011. A timeline of this previous crisis can be found here. It's important to remember that in 2011 there was a considerably larger macro concern that the debt crises in Greece and Italy were going to destabilize the European Union, and this led to a larger initial reaction and higher volatility in the market to the news that the extension for the debt limit in the U.S. would not be passed in a timely manner. Volatility was notably higher at this point, and this does not look to be playing out in the same manner just yet for the current crisis. The 2011 incident did not ultimately result in a shutdown, and never approached a showdown over default on previously obligated payments. Where I can, I will also include the charts for the companies during and after the previous actual government shutdown from December 15, 1995, to Jan 6, 1996, for the sake of being thorough.
The current crisis looks to really come to a head in mid-October when the actual debt limit is due to be hit and default will begin to occur, but this is as good a time as any to start a watch-list of stocks that you are interested in as prospects if a significant drop does occur.
The stocks I will be looking for will have the following attributes in addition to having had a steep decline and rebound in August to December 2011:
Fundamentally Sound: positive and steady FCF, growing revenues, and stable margins
A Solid Dividend: <50% FCF payout and positive dividend growth
Reasonable Debt Load: D/E less than 50%
A Large Sell Off: forward and current P/E of less than 15
Seagate Technology (NASDAQ:STX)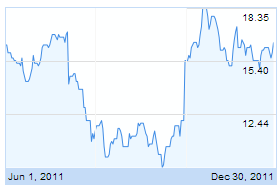 (Google Finance)
Seagate experienced a 30% drop in the two weeks following the crisis in 2011, resulting in a P/E of around 10 and a 7% dividend yield. Currently Seagate sits with a forward P/E of 8 and a dividend yield of 3.4%. I have compared Seagate's valuation with that of Western Digital in a previous article and I still think Seagate is the better value between the two companies at these prices. If Western Digital experiences a healthy pull back as a result of the shutdown, it becomes a more attractive option and a great opportunity to enter or increase a position at a reasonable price.
Boeing (NYSE:BA)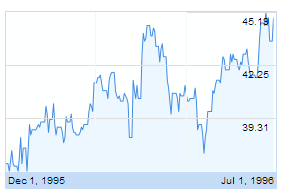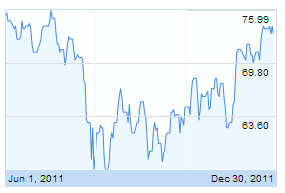 (Google Finance)
Boeing experienced a 19% drop in the course of two weeks of the 2011 crisis as funding uncertainty pummeled the aerospace giant. This resulted in a P/E at the time of around 11 and a dividend yield of 3%. Currently Boeing sits with a forward P/E of 17 with a dividend yield of 1.65%. As a company that relies on government spending for a large portion of its business, it may be a candidate if a significant market correction occurs as it is likely to be more heavily punished than companies with little direct financial exposure. The company's D/E is a too high for my guidelines, but does not stand out as being particularly high when compared against the sector.
Ingersoll Rand (NYSE:IR)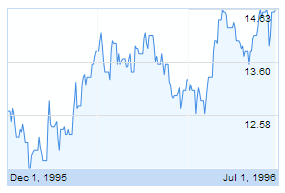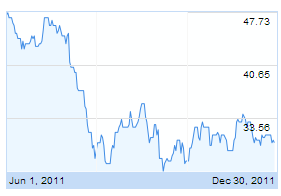 (Google Finance)
Ingersoll Rand experienced a 40% drop in the course of a month after turning in positive results for Q2 2011 and a recent annual dividend increase from $0.28 to $0.48. The fundamentals of the company had not changed, but the market perception did, allowing for the opportunity to get into a quality company at a heavy discount. I have previously written more in depth about Ingersoll Rand's current fundamentals and its results for the most recent quarter.
Overall
These are but three examples of stocks that experienced significant drops in the debt limit incident in 2011, but rebounded significantly by the end of the year. These companies all had pretty reasonable valuations and healthy dividends that got even more reasonable as uncertainty took over and beat down prices. I am not advocating taking positions in these companies currently, but rather suggesting a methodology to approach other stocks that you may be interested in that get unfairly punished as this argument over debt continues to play out. In my opinion, now is the time to identify and perform due diligence on companies that you are interested in, because in the midst of a market sinking like a rock it becomes increasingly hard to focus on the fundamentals and pull the trigger amongst all of the noise about the sky falling.
Disclosure: I am long IR, STX. I wrote this article myself, and it expresses my own opinions. I am not receiving compensation for it (other than from Seeking Alpha). I have no business relationship with any company whose stock is mentioned in this article.