October is upon us and it is time again for an update on price targets for gold miners provided by analysts and available from Yahoo.com. As in previous installments we will be noting price targets and target changes in comparison with results published in our last edition in this series. We would like to stress that many companies mentioned in this article may have more analysts following their progress than considered in our database. This difference is explained by the fact that not all analysts release their predictions to Yahoo.com. Instead, in many cases analyst data is considered as proprietary information only available to subscribers of the analysts' services.
We continue to consider the following stocks (in alphabetical order): Agnico Eagle (NYSE:AEM), Alamos Gold (NYSE:AGI), Allied Nevada (NYSEMKT:ANV), AngloGold Ashanti (NYSE:AU), AuRico Gold (NYSE:AUQ), Barrick Gold (NYSE:ABX), Eldorado Gold (NYSE:EGO), Gold Fields (NYSE:GFI), Goldcorp (NYSE:GG), Harmony Gold (NYSE:HMY), IAMGOLD (NYSE:IAG), Kinross Gold (NYSE:KGC), McEwen Mining (NYSE:MUX), Nevsun Resources (NYSEMKT:NSU), New Gold (NYSEMKT:NGD), Newmont Mining (NYSE:NEM), Primero Mining (NYSE:PPP), Randgold (NASDAQ:GOLD), Sibanye Gold (NYSE:SBGL), Yamana Gold (NYSE:AUY). We continue to retain Nevsun Resources in our analysis despite a recent change in focus to copper in their mining operations in Eritrea.
The table below summarizes our data. The first three columns list the company names, ticker symbols and share prices at the time of writing. Price targets (low, median and high) are listed in the following three columns. These targets are followed by a column giving the number of analysts providing data to Yahoo.com and the mean recommendations given by these analysts ranging from 1.0 (strong buy) to 5.0 (sell). This concludes the data sourced directly from Yahoo.com.
The following columns are colored in light green and contain data derived from our source data. These data points are given in percentages related to the share price at the time of writing. The column titled "median-price" gives the difference between the share price and the median target price. The column titled "high-low" gives the difference between the high and the low target. The last four columns titled "target change" document the changes in price targets since the September report with the last columns giving the average change over the low, median and high price targets.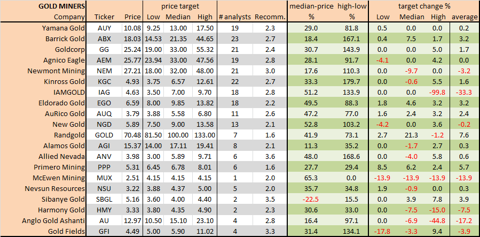 Column "median-price" shows the difference between the current share price and the median price target. Under normal circumstances we would view a large value in this column as an indicator for the potential of disproportionate gains over the coming year. The diagram below visualizes the data.
McEwen Mining only has one analyst rating available on Yahoo.com but this one analyst seems to think very highly of the company's potential. Following in second and third place in this ranking are New Gold and IAMGOLD.
At the other end of the spectrum we find Sibanye Gold, the only company in our database trading above the full range of analyst price targets. One possible explanation could be the labor situation in South Africa, which seems calm again allowing Sibanye Gold to outperform expectations.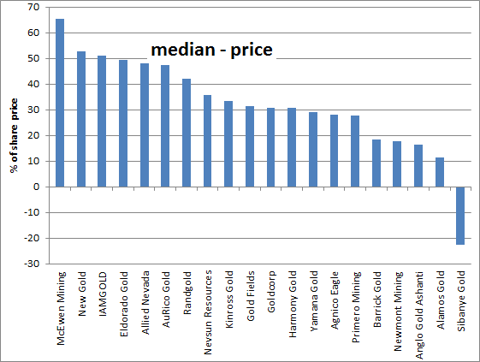 Column "high-low" measures the divergence in analyst opinions. The results from this column in the table at the top of this article are visualized in the next diagram.
IAMGOLD used to show the highest values in this category. It appears that analysts have come closer with their expectations on this company over the past month and Kinross Gold has taken the lead. Still close to the front in this ranking are Allied Nevada and Barrick Gold.
Agreement in price targets is noted for Sibanye Gold, Primero Mining, Harmony Gold, Nevsun Resources and Alamos Gold.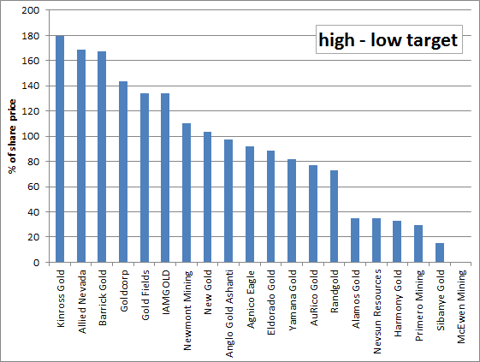 More moderate monthly changes in price targets than in previous editions could be observed; presumably owing to the relative calm in gold price. On average targets were lowered by 2.4% with IAMGOLD, AngloGold Ashanti and McEwen Mining the most affected. The diagram below illustrates our data.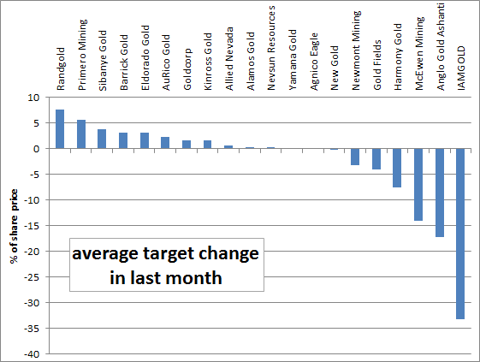 And to round this article out, we would like to offer a visualization for column "Recommendation." We have added a feature to this month's edition: the little red bars indicate changes in the recommendation rating since last month. Randgold and Primero Mining are still the darlings of analysts and Allied Nevada and Sibanye Gold are bringing up the rear. Recommendation upgrades since September are noted for Agnico Eagle and AuRico Gold.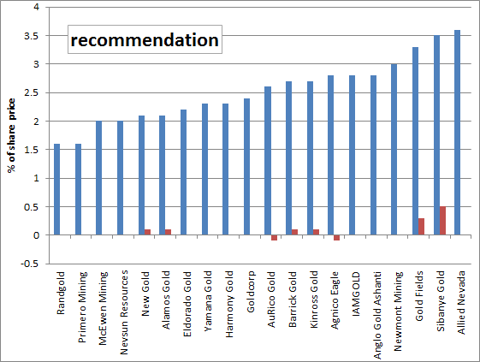 Our pick of the month
Randgold has just announced the first gold pour at the Kibali mine in the Democratic Republic of Congo. Execution of this project has been remarkable. The company continues to grow despite its high exposure to country risk.
Disclosure: I am long AEM. I wrote this article myself, and it expresses my own opinions. I am not receiving compensation for it (other than from Seeking Alpha). I have no business relationship with any company whose stock is mentioned in this article.