At the beginning of July (7/9), we sent subscribers our quarterly list of Russell 3000 stocks trading under $10 per share that had positive valuations/fundamentals as well as attractive price charts. The table below summarizes the performance of those stocks from 7/9 through 10/2.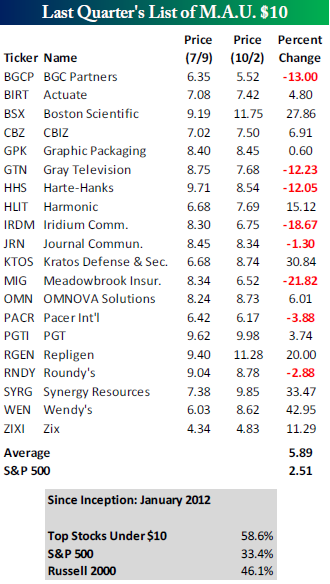 On an equal-weighted basis, the basket of stocks from the second quarter rose an average of 5.89% through 10/2. This was more than double the return of the S&P 500 (2.51%) and modestly behind the performance of the Russell 2000 (6.34%). This quarter's biggest winner was Wendy's (NYSE:WEN), which rallied 42.95%! Boston Scientific (NYSE:BSX) had been on the list since the beginning of the year, but after a gain of 27.9%, the stock has now 'graduated' from the list as it is now trading above $10. The only other graduate on last quarter's list is Repligen (NASDAQ:RGEN), which gained 20% from 7/9 through 10/2.
On a cumulative basis, our most attractive stocks trading under $10 per share (MAU10) portfolio is up 58.6% since the start of 2012. Over that same time period, the Russell 2000 is up 46.1%, while the S&P 500 is up 33.4%. So against both indices, the MAU10 portfolio is handily outperforming since inception.