Molycorp, Inc. (MCP) mines and sells rare earth chemicals and oxides and rare metal materials and products in the U.S. and globally. Rare earth elements are used in number of important applications, such as clean energy technologies, defense technologies, automotive technologies, consumer electronics, Aerospace technologies, healthcare technologies and many more. Molycorp operates 26 locations in 11 countries and has more than 2700 employees. Molycorp also operates a subsidiary, Molycorp Magnequench, that develops and sells powerful and permanent rare earth magnets and materials to build those magnets.
Since 2011, the share price has ranged from over $80 to just under $5 per share and currently sits at $7.36. A glut of rare earth materials on the world market, collapse of rare earth prices due to the glut, high capex, high production costs, construction cost overruns and delays, increased debt and dilution have all contributed to the price collapse from $80 per share. I believe Molycorp has turned the corner and has put these issues behind it and with improving operational cashflows is poised to double by the end of 1Q 2014. Below I have listed 8 reasons why I am a buyer of Molycorp at the current prices.
1. Cost Reductions along with Increased Production Capacity - On October 2, 2013, Molycorp announced mechanical completion and the start of commissioning both a chloralkali unit and the final building of a multi-stage cracking plant at the Mountain Pass facility. Based on the CEO comments from the 2Q conference call, once both of these units are fully commissioned and optimized, they will drive the production costs down and allow for higher production levels:
CEO Constantine Karayannopoulos, President and CEO of Molycorp:
Full operation of multistage crack also will contribute to lowering our cost of production.

Once that unit (chloralkali) is fully optimized, we expect to see a significant decline in our cash production costs over the coming quarters, which will eventually allow us to be cost and price-competitive with any rare earth producer in the world.
2. Worldwide Demand Is Increasing - Molycorp also sees demand increasing across several industries such as automotive, LED lighting, petroleum, and consumer products just to name a few. As a result of increased demand, many companies that had been keeping inventories low (just enough to meet demand) have started rebuilding inventories.
3. China Cracking Down On Illegal Mining and Smuggling - China, which controls and produces over 90% of the world's rare earth elements, has begun cracking down on illegal mining and smuggling of rare earth elements. China reported in May 2013 that black market rare earths have traded at 40,000 tonnes in previous years-- this added to a supply glut that contributed to depressed prices slowing global growth. As China continues to make progress stifling the black market, the glut will ease and the prices rise.
4. China To Increase Stockpiles For Security Reasons - It has been reported that China is increasing its strategic mineral stockpile by at least 10,000 tonnes. This will help in decreasing supply and increasing prices.
5. Prices Should Stabilize And Increase As Demand Increases - No surprise here; this is just economics 101. As the demand increases, the supply will decrease, and the price for rare earth elements will stabilize and begin to increase. The Market Vectors Rare Earth/Strategic Metals ETF (REMX) has been surging partly due to a rebound in rare earth prices.
6. Technical Analysis/Good Chart/High Volume - MolyCorp is approaching a golden cross breakout on high volume off what looks like a double-bottom breakout. Since April of 2013, it has been making higher highs and higher lows with a nice upward channel forming since June of 2013. Molycorp recently bounced off its historical lows and is forming a nice uptrend.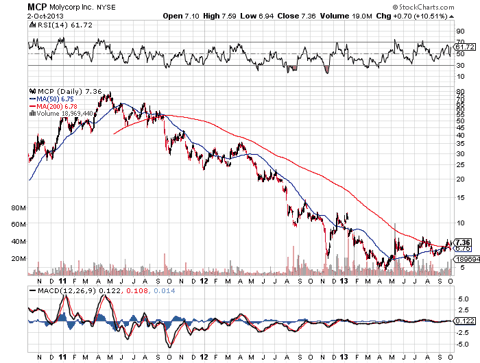 7. Insider Buying Spree - Over the last year, insiders have gone on a massive buying spree buying stock between $22.50 and $5.81 per share. It is said there are many reasons insiders will sell stock but only one good reason they buy stock; they think it is going up, and they are in the best position to know the future prospects of the company. I always like to see management in the stocks I own show sustained buying; it has often been a harbinger of huge share price increases in stocks I own, such as in Sarepta Therapeutics (NASDAQ:SRPT) and Ligand Pharmaceuticals (NASDAQ:LGND).
8. Huge Short Interest - Molycorp has an enormous short position, with over 31% of the float short or at last count, nearly 48M shares. In an article penned by fellow Seeking Alpha contributor Jeb Handwerger, he states:
Molycorp the sector leader is trading near book value and still has a major short of over 48 million shares. The shorts may need to cover as it is on the verge of forming a bullish golden crossover of the 50 day crossing above the 200 day. Molycorp has over 200 financial institutions controlling close to 60% of the float. A bullish reversal combined with short covering could lead to an explosive move for the entire sector.
I always like a good set-up with a large short position for exactly the reasons Jeb states above.
Based on the above reasons, I believe Molycorp presents a compelling investment opportunity at these price levels. I look for a continued upswing in share price through the end of the year and will continue to be a buyer at these levels.
Disclosure: I am long MCP, SRPT, LGND. I wrote this article myself, and it expresses my own opinions. I am not receiving compensation for it (other than from Seeking Alpha). I have no business relationship with any company whose stock is mentioned in this article.
Disclaimer: This article is informational and intended to spur thought and discussion. This article is NOT a substitute for your own extensive due diligence and does NOT qualify as investment advice. DO NOT BUY OR SELL STOCKS BASED ON THIS ARTICLE.