At a casual glance, the scandals that JPMorgan Chase (NYSE:JPM) has brought upon its head may seem quite damaging. But JPMorgan has a lot to offer its investors, in atonement for its sins. The company's inexpensive shares and a near 3% dividend yield are just some of these, not to mention its considerable business prospects that rival those offered by any other gargantuan bank of its size.
A lot of investors are presently giving lots of attention to the firm's scandals. Not less than seven different federal agencies, two foreign nations and a number of state regulators are currently investigating JPMorgan for several alleged questionable practices that range from the firm's involvement in the manipulation of commodities markets, to the alleged bribing of Chinese officials. JPMorgan admitted guilt in the (in) famous London Whale scandal, and lost a cool $6.2 billion in the process. To add insult to injury, the investment bank's investors who were reeling from the after-effects of the scandal now have to contend with another huge settlement estimated at an expected staggering $11 billion that is related to JPMorgan's sale of crummy mortgage securities sometime in the last decade.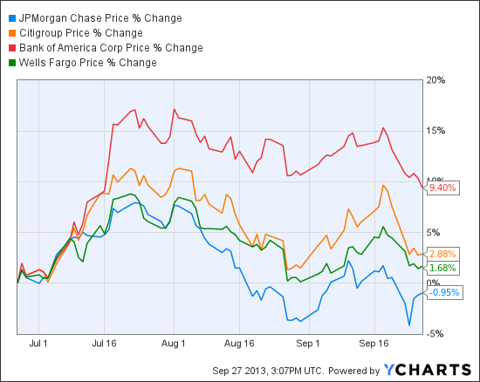 As we speak, JPMorgan shares are currently the cheapest among the S&P mega-caps. Its shares are now trading at a forward PE ratio of just 8.9 times the firm's expected 2014 earnings.
Nevertheless, despite all the bad rap JPMorgan has received of late, it is instructive to note that its valuation still remains surprisingly close to that of its peers --Wells Fargo (NYSE:WFC), Citigroup(NYSE:C) and Bank of America (NYSE:BAC), based on its forward PE ratio.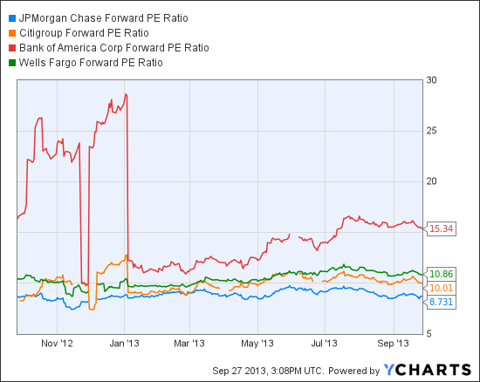 These valuations should not come as a surprise to investors. The banking industry has been anything but smooth sailing of late, what with the new credit requirements, very low interest rates that have drastically narrowed spreads and a generally sluggish global economy. JPMorgan is in many ways better set to handle all these challenges than many of its peers. Much of the bank's income is derived from trading, where the firm tends to excel. JPMorgan remains the #1 credit card issuer in the US, and manages about $2.2 trillion in total client assets. Both these two divisions grew by double-digit rates during the second-quarter. Despite its latest annus horribilis, JPMorgan has chalked up better revenue growth than its key competitors.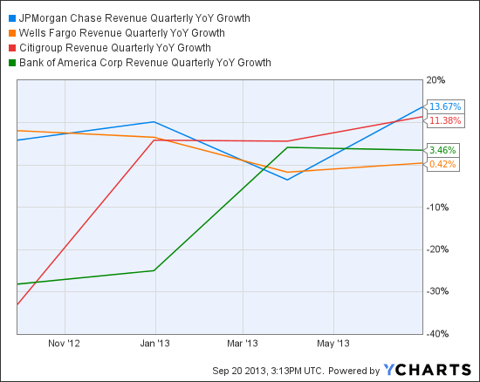 The big risk to consumers right now is whether the firm's costs (financial or otherwise) of its scandals will soon end or will continue to reverberate in the future. Despite the associated huge legal costs of the debacles, twice as many analysts recommend buying JPMorgan's shares as not. Legal fines, even enormous ones like JPMorgan's, only end up being a rounding error on the balance sheet of companies of its ilk. JPMorgan earns a respectable $10 billion per quarter in interest income alone. Remember that in today's low-interest rate environment, net interest income-- the difference between loan rate and the cost of servicing the loan-is extremely difficult to get.
Companies that survived major scandals
When I try to recall some companies that survived huge and potentially damaging scandals, a few companies quickly come to mind.
Gerber- this is a baby food company. There were close to 400 reports of slivers of glass found in Gerber baby food glass jars in 1986. Surprisingly, Gerber refused a recall and went on to sue Maryland for banning its products. The company then went ahead and boosted ad spending and is still going strong.
Perrier- this company was acquired by Nestle. Back in 1990, 13 bottles of Perrier bottled water were found to contain traces of Benzene. Perrier quickly recalled 160 million bottles from store shelves. The Perrier brand name can hardly be missed today when mentioning the most popular bottled water products.
ValueJet - On May 11, 1996, an AirTran ValueJet DC9 plunged into the Florida Everglades near Miami and killed all 110 people on board. ValuJet's 1996 air crash was of course not a scandal in itself, but caused such damage to its brand-name that the company had to quickly do something about it. Sensing the end was near, ValueJet quickly merged with little-known AirTran in 1997, and took on its name. After flying in the red for years, the new AirTran finally turned a profit in 1999. AirTran's still flying high, and it is widely rumored that the company will be fully acquired by Southwest Airlines soon, and take on its name.
I know that the these companies are not in any way related to JPMorgan, or even share similar business interests, but just wanted to remind investors that huge scandals are not the preserve of JPMorgan alone.
Dividends to lower share price
JPMorgan will trade ex-dividend on Oct. 2, 2013 for its quarterly dividend of $0.38 per share, payable on Oct. 31, 2013. This dividend works out to roughly 0.74% of the firm's current stock price of $51.67. Investors should, therefore, look for JPMorgan's shares to trade 0.74% lower at the opening of trade on Oct. 2, 2013, ceteris paribus (if all other factors are held constant). Below is JPMorgan's dividend history chart.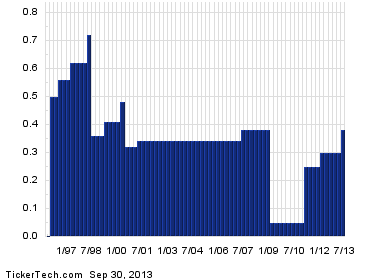 Dividends are generally not always predictable, but the chart should help investors determine how the firm's current $0.38 dividend per share compares to the other quarters,' and whether it can sustained. This dividend yield is equivalent to 2.94% annualized.
This chart below gives JPMorgan's one-year performance, versus the 200-day moving average: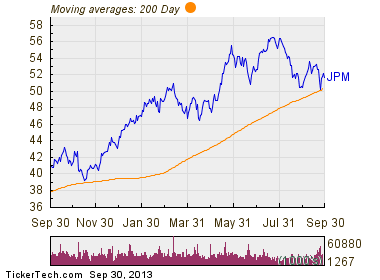 A quick glimpse into the chart tells you that JPMorgan has 38.83 as its 52-week low point, and $56.93 as its 52-week high.
JPM makes up approximately 10.59% of iShares U.S. Financial Services ETF (IYG) which is currently trading about 1.4% lower.
Conclusion
There is no denying that JPMorgan is paying a heavy price for its past mistakes, particularly the London Whale debacle. The good news for the company's investors is that the market generally cares very little about morality issues, unless of course they happen to greatly impinge on a company's ability to make money in the future. I suspect that JPMorgan's current scandals will not have this kind of effect on its bottom-line. Forgiveness certainly comes quickly when everybody is making money.
Disclosure: I have no positions in any stocks mentioned, and no plans to initiate any positions within the next 72 hours. I wrote this article myself, and it expresses my own opinions. I am not receiving compensation for it (other than from Seeking Alpha). I have no business relationship with any company whose stock is mentioned in this article.