"It is easy, by diligent study of the past, to foresee what is likely to happen in the future..." - Niccolò Machiavelli
The September swoon was milder and contained this year, but the S&P 500 retreated 4% from its mid month peak to its end of month low, providing an opportunity for investors. If Washington gridlock continues and markets stumble, history suggests investors willing to take a long view will profit from buying risk.
Rewarding markets into year-end
A lot of attention is focused on the risk investor's face in September and early October. But, risk and reward go hand in hand and historically those investors willing to step in and buy markets in October have made money.
Over the past 10 years, the S&P 400 (NYSEARCA:MDY), Russell 2000 (NYSEARCA:IWM) and MSCI EAFE (NYSEARCA:EFA) have all posted gains 8 times. The S&P 500 has gained 7 times and median returns for all the major market ETFs have exceeded 5% for the period.
Source: Seasonal Investor Database

One industry with a strong seasonal track record in the final quarter is basic materials. The basic materials ETF (NYSEARCA:IYM) has gained in 9 of the past 10 Q4's, returning an average and median 6.71% and 8.7%, respectively. The strong end of year seasonality for materials suggests it's a good time to consider these stocks for portfolios, particularly given they've underperformed the market this year. So far, the IYM has returned a respectable 8.3% in 2013. However, the S&P 500 (NYSEARCA:SPY) has gained a much more impressive 19.7%.

These two coal stocks should be on your radar
Across the Seasonal Investor database of basic materials stocks, 10 have finished Q4 higher in 9 of the past 10 years, but few have endured the pain of coal stocks. Returns for coal have been nothing shy of abysmal this year.
The coal ETF (NYSEARCA:KOL) has dropped 24% this year as utilities continue to embrace cheap natural gas for electricity production, and steel production has been tepid.
In the most recently reported month of July, U.S. utilities consumed -3.7% less coal for electricity production than during July, 2012. The comparison may be a bit unfair, since July 2012 was one of the hottest on record. The following chart shows the seasonal demand for coal and other fuel sources. Notice the peaks in both mid summer and winter.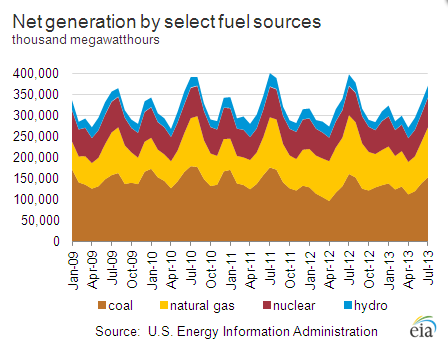 The amount of coal utilities have on hand has fallen sharply. In July, coal stocks were -6.1% lower than in June and down -12.4% from July 2012.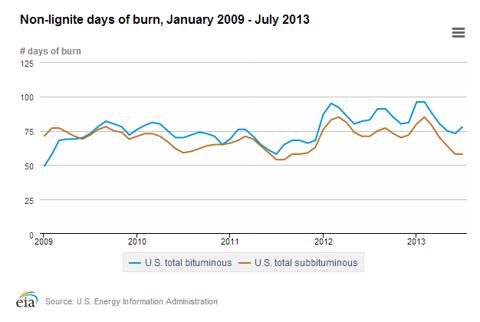 The typical coal inventory drawdown in summer tends to result in a fall bottom in coal prices. Those prices then tend to trend up into colder weather. The following chart shows this dynamic across Central Appalachian coal from 2004 through 2012. Notice coal prices tend to dip and rally at this point in the year.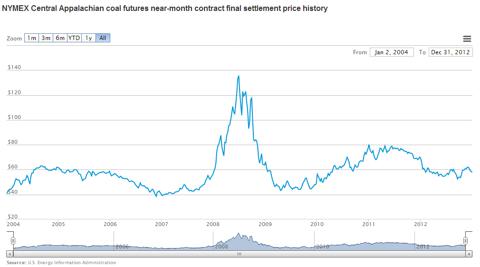 If inventory drawdown leads to rebuilding of coal stocks, and prices trend higher in turn, it suggests there may be an opportunity to buy beaten down coal stocks for a position trade into year-end.
The market for coal for steel has been challenged this year too. In the final week of September, U.S. steel production totaled 1.85 million net tons. Utilization was just 70.4%. Year-to-date, steel production is 72.1 million net tons, down 3.3% from 2012. Imports of steel this year have dropped 9%. But, steel production may be showing some signs of bottoming. According to WorldSteel, August's global steel production was 5.2% higher year-over-year, led by China.
2 Coal stocks with robust Q4 seasonality
Across the Seasonal Investor database, 2 coal stocks have robust seasonal performance into year-end. Both Arch Coal (ACI), which has fallen 43% this year, and Walter Energy (NYSE:WLT) have traded higher in 9 of the past 10 Q4's. Both have also gained in each of the past 4 years, despite the utility industry's shift to natural gas and tighter regulation.
1. Arch Coal is as unloved as any coal producer. The highly leveraged company went on an acquisition spree during the coal price boom, layering on additional debt. The company remains heavily tied to U.S. demand, where it operates both thermal and met coal mines with 5 billion tons of reserves. It has been front and center in feeling the weight of lower demand from U.S. utilities and steel producers.
However, if coal demand heading into winter picks up and supports prices, Arch may find moves to cut costs help boost investor interest in shares. Since 2011, the company has reduced its capex budget 45% and management is guiding the street to expect cost of production in Appalachian and Western mines will fall slightly this year. Clearly, the company is working to conserve cash. Its cost cutting is being paired with non-core asset sales in an attempt to improve its balance sheet and cash stands at $1.2 billion, giving the company a bit of wiggle room. That works out to over $4 per share in cash and a current ratio of 3.11. While there's significant risk in stepping into the battered stock, there's also significant potential long-term reward. Currently, investors are paying just 0.24x sales and 0.32x book value for shares.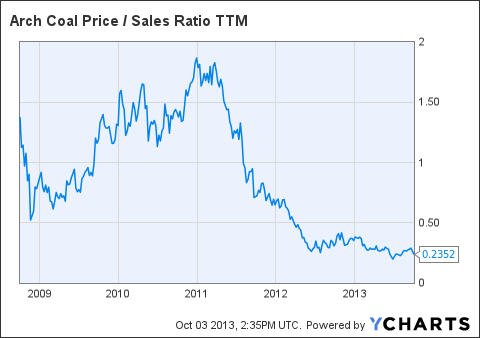 ACI Price / Sales Ratio TTM data by YCharts
Given the backdrop, investors may want to cover or get long. Over the past 10 years, Arch's shares have climbed 9 times in Q4, returning an average and median 9.53% and 10.14%, respectively.

2. Walter's focus is on met coal used in steel production, so it's been a bit more insulated to the drop off in utility demand. Still, the company has lost money in each of the past four quarters.
However, met coal prices have offered some tepid signs of encouragement. Per ton prices were $152 per ton into fall, up 5% from Q3 and 20% from July. The move up since the start of the second half of 2013 followed a dramatic drop-off in prices in the first half. That has some analysts expecting little new supply and an improving global economy will help lift per ton prices back toward $200 per ton over the next few years, according to Macquarie.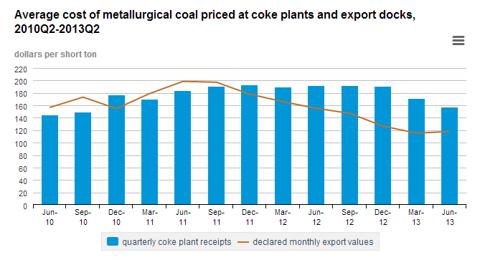 Only about 10% of Walter's production stays in the United States. So, demand for Walter met coal has been impacted by supply coming online in Australia and cheaper foreign currencies relative to the U.S. dollar. The company has also suffered from a slower Europe, which gets about 40% of Walter's production.
Like Arch, the company is cutting its production costs. In Q2, costs per ton fell 12.6% from Q1 and more than 20% year-over-year. SG&A ran at a $87 million annualized rate in Q2, lower than the $100 million run rate the company forecasted heading into 2013. So, a rebound in the global economy -- particularly in Europe -- could eventually be leveraged against lower costs for improved profitability. Also like Arch, investors aren't paying much for Walter shares. They're paying just 0.45x sales and about 1x book value.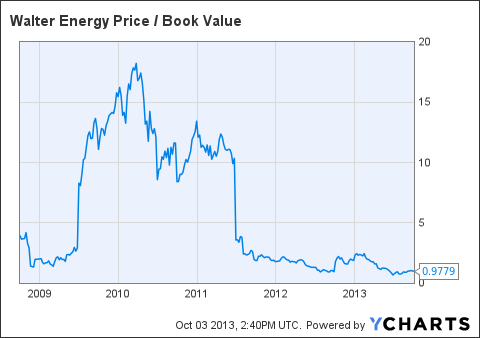 WLT Price / Book Value data by YCharts
Of course, there are a lot of "ifs" in a recovery scenario. But, for risk taking investors, the quarter seems to offer as good an entry as any other. Over the past decade, shares have traded up in the final quarter of the year 9 times, returning an average and median 23.1% and 25.1%, respectively.
Source: Seasonal Investor Database

Disclosure: I have no positions in any stocks mentioned, but may initiate a long position in WLT, ACI over the next 72 hours. I wrote this article myself, and it expresses my own opinions. I am not receiving compensation for it (other than from Seeking Alpha). I have no business relationship with any company whose stock is mentioned in this article.