We were talking to a friend who is involved in the markets yesterday about the current state of things and exchanging views on our outlooks. Sometimes one has an opinion that until another points it out to them they have no idea how valuable that it really is. This happened yesterday, and for that we are thankful for having the significance of this pointed out to us.
As many readers know, we have been arguably the biggest bulls on the oil and natural gas E&P sector, mainly focusing on those names with growing production in the oil and liquids plays. It has caused us to be stricken with tunnel vision, but we do believe that the amazing gains made in this sector will eventually trickle out to other commodity areas. Thus far our only real play on this theory has been Freeport-McMoRan (NYSE:FCX), a stock which has done quite well since we went bullish near the bottom.
So obviously we like copper long-term, but if China is really turning, then one has to be bullish of the base metals group, and some of the diversified miners. We think it is a bit soon to be migrating just yet, but as profits are taken in the oil patch by commodity focused traders and funds, they will need to be deployed elsewhere and we think the well run, cash generating diversified miners could very well be the next bull market. We will keep readers posted for when we think funds need to be rotated to benefit from this, but we did want to throw the idea out there today in order to allow some to maybe get ahead of the herd if they had extra capital available.
Chart of the Day:
We are hearing more and more reports of farmers seeing their cash flows level out now, and from the reports we read, it appears that corn is a major cause of this. It has been our opinion that farmers are going to switch to other crops soon and that would most certainly be bullish for corn...which most certainly has not been the case over the past year.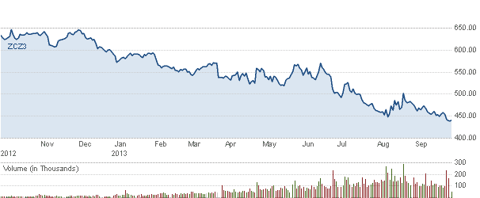 Source: CNBC
Commodity prices this morning are as follows:
Gold: $1315.30/ounce, down by $5.40/ounce
Silver: $21.64/ounce, down by $0.257/ounce
Oil: $103.92/barrel, down by $0.18/barrel
RBOB Gas: $2.6603/gallon, up by $0.0316/gallon
Natural Gas: $3.544/MMbtu, up by $0.002/MMbtu
Copper: $3.287/pound, down by $0.029/pound
Platinum: $1383.40/ounce, down by $10.00/ounce
Rare Earths
With the recent run-up in rare earths because of newsletter writers highlighting the sector once again, we were happy to see Molycorp (MCP) add a little substance to the recent rally with their news release yesterday (see release here). The commissioning of the two plants at Mountain Pass is a big step, however, investors do need to watch the situation and make sure that everything does in fact work properly and nothing goes wrong. This is one of the most important steps in getting a mine up and running, and we have seen many a world class mine face major obstacles when commissioning and ramping up production. It is a major step forward, but also opens up Pandora's Box so to speak for potential issues moving forward.
Potash
The recent events in the potash market have been all over the spectrum as it relates to both good news and bad. Apparently the Indians have negotiated lower contract prices with the break-up of BPC and one has to suspect that the Brazilians and Chinese will also see lower prices when they begin their annual negotiations. Although that was the bad news earlier in the week, The Wall Street Journal also has reported that the Uralkali stake is very likely to stay in local hands and many believe that this will keep a tight lid on supply. No one wants to flood the market and it is in everyone's best interests to keep prices high. Potash Corp of Saskatchewan (POT) and Mosaic (NYSE:MOS) have been two investor favorites to play this cartel break-up being a nonevent, and those are the two best ways in our mind to trade this. We view Potash as the better long-term bet and Mosaic as the play for the short term.
The past month has been good to investors who bought after the initial sell-off. If the fallout from the cartel break-up remains contained to create minimal damage to pricing power, then these two names could rally significantly.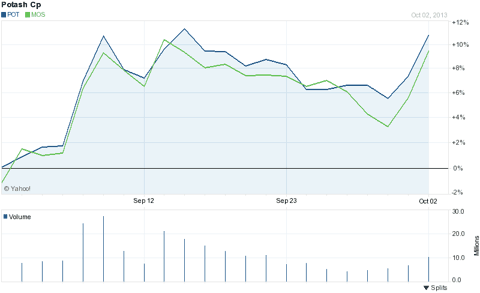 Source: Yahoo Finance
Oil & Natural Gas
With Talisman Energy (NYSE:TLM) shares continuing to rally, along with the options market activity, the company is beginning to attract the attention of some big names. As CNBC's Fast Money Halftime Report was wrapping up and the traders were giving their final trades, we noticed one of the Najarian brothers saying Talisman Energy was his buy. The pick makes sense as the Najarians are behind OptionsMonster and follow those markets closely and are also momentum traders. With the move above the 200-day moving average (which we pointed out yesterday) he might be the first talking head to jump on this name among many.
Disclosure: I have no positions in any stocks mentioned, and no plans to initiate any positions within the next 72 hours. I wrote this article myself, and it expresses my own opinions. I am not receiving compensation for it (other than from Seeking Alpha). I have no business relationship with any company whose stock is mentioned in this article.