We're returning to the world of high dividend stocks this week, with a very interesting new find. This new stock ties into a mortgage-servicing giant that we covered in one of our recent articles, and is listed in the Financials section of our High Dividend Stocks By Sector Tables. Its compelling business model offers income investors the chance to secure a high dividend yield, with very low interest rate and mortgage default risk.
Home Loan Servicing Solutions, (NASDAQ:HLSS), was formed to acquire mortgage servicing assets consisting of mortgage servicing rights, rights to fees and other income from servicing mortgage loans, and associated servicing advances. Its principal executive offices are located in the Cayman Islands, and it also maintains offices in Atlanta, Georgia and West Palm Beach, Florida. HLSS went public in March 2012.
HLSS purchases its mortgage servicing assets from Ocwen Financial Corp., (NYSE:OCN), the biggest mortgage servicer in the US. HLSS's deal with Ocwen is such that Ocwen also assumes the credit risk, and does the actual servicing of the loans, in return for receiving sub-servicing fees from HLSS.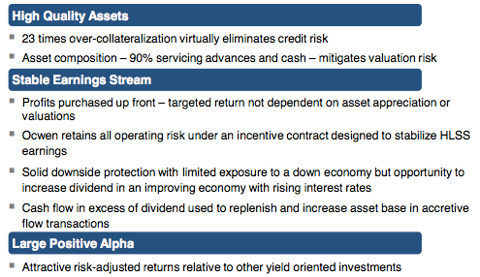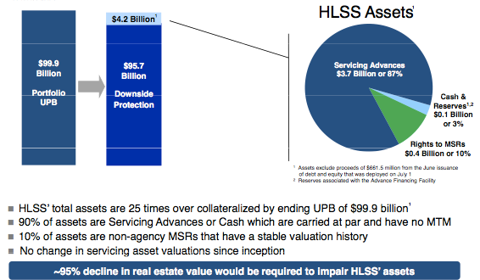 In addition, the Ocwen contract ties Ocwen's servicing fees, (which are HLSS's biggest expense), to the HLSS's advance ratio - if the advance ratio is exceeded in any month, Ocwen's incentive fee is reduced at a 4.1% rate on excess servicing fees.
Compared to Mortgage REITs, such as Annaly, (NYSE:NLY), or Hatteras, (NYSE:HTS), HLSS has much less floating rate debt, since its debt is largely fixed rate. In fact, HLSS has decreased its financing rates from around 5.4% in Q2 2012, to 2.45% in Q2 2013. It also has much less mark-to-market exposure, and could actually earn more in a higher interest rate environment, as fewer mortgage prepayments ensue.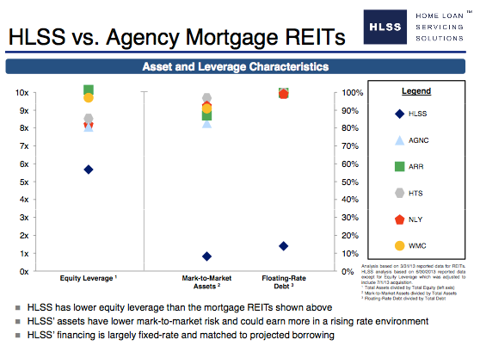 Dividends: Since its March 2012 IPO, HLSS has nearly doubled its monthly dividend, increasing it from $.08 to $.15 currently. In addition, HLSS pre-declares its upcoming monthly dividends for each quarter, in the 1st month of the quarter, which helps income investors plan their cash flow. HLSS had 4x cash flow-to-dividend coverage in the 2nd quarter of 2013, and looking forward, has an 80% Dividend Payout Ratio, (Dividends/share vs. Projected EPS), for 2013:

Options: Looking to hedge your bet? This January 2014 trade has a $22.50 strike that pays $.75, and is $.42 above HLSS $22.08 price/share. You can find more details on this and over 30 other Covered Call trades in our free Covered Calls Table.

We've listed the 3 main scenarios for this trade below. Keep in mind that this table shows the outcomes for not receiving the 3 upcoming monthly dividends vs. receiving all 3 of them. There is a middle ground, in which your shares might be assigned after receiving just the 1st or 2nd monthly dividends:

Put Options: HLSS's Cash Secured Puts aren't as attractive as its call options at present.
Valuations: With the exception of Price/Sales, HLSS looks undervalued relative to its peers, and also has a very low Price/Free Cash Flow:

Although this isn't a classic growth stock story, HLSS has had dynamic sales and revenue growth for both of the first 2 quarters of 2013, as it ramped up its program: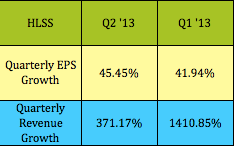 Analysts have predicted an average of nearly 24% 2013 EPS growth, but are much more conservative in their 2014 average estimates, calling for only 6.74% growth. However, HLSS points out on its website, that, even after paying dividends, its strong cash flow leaves plenty of cash for reinvesting, and that, as of May 31, 2013, Ocwen had $100 billion in additional assets available for purchase, so, the 2014 EPS growth may exceed the average estimate:

Financials: HLSS has comparable ratios to its industry averages, excepting its Operating Margin, which is much higher. Its debt/equity is higher, but it has an Interest Coverage ratio of 2.0:

Performance:

Taxes: HLSS is a "PFIC", and gives this explanation on its website: "A PFIC is a passive foreign investment corporation. A non-U.S. corporation is classified as a PFIC if: (1) 75% or more of its gross income for a taxable year is passive income (the "passive income" test) or (2) at least 50% of its assets produce or are held for the production of passive income (the "passive asset" test). U.S. shareholders are advised to consult with their tax advisors with respect to the 2012 PFIC Annual Information Statement."
QEF election: HLSS says that US shareholders have the option of making a "QEF election", in respect to their HLSS shares: "A U.S. holder who has made a QEF election includes its pro rata share of a PFIC's ordinary earnings and net capital gains in income in each taxable year. No portion of such inclusions of ordinary earnings would be eligible to be treated as "qualified dividend income." The U.S. holder's adjusted tax basis in its shares will be increased to reflect any taxed but undistributed earnings and profits. Any distribution of earnings and profits that previously have been taxed would not be taxed again, when such U.S. holder receives such distribution, but it would result in a corresponding reduction in the adjusted tax basis of such U.S. holder's shares."
Disclaimer: This article was written for informational purposes only.
Disclosure: I am long HLSS. I wrote this article myself, and it expresses my own opinions. I am not receiving compensation for it (other than from Seeking Alpha). I have no business relationship with any company whose stock is mentioned in this article.