In my previous article, Not Enough People to Justify Pandora Valuation, I argued that Pandora (NYSE:P) is overvalued even if it continues to grow and meet the expectations of its investors. September audience metrics, however, confirmed that Pandora's growth is stalling.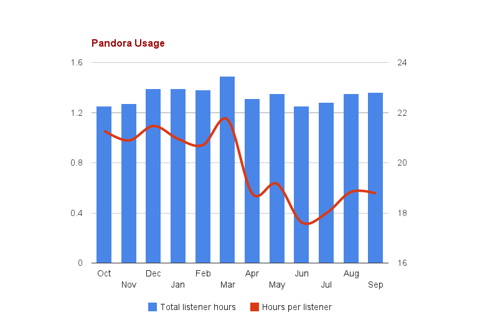 While the number of active listeners continues its slow ascent (+0.8% from August), average hours per listener - an important gauge of user engagement and loyalty - are decreasing. As a result, total listener hours remain flat over the past 10 months. Pandora is monetizing its total listener hours by selling ads.
If the current trend continues, by December the company will start reporting zero to single digit year-over-year growth in listener hours. A drop to negative rates is also possible considering that October will be the first month to include impact from the iTunes Radio launch.
I believe that investors should brace themselves for more bad news in the upcoming earnings release, scheduled for November 13. This release will most likely include the first guidance from the company for the next year. Given the recent trends, investors may not like what they hear.
In my opinion, Pandora remains the best short idea with a 3-6 months time horizon.
Disclosure: I am short P. I wrote this article myself, and it expresses my own opinions. I am not receiving compensation for it (other than from Seeking Alpha). I have no business relationship with any company whose stock is mentioned in this article.