One silver lining around all the political acrimony emanating from Washington these days is that the need to start to "taper" by the Federal Reserve has more than likely been pushed off for at least a few more months. This should be beneficial to the high yield sectors in the market. I'm allocating some of my significant cash position into Real Estate Investment Trusts (REITs) on any pullbacks in the markets like we experienced on Thursday. Below are two high yielding real estate plays I like over the long term.
Senior Housing Properties Trust (NYSE:SNH) is a real estate investment trust that invests in properties focused on senior-oriented care. The company owns and operates some ~400 properties in 40 states and Washington, DC. The shares yield just under seven percent (6.6%). The REIT has consistently and incrementally raised its payout over the last decade. I would look for this to continue as the company grows via acquisition and organic growth. I also like the fact that no insiders have sold in over 18 months.
The company recently announced it was selling two rehabilitation facilities for some $90mm. This divestiture will cut the company's exposure to government revenue streams. Only 2% of total revenues will be from facilities where Medicare and Medicaid represent the majority of revenue after this transaction is completed which should be viewed as a positive.
The REIT is well positioned to prosper due to the continued aging of the population in this country. The company is tracking to almost a 20% revenue gain this fiscal year on some acquisitions and organic growth. The stock sells for just over 13x FFO (Funds from Operations), a discount to its five-year average (21.1). Finally, SNH looks to have some technical support at just under the current price after a recent ~20% triggered by rising interest rates (see chart).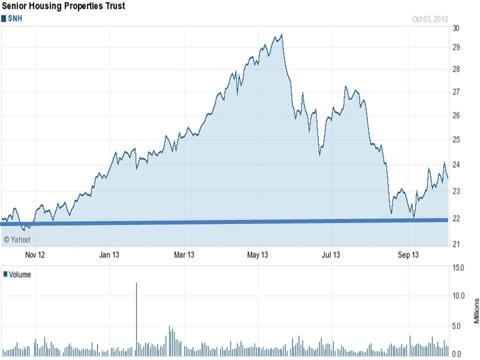 Healthcare Trust of America (NYSE:HTA) is a real estate investment trust that focuses on medical office buildings and healthcare-related facilities. It has a well-diversified collection of healthcare properties in 27 states with just under 13mm square feet of leasable space. It is another play that also benefits from the aging of the population and some aspects of the about to be implemented Affordable Care Act. I will continue to add to my position on any dips in the market due to the latest histrionics from DC.
The company has garnered some positive comments from analysts recently. Wunderlich initiated the REIT as a "Buy" this morning and Janney Capital started HTA as a "Buy" three weeks ago. The shares yield over five percent (5.3%) after the REIT declined some 20% recently on the back up in interest rates. The company just came public in 2012. I would expect it to hike dividend payouts in line with earnings and revenue growth (5% to 8% annually) going forward.
Several insiders purchased new shares in August at around these levels. The median analyst price target by the 4 analysts that cover the stock is $12 a share. In addition, HTA also seems to have technical support at just below the current price level (see chart).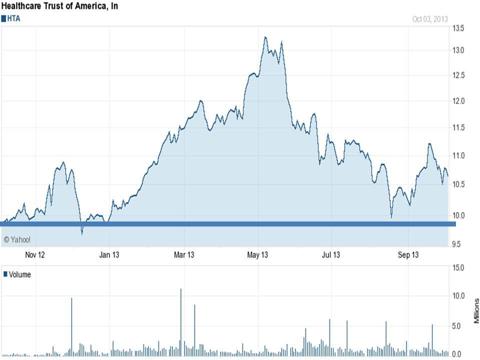 Disclosure: I am long HTA. I wrote this article myself, and it expresses my own opinions. I am not receiving compensation for it (other than from Seeking Alpha). I have no business relationship with any company whose stock is mentioned in this article.