BlackBerry's (NASDAQ:BBRY) troubles continue. Earlier this quarter, the company warned investors of impending disappointing quarterly results. Even with the warning, the quarterly performance was shocking. In last-ditch efforts, BlackBerry announced plans to restructure and lay off 4,500 people, or nearly 40% of its employees, while it looks for private buyers.
BlackBerry's Financials
BlackBerry's Q2 revenues fell 49% over the year to $1.57 billion, compared with market projections of $1.74 billion. Loss per share of $1.74 was also wider than the Street's projected loss of $0.50 per share the market projected for the quarter.
The disappointing performance was attributed to the failure of the BlackBerry Z10 to deliver. The company had to record a one-time inventory charge of $934 million related to poor sales of the Z10 phone. During the quarter, BlackBerry sold 5.9 million smartphones, but most of the sales were from existing inventory of older model phones that the company has been trying to phase out. Overall, the company shipped a mere 3.7 million phones.
BlackBerry did not disclose its projections, but analysts estimate that they will earn revenues of $1.29 billion during the quarter, with a loss of $0.63 per share. They expect BlackBerry to end the fiscal year with revenues of $7.13 billion and a loss of $1.81 per share.
BlackBerry's Woes
BlackBerry's biggest worries are attributed to the abundance of cheap phones being manufactured on Android OS that are flooding the emerging markets and the absence of a wide variety of apps for BlackBerry phones.
But even in the U.S. markets, conditions are not lucrative for BlackBerry. Recently, carrier T-Mobile announced plans to stop carrying BlackBerry handsets in its stores. T-Mobile will sell these phones online only as it claims that the phones were taking up a lot of their display shelf space while sales remain modest. It is expected that other wireless carriers, such as AT&T and Verizon, may follow suit if BlackBerry's sales continue to decline.
Traditionally, BlackBerry has counted on the enterprise segment to help it stay afloat. But things seem to be getting choppy in that segment as well. According to IDC research, BlackBerry is losing its enterprise customers for the first time as Apple and Samsung catch up with them in the segment. The IDC report reveals that BlackBerry had a 70% business customer market share in North America in 2010. But since then, the share had fallen to around 5% in North America. Worldwide, BlackBerry's market share among enterprise customers has fallen from 31% in 2010 to an estimated 8% this year. Here is an interesting infographic, courtesy of the The Wall Street Journal, on projections of the enterprise market share for BlackBerry.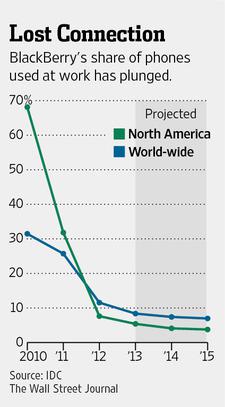 BlackBerry's Going Private
Meanwhile, BlackBerry signed an agreement to sell its operations to a consortium led by Fairfax Financial Holdings for $9 per share, translating to $4.7 billion buyout. Fairfax Financial Holdings is already a 10% shareholder in the company. BlackBerry can still look at alternative options of sale, but if it chooses to dismiss the Fairfax offer, it would be penalized $157 million.
There may be other investors interested in the company. Private equity group, Cerberus Capital Management LP, is rumored to evaluating the option of buying BlackBerry. Further details have not been announced.
I am not sure what an acquirer would do with BlackBerry at this stage of the game. At one point, I had recommended that Dell buys BlackBerry, but now, Dell, with their own attempts to go private, is probably in no condition to do something drastic.
BlackBerry's stock is trading at $7.73 with a market capitalization of $4.06 billion. It touched a 52-week high of $18.32 in January 2013.