ETF Spotlight on iShares Dow Jones U.S. Oil & Gas Exploration Index (NYSEArca: IEO), part of a weekly series. Assets: $280 million
Holdings: The holdings in this fund consist of 60 companies involved in the exploration and production of oil and gas in the United States. Among the top components include: Chesapeake Energy (NYSE: CHK), Occidental Petroleum (NYSE: OXY) and Valero Energy (NYSE: VLO).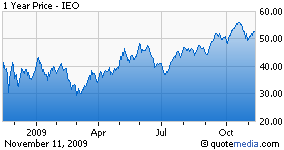 Objective
IEO tracks the Dow Jones U.S. Select Oil Exploration & Production Index.
What's You Should Know

As an equity-based commodity ETF, it's a fund that holds companies instead of futures or physical oil.
Be aware that the performance of these companies are not always correlated to their underlying commodity.
Long-term capital gains rate on equity-based ETFs is 15%, but be sure to consult your tax professional for further guidance.
IEO has a 0.48% expense ratio.
The Latest News
Global energy demand is rising. If countries limit the long-term concentration of greenhouse gases in the atmosphere to 450 parts per million of carbon-dioxide equivalent, energy demand would grow by 20% in that time frame.
There are a number of factors contributing to the rising price of oil right now:
Low interest rates. The great increase in global money supply has fueled oil-intensive growth and consequently, pushed up oil crude prices, comments Martin Hutchinson for Money Morning. Many countries have kept interest rates low, and they don't expect to change it anytime soon.
More cars. China and India's burgeoning auto industries are producing an expected 11 million and 2.5 million cars, respectively, while Brazil's auto sales surged 20% in September. This translates into increased demand for oil.
Weak U.S. dollar. The price of oil and the dollar historically have an inverse correlation; oil is priced in dollars, so as it weakens, oil becomes cheaper for foreigners. As the U.S. government takes on more debt, investors are predicting a further depreciation of the dollar.
Scarcity. Oil bulls argue about a "peak oil," where the peak of global oil production will finally be seen. Oil, like other commodities, is a finite resource.