Another month, another analyst watch summary for silver miners from your humble scribe. We are finding it hard to fathom that October has started, and with that the last quarter of this year is already upon us.
As in previous installments we are summarizing our observations of analysts' price targets for primary silver mining companies as published on Yahoo.com. In this October instalment comparisons will be made to the data given in our September edition.
As in previous reports we included the following silver miners in alphabetical order: Coeur Mining (NYSE:CDE), Endeavour Silver (NYSE:EXK), First Majestic Silver (NYSE:AG), Fortuna Silver Mines (NYSE:FSM), Hecla Mining (NYSE:HL), Pan American Silver (NASDAQ:PAAS), Silver Standard (NASDAQ:SSRI), Silvercorp Metals (NYSE:SVM) and SilverCrest Mines (NYSEMKT:SVLC).
We duly note that most companies considered for this article are covered by more analysts than reported in our table. This article only considers analyst reports available through Yahoo.com and not all analysts are providing their data free of charge on this platform.
The table below summarizes our data. The first three columns list the company name, ticker symbol and share price at the time of writing. Price targets (low, median and high) are listed in the following three columns. These targets are followed by a column giving the number of analysts providing data to Yahoo.com and the mean recommendation given by these analysts ranging from 1.0 (strong buy) to 5.0 (sell). This concludes the data sourced directly from Yahoo.com.
The following columns are colored in light green and contain data derived from our source data. These data points are given in percentages related to the share price at the time of writing. The column titled "median-price" gives the difference between the share price and the median target price. The column titled "high-low" gives the difference between the high and the low target. The last four columns titled "target change" document the changes in price targets since the September report with the last columns giving the average change over the low, median and high price targets.

Shares trading significantly below the median price target can be viewed as having a greater potential than shares trading closer to this level. Values in column "median-price" can therefore give some indication on the potential of a stock. This way of thinking does not apply for companies that have had significant events moving the share price in recent times since analysts will take their time to update their data accordingly.
A diagram visualizing this difference between the medium price target and the current share price is given below.
Applying the logic outlined above would indicate the greatest potential for Silver Standard closely followed by First Majestic Silver and SilverCorp Metals. Hecla Mining and Endeavour Silver can be found at the lower end of this ranking.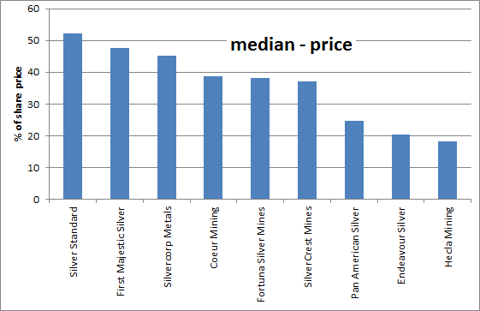 Column "high-low" measures the difference between the high and the low target and represents a measure for the divergence in analyst opinions.
This Divergence in analyst targets is greatest for Coeur Mining this time around. The price target range is smallest for SilverCrest and SilverCorp. The diagram below illustrates our data.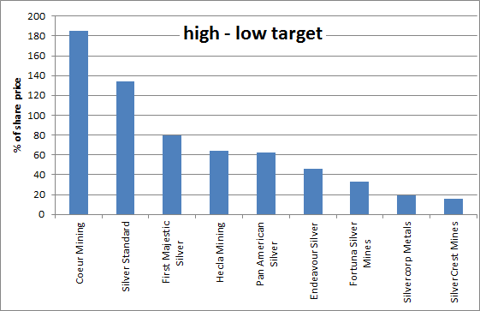 On average price targets were lifted by 2.69% during the past month. This is in fact the first time this year that we are reporting an average price target increase, however modest it may be. SilverCorp Metals received the greatest boost in price targets, while Endeavour Silver's targets were cut yet again with Silver Standard and First Majestic Silver sharing this fate.
Column "target change average" lists the average change in price targets and the diagram below illustrates them.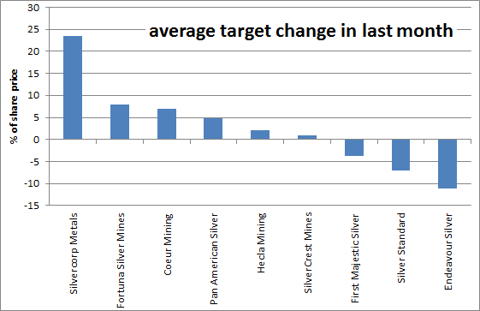 The final diagram illustrates column "Recommendation" from the table above. We have introduced a new feature for this diagram. The little red bars indicate changes in analysts' recommendation from last month. The diagram shows four such indicators for First Majestic Silver, Fortuna Silver Mines, Endeavour Silver and Coeur Mining. These four companies are currently receiving slightly better recommendations than one month ago.
Obviously, analysts are still liking First Majestic Silver best, ahead of SilverCrest and Fortuna Silver Mines. The least attractive of the bunch, at least in the analysts' minds, continues to be PanAmerican Silver, presumably owing to the company's botched hedging 'strategy'.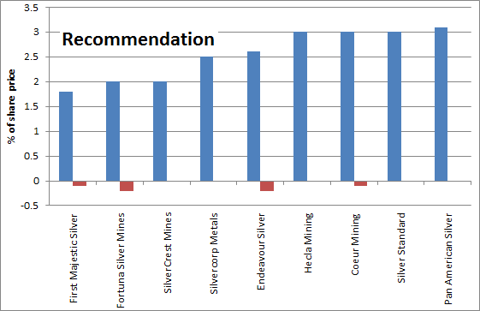 Our pick of the month
Granted, it's hard to look past First Majestic Silver but we have picked it too often in a row on past occasions.
This time around our thumbs-up goes to SilverCorp Metals. Only two analysts are providing data accessible through Yahoo.com, but both are in agreement about the high potential for this company and both have lifted their targets considerably in recent weeks.
Disclosure: I am long AG, HL, EXK, SVLC. I wrote this article myself, and it expresses my own opinions. I am not receiving compensation for it (other than from Seeking Alpha). I have no business relationship with any company whose stock is mentioned in this article.