There has been a lot of speculation about the sustainability of the daily deal business. Groupon (GRPN) has long been associated with one word: deals. However, it has moved beyond just another daily deal business with its strategic change from a push model to pull model. This company has found a new path for dealing with discounts and coupons, i.e. mobile, which we covered in our last report. Now the company is diversifying itself and aims to become the go-to place for consumers to find just about anything, anywhere, anytime. Just how does Groupon plan to transform itself into a one stop destination amid rising competition in this market?
Thinking beyond daily deals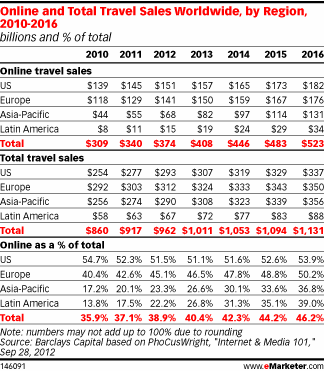 In order to diversify its business beyond daily deals, Groupon is on an acquisition spree. It acquired Blink, a hotel booking app, this month. Blink has partnership with more than 2,000 hotels in eight European countries. It offers last-minute hotel deals to consumers and helps to fill up hotel's inventory. Groupon will brand Blink as "Blink by Groupon," and it will operate as a separate entity. This acquisition will complement its existing Groupon Getaways, which offers travel deals and hotel discounts to consumers, and will expand its travel business in Europe.
(Source: eMarketer)
European travel bookings represented 37.7% of the total global online sales in 2012 and are expected to grow at a CAGR of 5.70% from 2012-2016. The European online travel sales are expected to be $150 billion in 2013, and contribute around 47% of European travel sales. Expedia (EXPE) has reported 70% of its room bookings through its mobile app, or mobile site, were done by users traveling within the next day. This indicates the rising demand for last-minute bookings through mobile devices. Although Blink is just few years old and very small compared to heavy-weights, Expedia and Priceline (PCLN), the potential for Blink to grow in the European travel market is tremendous.
(Please read our past coverage on Expedia and Priceline)
Just over a week later, after the acquisition of Blink on Sep 9, 2013, Groupon acquired SideTour, a market place where people could discover, book, and host local events. SideTour suggest events and activities to other users with the help of qualified experts. Users who want to discover more about their city and find unique things are willing to pay for this service. The main idea is to attract consumers who are willing to pay a premium for local events and activities in their cities. Inclusion of SideTour in Groupon's business model will broaden Groupon's user base.
With the acquisition of Blink and SideTour, Groupon is taking steps to differentiate itself from its competitors and build a diverse user base for long-term sustainability of its business.
There's more to capture
Groupon has been able to launch new product categories more successfully than most of its competitors in different geographies. Groupon's total addressable market encompasses both sides of the marketplace, i.e. customers and merchants. It has over 200 million subscribers and 43 million active customers since its inception five years back. This was achieved despite some challenges faced in acquisitions to combine different systems and technologies. The biggest issue for Groupon is the rising competition in the social buying business. With a low entry barrier, many players have entered the market offering similar kinds of deals. Groupon has successfully maintained its position in this business by leveraging on its brand and through offering specialized food, travel, and event deals. Online shopping is on the rise globally, and presents a good opportunity for Groupon to add new users.
According to emarketer, digital buyers are expected to rise to around 1.02 billion in 2013, which is a 12% year-over-year increase. The Groupon's current subscriber base represents around 20% of the total potential market, with active users representing only 4.2%. As the Groupon brand continues to re-establish itself as the go-to place for deals in any category, across both PC and mobile channels, we believe Groupon's presence can expand further in international markets. The future of Groupon depends on its ability to build a loyal base and drive repeated purchases through it site.
Big boys also in the fight
Amazon (AMZN) has a 29% stake in Living Social, which is viewed as a significant threat for Groupon in the daily deal business. It has decided to adopt a similar strategy to move beyond daily deals this month. It isn't closing down deals on restaurants, spas, etc.; instead it is expanding the number of deals. The new deals will include travel, event, and entertainment deals. Amazon has pumped regular investments into the company, but thus far hasn't been able to reap any rewards; Living Social has shown continuous losses. It reported net loss of $31 million, a 38% year-over-year decrease, in the second quarter this year. The new strategy will expand its business and acquire new customers over time.
(Read in detail about Amazon here and here)
If that wasn't enough, Google Offers, a service offering discounts and coupons from Google (GOOG), has decided to refund customers for the deals they never used. Customers who have purchased a deal from Google Offers in the past but failed to redeem it will be given the option of a refund or receiving Google Play credits with additional bonuses. For example, if a customer has a $25 unused offer, then he may have an option of receiving $25 in his account or $30 through Google Play credits. Google Offers has also adopted a different approach, which allows users to add vouchers without paying in advance and simply paying at the store when redeeming the voucher. This is a much different model from Groupon and Living Social, where users have to pay for the deal in advance. This will help Google attract more users and drive up the repeated purchase due to the convenience of purchase and additional bonus offered under the refund.
Bottom-line
Groupon has done well to evolve itself as a daily deal business to one stop destination for online discounts. The competition in this business is heating up, and Groupon is expanding its presence in diverse products and different geographies. The entry of Amazon and Google can be a headwind for Groupon, especially as these companies have existing large user bases.
| | | | |
| --- | --- | --- | --- |
|   | Current P/E | Forward P/E | EPS growth 2013 |
| Groupon | NA | 39.76 | 90.30% |
(Source: finviz)
It would be difficult to compare Groupon on the basis of current P/E, as the company is still reporting losses. However, estimates point to a forward P/E of 39.76 in the year 2014, indicating future profitability for Groupon in the coming years, with EPS expected to witness a 90% rise this year. Groupon's fundamentals and valuation are compelling, and its stock remains attractive investment right now.
Disclosure: I have no positions in any stocks mentioned, and no plans to initiate any positions within the next 72 hours. I wrote this article myself, and it expresses my own opinions. I am not receiving compensation for it (other than from Seeking Alpha). I have no business relationship with any company whose stock is mentioned in this article.
Additional disclosure: Fusion Research is a team of equity analysts. This article was written by Rohit Gupta, one of our research analysts. We did not receive compensation for this article (other than from Seeking Alpha), and we have no business relationship with any company whose stock is mentioned in this article.