Yesterday, the financial news outlets were buzzing as Twitter (NYSE:TWTR) filed its S-1 with the Securities and Exchange Commission ("SEC"). I reviewed the S-1 briefly, and plan to look at it in closer detail before the initial public offering. In my view, Twitter is a far more useful platform than Facebook (NASDAQ:FB) due to its ubiquity and simplicity. Reaching millions of people with quick 140 character blasts is incredibly powerful, as it has democratized the distribution of news, especially in less information-efficient markets.
The S-1 filing for Twitter was impressive. At a quick glance, revenue has increased over 10 fold since 2010, meanwhile cost of sales was up only about 4 times. My initial reaction is that there is a ton of operating leverage in this business. Most of the cost of sales line item is made up of depreciation and amortization which, of course, we would expect as the company makes large capital investments to fund its growth, and then is required to account for those non-cash charges. I plan to offer a more detailed analysis once the IPO is priced. Suffice it to say, I think Twitter is a powerful platform that offers users more utility than Facebook.
While Twitter's underlying fundamentals are quite impressive, maybe the most astonishing thing on Friday was the trading action of Tweeter Home Entertainment (OTC:TWTRQ), a business that long ago went bankrupt but still trades over-the-counter. If this story strikes you as eerily similar to Facebook's S-1 announcement and the subsequent rise of another micro cap stock, Physician's Formula Holdings (NASDAQ:FACE), you'd be correct. Shares of FACE rose some 30% the same day as the Facebook IPO, likely as a confusion on the ticker symbol. Things would have actually worked out OK for FACE investors, as it received a go private deal just months later. That said, always know what you are buying.
Think the market is efficient? Just look to the trading action in Tweeter and you will certainly find that it is not. The stock was up more than 1,800% intraday on heavy volume.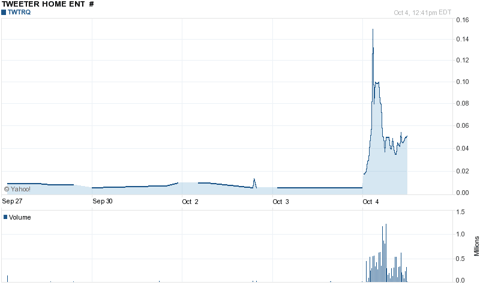 In those little corners of the investment world, high frequency traders and speculators look to make a quick buck in what is typically known as a greater fool investment. One is speculating that they can find a greater fool, rather than making the investment decision based on the underlying fundamentals.
On the other hand, could it be possible that traders mixed up the Twitter S-1 filing story and thought it traded under the Tweeter ticker symbol? What ever the case may be, someone made a boat load of cash speculating or confusing Twitter for Tweeter, and unfortunately, someone is going to lose a ton of money too.
The stock market is a zero sum game when speculating. If you hold Tweeter shares, dump them. If you were thinking about buying Tweeter shares, don't.
Wait for the Twitter IPO. At least you are buying an operating company, not a worthless bankrupt one.
Disclosure: I have no positions in any stocks mentioned, and no plans to initiate any positions within the next 72 hours. I wrote this article myself, and it expresses my own opinions. I am not receiving compensation for it (other than from Seeking Alpha). I have no business relationship with any company whose stock is mentioned in this article.