The theme over the past 24 hours has been one of a remarkable harmonious dove commentary from the world's Central Banks, rallying front ends and thus providing a degree of support to equity markets. European bourses closed with solid gains, while the S&P500 also closed higher, albeit well off the highs for the session. Gold is now worth its weight in gold.
Starting in the US, Dallas Fed President Fisher opined that we could see a pause in the US recovery (or at least several quarters of weak growth) while Richmond Fed President Lacker told his audience that it was too soon to say when the Fed would lift rates (he said it could be 2010, but it could take longer). In Europe the ECB's Wellink said that the world economy was still fragile, a comment that was seconded by ECB colleague Weber. Weber also said that it was presently too early to reverse the Bank's expansionary measures although he also warned that the right time for exit must not be missed.
The dovish theme continued in the UK, which has seen the biggest front-end rally, cheerleading a weaker Sterling. It's not that the Bank of England's Inflation Report was especially downbeat. Indeed, the Bank now forecasts growth of 2.1% in 2010 (previously 1.9%) and 4.0% in 2011 (previously 3.1%). And the Bank has raised its forecasts for inflation across the whole period (based on market Interest Rates, at the end of the three-year forecast horizon the Bank sees CPI inflation at around 2.1%). Rather it was the comments made by BoE Governor King at the news conference. In particular, King noted that the Bank's policymakers "have a completely open mind as to whether we would do more asset purchases" and that last week's decision to slow the pace of purchases was not made as a first step towards ending it. As far as the economy is concerned, King noted that there "will be a long, hard path back". Having misread the early stages of the downturn, it seems that the Bank's Governor is in no mood for opening himself up to further downside surprises
The Dow Jones has retraced 50% of its bear 2007/2009 move (see chart below). The best summary of what is happening came from Charles Diebel at Nomura: "the current obsession in markets is that with low policy rates 'locked in', risky assets can continue to perform, while the weaker US dollar pushes the commodity basket firmer, particularly gold." But is it time to cash in profits? The futures are pointing to such an open with 1,100 on the S&P 500 again proving a tough nut to crack.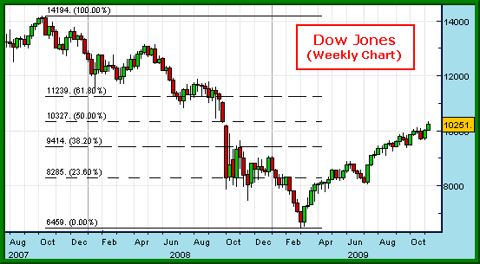 Today's Market Moving Stories
Comments from the 'Group of IMF' economists that the crisis has "brought to the fore" the long-standing concerns about a system based on a single core currency issued by one country and that the USD-based system "suffered inherent weaknesses". As alternatives to the USD, they propose moving to a system in which the USD shares its leading role with a few other currencies such as the EUR and possibly, the CNY.
US Treasury Secretary Geithner says that the challenge "right now" is to restore growth and most countries see the need for more government support. He singled out Asia as the region to lead the global recovery. He also reiterated that it's very important to have a strong USD.
Japanese wholesale prices, as measured by the corporate goods price index, fell 6.7% year-on-year in October, easing from an 8.0% slide in the year to September and a record 8.5% fall in the preceding two months. The decrease was nonetheless larger than the consensus forecast of -6.0%. So prolonged deflation then!
Japanese Ministry of Finance official Furumoto said that Japanese domestic demand is in a severe condition, the jobless rate is a pressing issue and the corporate earning outlook for 2009/10 is 'gloomy'. He says exit policies can't be considered yet.
WTO Director General Pascal Lamy said that "I think the biggest threat [to free trade] is in the deterioration of the jobs market where unemployment is rising hard, then inevitably protectionist functions appear." He added that "the violence of the crisis has triggered protectionist reactions here and there. There has been slippage, countries with a bit of buy local, a bit of increasing the tariffs, a bit of anti-dumping, a bit of safeguards."
In its quarterly report on monetary policy, the People's Bank of China said it would orient its exchange rate policy toward "capital inflows and major currency movements", a not too subtle hint that the country is currently subject to massive dollar inflows as the US currency weakens. Pressure has been building up on China to do something about the exchange rate, most recently from the IMF, according to the FT, which said the renminbi was extremely undervalued.
Flash estimates of Chinese imports in October show that unwrought Copper imports fell by 34% to 263kt, which is the lowest level since January and 45% below their June peak. Lower Chinese imports, reactivation of idled capacity and the end of various auto scrappage schemes are likely to limit further price gains for base metals into the end of 2009.
Euro area industrial production rose a smaller than expected 0.3% month-on-month to -12.9% year-on-year, slightly weaker than expected. However, the August prints were revised up to 1.2% month-on-month and -15.1% year-on-year.
Compared with the previous round conducted in July, the ECB Survey of Professional Forecasters revised their inflation expectations down by 0.1% to 0.3% for 2009 and up by 0.1% to 1.2% for 2010. 2011 was unchanged at 1.6%. Growth expectations for 2009 were revised significantly upwards by 0.6% to 3.9% in 2009. 2010 and 2011 were revised upwards by 0.7% and 0.1% respectively tot 1.0% and 1.6%.
The mystery of the rising stock market. If the economy's stagnant, why are stocks up? The answer is disturbing.
The anti-swine flu holy water dispenser. An Italian inventor has combined faith and ingenuity to come up with a way to keep church traditions alive for the faithful without the fear of contracting swine flu — an electronic holy water dispenser.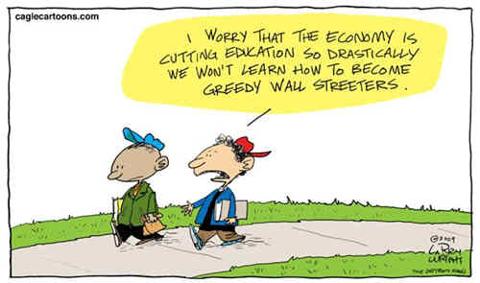 Company News
After the bell yesterday, the big M&A story was of course HP's (NYSE:HPQ) $2.7 bilion offer for 3Com (COMS). In other M&A news, United Tech is to acquire GE Security for $1.82 billion.
AB InBev (OTCPK:AHBIF) , which recently sold Tennents to C&C, reported Q3 results 11% better than consensus on cost cutting and price increases. Within its global operations the business continues to experience declining beer markets (-3.3% in western Europe, -7% in Germany) amid the recession. The company says demand trends remain soft although it sees a better volume performance in Q4. Any evidence of stabilising demand for beer and/or rising prices would be positive for C&C's new beer unit.
BT (NYSE:BT) issued a reasonably positive Q2, with EBITDA (adjusted) at £1,436 million marginally ahead of consensus expectations. The statement also raised guidance for 2009/10 free cashflow from £1 billion to at least £1.6 billion, while there was also a positive revision for overall cost savings. There was no specific update on the pension fund situation. The stock is up 4.5% Thursday.
AIB's (AIB) Polish subsidiary Bank Zachodni WBK reported a 7% increase in net profit year-on-year, in results released for Q3 Thursday morning. Profits came in at 263.7 million zloty, compared to 247 million zloty a year earlier. The results are well ahead of expectations.
The proposed takeover of Dragon Oil (OTCPK:DRAGF) by Enoc suffered a setback in recent days as the deal has upset a number of shareholders. Firstly, Bailie Gifford, Dragon's second largest shareholder with a 4.2% stake said the deal understated the fundamental and strategic value of the company and would vote against the takeover deal. Noster Capital, a hedge-fund with a smaller 0.12% stake, called Enoc's move opportunistic and inadequate. Shareholders representing 75% of Dragon's shares not owned by Enoc must vote in favour of the takeover for the deal to go ahead. These developments do open up the possibility of an improved offer. However, with many shareholders unhappy and a 75% shareholder approval required, the takeover may take longer to be completed than originally suspected.
In brief, Peugeot (OTCPK:PEUGF) is up 6% Thursday after upping its full year profit forecast on a quicker than expected recovery in the auto market. They said they'd break even in the H2 lowering the full year loss by almost 20% on the end Sept forecast. The move buoyed the sector in general with BMW (BAMXY.PK) and Daimler (DCX) finding buyers. Finanzas.com is reporting that Iberia (OTC:IBRLF) has accepted the terms proposed by BA (OTC:BAIRY) to complete the merger of the two airlines. Both stocks are up strongly.
Trinity Mirror is also well bid for the 4th day in a row (up 5% today) after stating that they are confident their full year will be inline with expectations.
And Finally… Banker Sketch

Disclosures: None