By Sumit Roy
Natural gas was last trading down less than a percent to $3.53/mmbtu after the Energy Information Administration reported that operators injected 101 billion cubic feet into storage last week, above the mid-90s build that most analysts were looking for. The injection was also above last year's build of 77 bcf and the five-year average build of 80 bcf.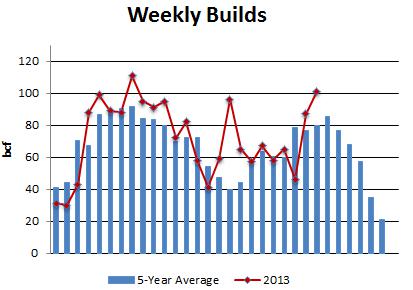 In turn, inventories now stand at 3,487 bcf, which is 166 bcf below the year-ago level and 52 bcf above the five-year average (calculated using a slightly different methodology than the EIA).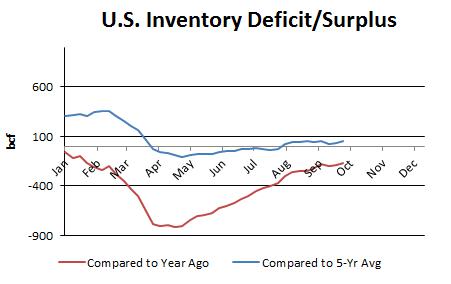 The weather last week was closer to seasonal norms. The Edison Electric Institute said that utilities generated 71,574 GWh in the week ending Sept. 27, which was 2.4% below the same week a year ago.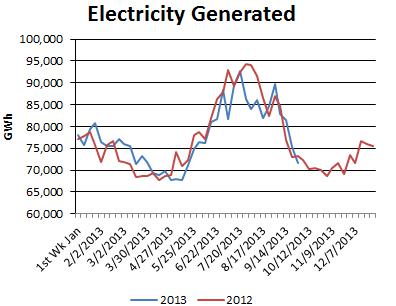 Looking forward, the NOAA's six- to 10-day outlook calls for warmer-than-normal temperatures across the Midwest and East Coast, indicating a slow start to the heating season.
NOAA Six- to 10-Day Outlook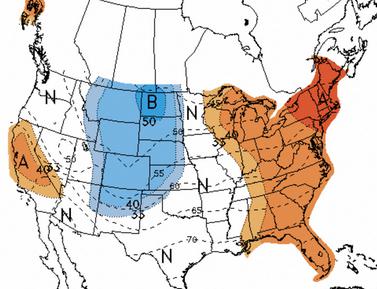 Meanwhile, the number of rigs drilling for natural gas in the U.S. fell by 10 to 376 last week.
Natural Gas Rig Count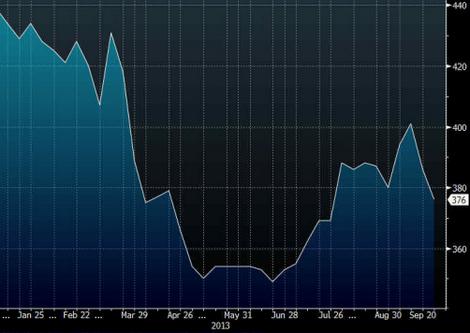 Natural Gas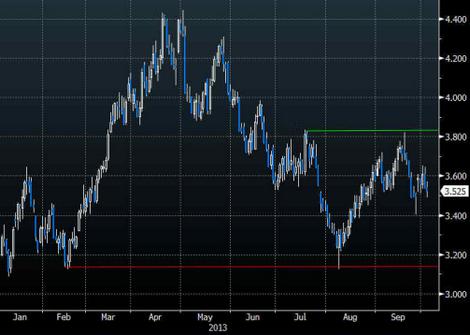 Bottom line: The latest inventory data from the EIA were bearish. The surplus against the five-year average rose from 31 to 52 bcf. Now that we are in the low-demand, fall-shoulder period, injections have climbed to the triple-digit level, just as we saw during the spring-shoulder season. Mild temperatures should keep builds in the 100+ bcf range for the next few weeks, raising the surplus against the five-year average to 100 bcf or more.
There is also a chance that the deficit against the year-ago level could be completely erased, putting inventories at record levels. In any case, natural gas supplies are by no means tight at the moment, which should keep prices in the $3 to $4/mmbtu range for the foreseeable future. Underscoring this point was the latest production data from the EIA. U.S. gross output in the lower 48 states climbed to 74.52 bcf/d in July, a record high, and up about 1.8 bcf/d from the year-ago level.
U.S. Gross Natural Gas Production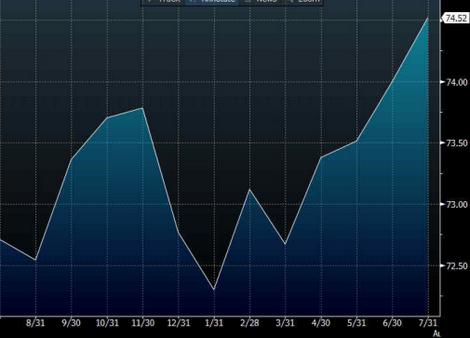 Still, given that we are heading into the peak-demand winter heating season, we would look for buying opportunities rather than selling opportunities -- within the context of a range-bound market. In that regard, a move to the lower-$3/mmbtu area would open up a trade setup.