Salesforce.com (NYSE:CRM) stock has surged in recent weeks and shows no immediate signs of stopping its rampant run up. The bullish sentiment is characteristic of a market top where fundamentals have no correlation with stock prices and investors predict only growth and future profits. SA author Paulo Santos wrote a recent article commenting on this dangerous trend using examples of fourteen grossly overvalued stocks whose price seems to defy gravity and whose buyers seem to lack common sense.
Momentum traders are having a field day, and even the current government shutdown and the prospect, however remote, of a U.S. debt default no longer cause investors to pull in their horns. But the clock is ticking on the fuse to the time bomb that these companies represent and when the market corrects there will be blood on the floor for many speculators.
How can one guess when the market might turn nasty? The old Wall Street saw "The market can stay irrational longer than you can stay solvent" has some substance to it. Those who try to call the turns provide liquidity to those who stay conservative, a healthy situation where investment bankers and traders at hedge funds and Goldman Sachs have to make a living and could not do so without a plentiful supply of what Goldman calls "muppets" to prey upon.
While it is hard to call the timing perfectly, the time is likely sooner rather than later and I expect a reversal in the next year. One indicator is the continued selling by insiders as illustrated by Executive Vice President Martinez Maria's sale of $1 million in stock just a couple of days ago, joining a parade of insiders who have sold recently while only one brave sole had the moxie to buy 200 shares.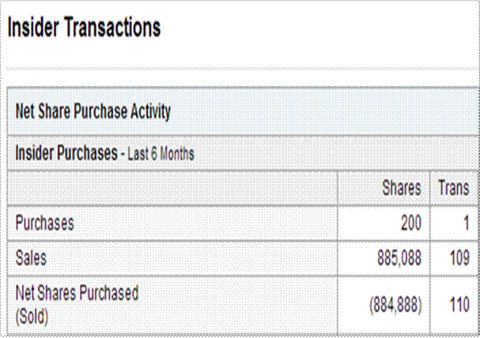 Another bearish indicator is the number of bullish analysts and recent upgrades. Analysts have universally recommended buying this stock this year with the most negative view stuck in neutral. If everyone followed the analysts' advice when it was given, the buying pressure must be getting a bit stale.

Salesforce.com has done a great job of managing analysts' expectations to keep the bar as low as possible making a "beat" more like a limbo dance than a high jump. For the current quarter, the street expects income of between $0.07 and $0.10 per share versus $0.08 last year, and revenues of $1.05 to $1.07 billion, a 33.8% jump from the same period last year.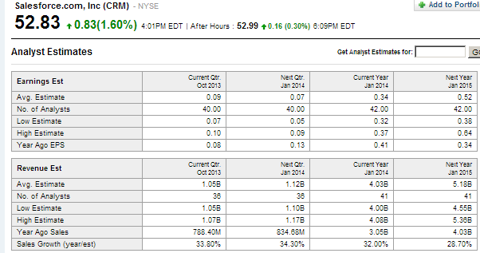 The sales growth might sound impressive except that a part of the sales growth will come from inclusion of the revenues of ExactTarget which salesforce.com purchased for $2.5 billion cash on July 12, 2013. ExactTarget should add over $100 million sales to the quarter, given than ExactTarget's 2012 revenues were $292 million and the company has been growing at a rate of 50% annually. Adjusting for the ExactTarget acquisition by salesforce.com, the forecast revenues would be growing at a more modest 20% if they come in somewhere in the forecast range. Historic growth of salesforce.com revenues exceeds 25% so expect a beat on revenue this quarter.
Profits will be a more interesting metric for the quarter since ExactTarget had yet to earn a profit at the time of the acquisition but was trending towards profitability. Salesforce.com before the ExactTarget acquisition rarely reported robust earnings and you might expect some of the acquisition costs to be expensed, although no doubt they will be part of the routine "adding back" of expenses salesforce.com makes part of its regular pattern of reporting adjusted earnings before such "non-cash items" as management stock option compensation. If management compensation is not an expense, I wonder what is.
Given the bullish sentiment in the market and the absence of investor concern for negative trends, I don't expect saleforce.com stock to collapse on the earnings release this quarter unless it misses badly, and I think that unlikely.
Fiscal 2015 will be the real challenge. With a portfolio of businesses growing intrinsically at less than 25% pre-ExactTarget and the analyst community expecting 28.7% growth next year, a lot will depend on the size of the ExactTarget contribution. According to Gartner, the total customer relationship management space is growing at half the rate salesforce.com has grown and with Microsoft, SAP, IBM and Oracle all taking a run at the space competition may also put a damper on salesforce.com growth.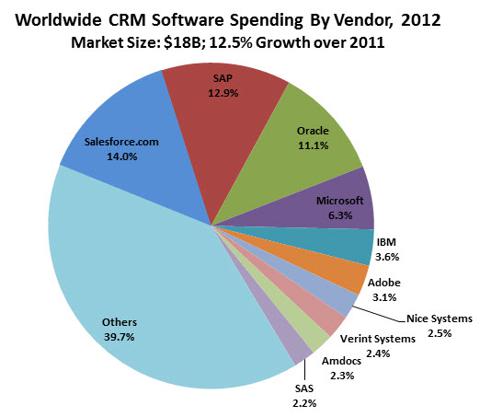 If there is a material sales miss in fiscal 2015, the lofty price of the salesforce.com stock will descend to earth like any punctured balloon. It won't be pretty, but it will be profitable if you are short the stock or long puts. I am.
Disclosure: I am short CRM. I wrote this article myself, and it expresses my own opinions. I am not receiving compensation for it (other than from Seeking Alpha). I have no business relationship with any company whose stock is mentioned in this article.
Additional disclosure: I am short 18,000 shares of CRM and short puts on 10,000 shares below market as a hedge