I have recently been researching Exxon Mobil Corporation (NYSE:XOM), Chevron Corporation (NYSE:CVX), and ConocoPhillips Company (NYSE:COP) as possible long term dividend stocks. These companies are presently paying dividends in the 2% to 3% range, and all of them have recently had pullbacks. XOM has been beateb up the most, with a 9% decline from its 52-week high set in July, while COP is just starting to roll over. Using my present value model, it looks like they are selling at a slight discount to fair value. However, after comparing the price charts of these oil companies with the price chart of IPATH S&P GSCI Crude OIL TR (NYSEARCA:OIL) (an ETN that mimics the price of crude oil), it looks like the companies have been decoupling from the price of oil since 2011. This causes me to believe that the present pullbacks of these stocks has been somewhat caused by that decoupling, and that a major correction is underway.
Below is a chart which shows the share prices of XOM, CVX, COP and OIL moving in tandem from 2004 through 2011, which is their normal pattern. The decoupling began in 2011 when the share prices of the oil companies started increasing while the price of crude oil remained flat. This pattern continued until recently. The decoupling of CVX and COP is most evident. The decoupling of XOM is less so, because its share price started leveling out in 2012. It should also be noted that the gap in prices between OIL and the individual oil companies widened from 2011 up until the recent pullback. It is likely that the decrease in price will continue until that gap narrows to the point that the companies and the price of crude again look to be moving in tandem.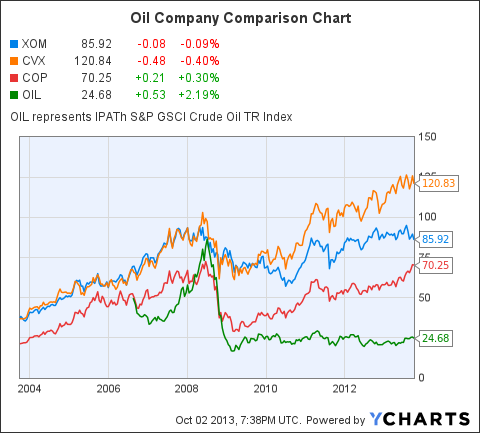 In conclusion, although the oil companies look like they are selling at a discount, I am of the opinion that they will continue their pullback in the short term. Although global oil companies are always subject to macro economic and political events, as well as their individual fundamentals, the nature of their business makes them also inextricably linked to the actual price of oil. In the last several years, for whatever reasons, this link with the actual price of oil has not occurred. This is an anomaly which will be corrected at some point in time. In my opinion, that correction is now in process and will result in declines in the share prices of the major oil companies. Anyone looking for long term dividend yields should monitor the oil companies and not buy them until there is a definite pattern that the oil companies are again moving in tandem with a rising price of oil.
Disclosure: I have no positions in any stocks mentioned, and no plans to initiate any positions within the next 72 hours. I wrote this article myself, and it expresses my own opinions. I am not receiving compensation for it (other than from Seeking Alpha). I have no business relationship with any company whose stock is mentioned in this article.