Rio Tinto (NYSE:RIO) did not make shareholders happy: Share gains of only 14% over the last five years did not make Rio Tinto a great investment, and investors can now purchase shares in the mining giant cheaper than two years ago. In comparison, BHP Billiton (NYSE:BHP) rocketed up 79% and Vale (NYSE:VALE) produced at least 29%, which isn't too exciting either, but is still double the return Rio Tinto offers. A comparative chart is provided below: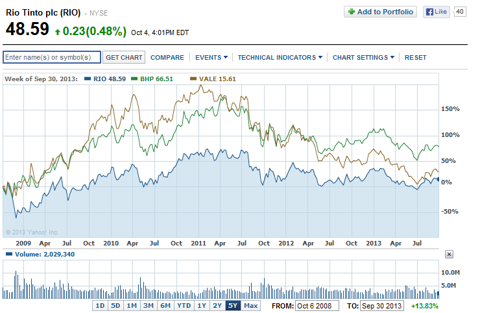 Background
Basic material suppliers had a fair run until 2011. China's insatiable hunger for commodities was very favorable for Rio Tinto: Operating cash flows in 2010 and 2011 reached $24 billion and $27 billion respectively. In 2012, operating cash flow dropped down to $16 billion as an immediate reflection of a correcting iron ore price. Rio Tinto has a significant exposure to iron ore, although it also relies on aluminum, copper and other commodities to add to the revenue mix. In 2012, iron ore contributed 44% to Rio Tinto's overall group sales.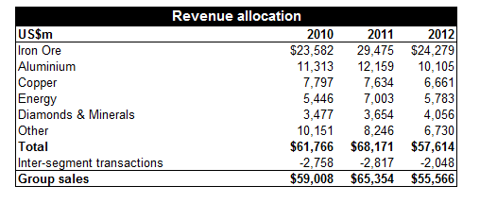 As a consequence of squeezed operating cash flows, Rio Tinto shifted its focus to cost savings programs: $978 million in post-tax cost savings and a reduction of $668 million in capital expenditures were achieved y-o-y with additional cuts planned for H2 2013 and 2014. Furthermore, Rio Tinto pursues asset divestitures which could exceed $1.9 billion this year. Rio Tinto does all the right things to deliver value for shareholders, while macroeconomic conditions remain bleak in the short-term.
However, China's long-term growth prospects are unaffected. Population growth and a continuing urbanization trend will define China's construction materials demand. Rio Tinto has the assets and resources in place (particularly in Australia) to satisfy China's iron ore demand. In August 2013, Rio Tinto reported that its iron ore operations already achieved record production and sales, indicating that a rebound in its most relevant segment is under way.
Free cash flow valuation
I estimate that Rio Tinto can achieve a normalized free cash flow to equity per share of $3.52 in 2014, which will be driven by higher iron prices. Rio Tinto's exploration footprint in Australia allows it to meet China's growing iron ore demand, which is reflected in a terminal value growth rate of 4% incorporated in the FCFE model. Assuming capital costs of 10% and discounting the free cash flow to equity per share over the planning horizon yields an intrinsic value of $58.52 per share. The current Rio Tinto share price stands at $48.59, giving the shares upside potential of 20%, based on a FCFE approach.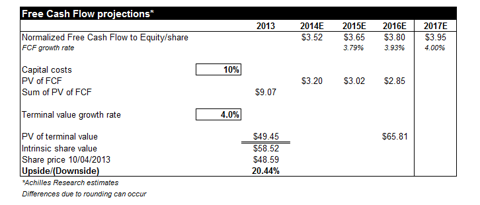 Peer group comparison
A market valuation approach can help to confirm the results derived from the model above. Compared to the most relevant peer firms BHP Billiton and Vale, Rio Tinto earns the silver medal: Its forward P/E ratio yields 9.36 ranks compared to 7.72 for mis-priced Vale and 14.71 for richly valued BHP Billiton.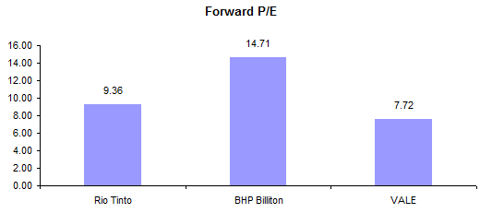 Income investors probably want to compare the dividends paid by basic materials companies; Vale offers the most attractive dividend yield at 4.80%, while BHP and Rio Tinto both stay close to a yield of around 3.5%. Rio Tinto stays committed to raise its dividend; The interim dividend was increased by 15%. A rebound in iron ore prices will likely support future dividend increases, making a purchase of Rio Tinto at an initial 3.5% yield even more attractive to long-term oriented investors.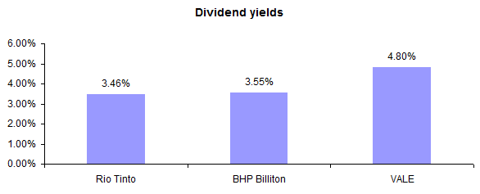 A summary of the most applicable valuation metrics as well as premiums/discounts to peer group averages for basic materials companies is provided below.

Conclusion
Rio Tinto's operating cash flow remains affected by lower iron ore prices which are driven down by contracting GDP growth in China. The underlying, long-term operating cash flow drivers (urbanization trend in China, infrastructure upgrades, construction activity) are intact and should support the long-term prospects of Rio Tinto's commodity business with its heavy focus on iron ore. Long-term investors can purchase Rio Tinto at an attractive 3.5% initial dividend yield with prospects of rising dividends. Presently, Rio Tinto creates value by cutting billions of dollars off the cost structure and divesting non-core assets. A pick-up in iron ore demand from China will likely be hugely accretive to Rio Tinto's operating cash flows and equity valuation.It is a long-term Buy.
Disclosure: I am long VALE. I wrote this article myself, and it expresses my own opinions. I am not receiving compensation for it (other than from Seeking Alpha). I have no business relationship with any company whose stock is mentioned in this article.