It is no surprise that Intel's (NASDAQ:INTC) competitive position has improved in the last few years, given its increased R&D expenditure as well as CAPEX. The new i7 - 4960X is a good example of its influence on the premium segment of CPUs. The major new features as we know are increased power efficiency. In relation to the predecessor Sandy Bridge E, significant developments have been made to the memory bandwidth increase from 51.2 GB/s to 59.7 GB/s, which also mean an increase in its frequency rate from 1600 MHz to 1866 MHz.
While the progress is impressive, is it enough for current users of Intel processors to upgrade, and more importantly, will it expand Intel's current customer base? Perhaps the largest customers are for server companies as for the Sandy Bridge-E, so for these customers it would matter, especially for the requirements to serve customers faster in the ever-booming tech industry. Concerning the general customer, I am not so sure, although it does sell for clientele like avid, professional gamers and video editors. It does not come cheap for gamers and video editors at 990 dollars for the i7-4960X model, although its a niche segment these enthusiasts are growing in numbers, and the choice is easy for them, judging by tests.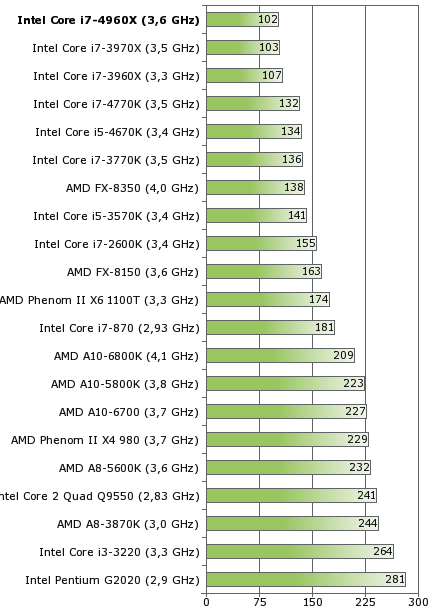 The following test involves transferring 100 pictures from a raw format to JPEG. As you can see, the closest competitor is around 40% slower than the i7-4960X chipset. In terms of FPS for gamers, both the Ivy and Sandy Bridge product lines are well ahead the game for the latest titles. The AMD FX (NASDAQ:AMD) processor is, by most gaming and video editing standards, outdated. However, if the difference in FPS is 180 to 120, for the casual gamer this will not be a concern, while it might be somewhat of an issue for the hardcore gamer who records gameplay and is aiming for perfection, and therefore, requires the latest technology. But yet again, AMD is not entirely off the game, as its products provide far greater value for money.
For example, in comparing the i7-3770k(320 $) vs the AMD FX-8350(200 $) there seems to be a negligible difference in performance when it comes to rendering and other tests, so why would the budget or general customer buy Intel's processors? Most likely they wouldn't. Price is important for many and on a performance basis, and seen from a price point of view, the AMD FX is better. My impression is that AMD puts up a decent competition and might even bring the margins down for Intel in this particular segment and even erode some of Intel's market share. But yet again, the story is different for many others, processors that are 40% faster and provide higher fps rates for the latest games can mean night and day for the enthusiasts who possess an adequate disposable income.
It is hard to acquire information upon the exact profitability of these chips, and understandably so, but a quick look at its 2012 FS gives us a hint.

The margins are substantially higher for the Data center group and PC Client group, which may suggest that the company at least makes an operating margin on its Ivy Bridge E CPUs greater than its PC client group. With the new Ivy Bridge-E marketed to be included in new server products made by of HP (NYSE:HPQ), Dell (NASDAQ:DELL) and Lenovo, the company is positioned to see the Data center group enjoy at least the historical growth rate for revenues. Although revenue has decreased from both HP and Dell, I do not think this will change the prospects of the growth itself for these partners in the future because:
Products come and leave the market, which can make the ratio look larger than the long term rate.
HP and Dell want the latest hardware, and Intel delivers products with top performance
HP and Dell have long-term partnerships with Intel and would see them as preferred suppliers as they have service more or less all around the world.
For Point A, it is certainly possible to argue that a substantial decline in an older product is a permanent decline and also that the company simply sells more to other suppliers, and thus it looks the ratio is dragged down for HP and Dell, although, on a relative basis, the ratio is declining.
Perhaps Intel is about to deflect a declining ratio to HP and DELL because of the increased efficiency with its upcoming and current model(s) of Ivy Bridge-E, nonetheless, the segment is poised to contribute to further revenue, due to the growing need for latest hardware from both the general customer and corporate customers alike, but might be partially stalled by less needy customers who would recognize AMD's competitive value. All in all, I expect to see Intel improve its margins and keep its R&D and CAPEX at high levels to keep its momentum in check. Think of the possibilities of further partnerships with HP and Dell in untouched regions, for example, the Ivy Bridge-E and all its product assortment. This means shareholders will not probably see its dividend ratio increase twofold because of CAPEX, however, it should increase with the increased revenue the coming years and increase its margin with the Ivy Bridge-E as one of the pillars.
Disclosure: I have no positions in any stocks mentioned, and no plans to initiate any positions within the next 72 hours. I wrote this article myself, and it expresses my own opinions. I am not receiving compensation for it (other than from Seeking Alpha). I have no business relationship with any company whose stock is mentioned in this article.