Many dry shipping stocks had a great week last week, as the Baltic Dry Index continued to climb upwards, reflecting once again increasing spot rates for dry ships. Last week, the index rose from 2046 to 2084 points. The index is a 4 part equally balance (25%) number between Capesize, Panamax, Supramax, and Handysize ships. Within the index, the Panamax rates rose 6.3% and the Supramax rates rose 4.1%.
For the last several weeks, dry shippers seemed to move together as a group, either in response to the Baltic Dry Index, profit-taking after a large rally, or some other macroeconomic news. This week, that trend broke. DryShips (NASDAQ:DRYS) was up 3.8% (but then dropped 6.98% in after hours), Star Bulk Carriers (NASDAQ:SBLK) dropped 11.6%, and Genco Shipping & Trading Limited (NYSE:GNK) dropped 7.8% even while most of the rest of the group continued to surge. Names such as Diana Shipping (NYSE:DSX) ran 1.0% and Navios Maritime Holdings (NYSE:NM) ran 5.1%.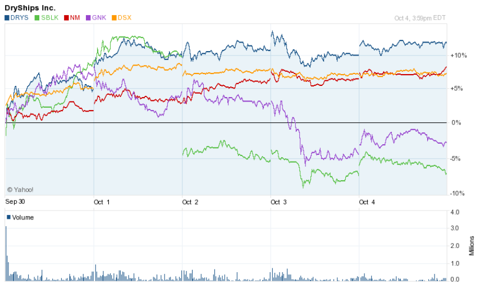 The difference this week is the issue of dilution. Many of these dry shippers have deep debt and interest expense. The sharp rise in the Baltic Dry Index created a share price rise in their stock prices. The sharp rise in stock prices has tempted some managements to take advantage with equity offerings.
DryShips dropped a bomb on shareholders late in the after hours on Friday. It plans to sell up to $200 million in equity. Its explanation didn't seem to make a lot of sense:
Drybulk shipping rates and ship values have increased recently and we believe this trend will continue particularly in the larger asset classes. Given the improved market backdrop, we believe this is an opportune time to flexibly access the equity capital markets to reduce some or all of our funding needs through 2014 that we currently estimate at $150 million. In addition, we are nearing agreements with certain banking syndicates to reduce our debt service payments over the next year and adjust certain financial covenant
DryShips basically said rates are going up and everything looks great going into 2014, so it's a great time to raise money now. Say what? If things are looking so great, why not wait for even better fundamentals and presumably better stock prices to raise equity? Perhaps the "in addition" mention was the real answer. It will help in its negotiations on its debt.
Star Bulk had a similar though more dilutive announcement during the week. The number of shares in its offering (up to 8,050,000 shares) is priced at $8.80 per share. Quite a lot of dilution considering its small market cap. However, unlike DryShips, it plans to use at least a large chunk of that money to acquire at least nine additional vessels, using the money to expand its business and hopefully it's profits.
Meanwhile, Genco Shipping plunged without any news of its own. As one can see from the chart below, Genco had a sympathy-effect sell-off in response to the Star Bulk news.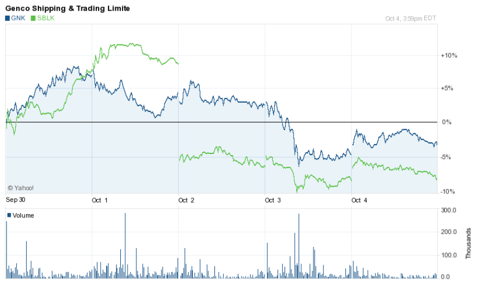 The market clearly fears Genco Shipping could be the next to raise equity, as it's in worse financial shape than any of the others in the group. Genco is raking in cash from the rise in spot rates, but its debt is at nightmarish levels. According to Genco's last two conference calls, it continues to negotiate with its creditors in regards to its current potential defaults coming March 31, 2014. If Genco takes a cue from DryShips and Star Bulk, it may also execute an equity raise that severely dilutes shareholders and hurts the stock.
Disclosure: I have no positions in any stocks mentioned, and no plans to initiate any positions within the next 72 hours. I wrote this article myself, and it expresses my own opinions. I am not receiving compensation for it (other than from Seeking Alpha). I have no business relationship with any company whose stock is mentioned in this article.