Heading into 2014, there are a couple of things I'm certain about:
1. My new years resolution, likely to be trying to give up dry martinis for the 30th year in a row, will fall flat on its face. Probably by January 10th, as well.
2. If history is any indicator, I'm likely to put on 20 extra pounds in the time between Thanksgiving and New Years Day.
3. Amarin (NASDAQ:AMRN) is most definitely, certainly, positively, not going to be trading at $7.18/share heading into 2014.
From its website:
Amarin Corporation is a biopharmaceutical company focused on the commercialization and development of therapeutics to improve cardiovascular health. Amarin's product development program leverages its extensive experience in lipid science and the potential therapeutic benefits of polyunsaturated fatty acids. Vascepa (icosapent ethyl) is Amarin's first FDA approved product and is available in the United States by prescription.
After the drug's approval, the company did not pair with any major pharmaceutical partners, brought on its own sales staff, and is taking a stab at launching Vascepa on its own. In the face of the stock losing a good portion of its value over the past six months, prescription data (provided by Symphony and IMS Health) continues to head in the right direction.
On July 3rd of this year, I announced that I was covering my Amarin short, and that yielded results over 30% in the face of Vascepa data and the valuation of the stock; Amarin was a buying opportunity. The stock has moved up from the mid $5 range to above $7 recently.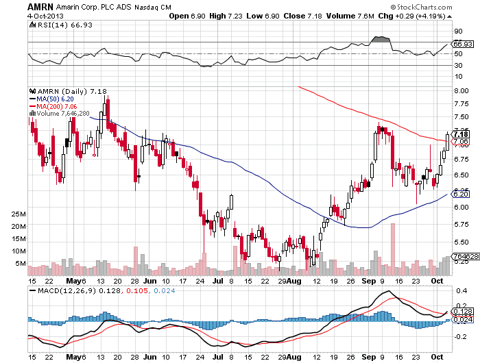 Over the last three months, Amarin's been great, yielding 20.5% for investors. Those who bought in after the company's FDA approval, however, have been hurt badly. In the last 12 months, Amarin has been down 42.7% - a waterfall that started after insiders dumped stock after the FDA's approval of Vascepa.
There are a couple of reasons why I'm going to argue that Amarin is going to be heading one way or another before too long. The technicals look encouraging for the first time in a while, but a lot is going to depend on upcoming catalysts for the company.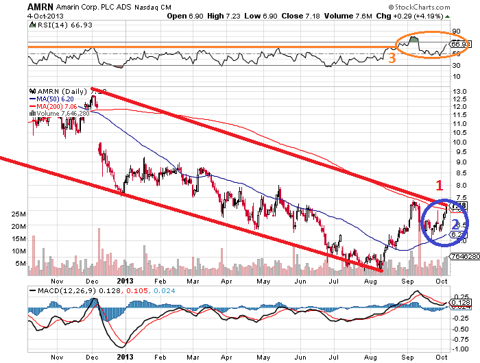 The technical picture for Amarin shows us a couple of key items:
1. The stock is heading for a major break of its one year downtrend.
2. The 50 DMA is starting to curl up towards the 200 DMA. If the stock continues upwards, we'll have a technical breakout upwards based on the "golden cross".
3. This is the first time in months that the stock has had enough bullish sentiment behind it to push the RSI over the 65-ish region; indicating that there's more buying in the stock now than there's been in months.
Aside from the technicals, you can see from my homemade chart below that Vascepa scripts continue to move in the right direction. As efficacy and usage are validated even further from physicians and patients, the refill rate continues to grow alongside of total scripts. Any aberration in terms of efficacy, we would have seen it in the script data a long time ago; the fact is that Vascepa works, and it's growing.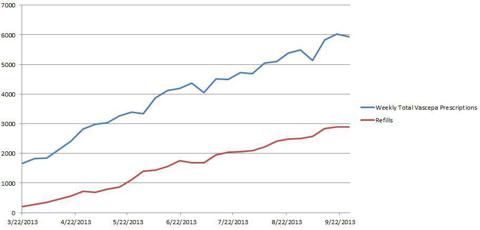 But, it's not just the script data that continues to move Amarin in the right direction - it's going to be the coming catalysts before the end of the year that do most of the dictation as to where the stock will be trading into 2014.
Aside from the continuing script data, Amarin has its ANCHOR indication approval coming down the pipe. The ANCHOR indication is for Vascepa to be used in the treatment of patients with high triglycerides (>200 mg/dL and <500 mg/dL) With Mixed Dyslipidemia. The Prescription Drug User Fee Act [PDUFA] date is December 20, 2013, when we should expect to know exactly what's going on with its potential approval.
There is absolutely zero doubt in my mind that the stock is going to trade on tons of volatility following the decision as to whether or not Amarin receives its ANCHOR approval. I think it's likely that they do receive it, but either way, you need to know that this is the definition of a binary event for a company. Approval opens Vascepa up to a patient population of roughly a third of the world; denial takes time off the clock for the company that's under the pressure cooker of not being profitable.
Aside from the ANCHOR indication and growing script data, Amarin has earnings coming up next month as well, where they're likely to offer a bit more insight and color into the state of operations at the company.
Risk still exists in Amarin, however. The company has taken on hundreds of millions in debt to fund its rollout of Vascepa, and as can be expected of any company in its nascent stages of growth, the balance sheet is ugly. We all know a generic Lovaza is going to be coming soon, which some would think to pose a risk to Vascepa. However, we know that due to the fact Vascepa is a different drug altogether and from Amarin's vast patent portfolio, that it is not likely to effect operations for Amarin going forward.
Updated List of Amarin Catalysts
October 16th, 2013 - FDA Advisory Committee
Early November - Q3 Earnings
December - ANCHOR indication decision
Ongoing - Potential for Vascepa to be granted NCE status
Here's something that will come as a surprise to AMRN longs - I'm finally in the Steve Rosenman corner. It's been a long road down for AMRN over the past year, but now that I'm confident that Amarin has turned a corner - both technically, and as a company - Rosenman's arguments give good reason to go long AMRN now. Also, I agree with him on his recent analysis of the NCE debacle:
Nobody saw a 12-month plus delay on NCE decision, including me. I have always maintained AMRN will achieve NCE and I still do. I have evaluated (with 3rd party sources) the science side, the regulatory side and the legal side and my conclusion is the delay is related to FDA process. The topic is moot now with all the patents, but still would provide a psychological thumbs up and additional upside to the stock (probably $2-3 worth).
Still Bullish on Amarin
I continue to believe here that Amarin is going to carry its momentum upwards towards the end of the year. I'm perpetually long on biotech companies that have binary events coming down the line; regardless of the outcome, they always seem to run up on emotion. I'm contending that Amarin is still a buy as it will continue to rise based solely on emotion leading up to the end of year catalysts coming down the pipe.
Alternate Trading Strategies
An alternate trading strategy, instead of simply going bullish on Amarin, would be to play an options spread. This is the perfect situation to play a straddle, as again - we get the impression that the stock is going to be anywhere but $7 come 2014.
A spread reduces risks because instead of betting on the stock to move one direction or another, you're simply betting on the volatility - the fact that the stock is going to be moving a considerable amount in one direction or another.
Best of luck to all investors.
Disclosure: I have no positions in any stocks mentioned, and no plans to initiate any positions within the next 72 hours. I wrote this article myself, and it expresses my own opinions. I am not receiving compensation for it (other than from Seeking Alpha). I have no business relationship with any company whose stock is mentioned in this article.