Precious Metals Weekly Market Wrap
After a dismal April-to-June period, the gold price notched its first quarterly gain in a year during the third quarter that ended last Monday. However, the start of the fourth quarter on Tuesday ushered in one of the worst sell-offs in months. Amid more calls of market manipulation, this came just as the U.S. government began a shutdown that is now in its sixth day and quickly transitioning into a debt ceiling debate and potential crisis.
Despite the turmoil in Washington, American investors continue to shun precious metals based on recent ETF outflows and slowing coin sales. In China, buyers were notably absent last week but will return from a national holiday on Tuesday and the gold market in India remains as confused as ever, though central banks around the world still hold the metal in very high regard, surprisingly, even here in the U.S.
Precious metals were lent some support by further declines in the U.S. dollar and the greenback could continue to fall given that Federal Reserve officials now seem inclined to taper their massive money printing effort later, rather than sooner. So far, inflation remains a "non-threat" and a decidedly negative factor for precious metals, however, that could change very quickly based on the latest trends in inflation expectations.
For the week, the gold price dropped 2.1 percent, from $1,336.20 an ounce to $1,311.20, and silver fell four cents to $21.74 an ounce. Gold is now down 21.7 percent so far this year, 31.8 percent below its record high of over $1,920 an ounce two years ago. The silver price has fallen 28.4 percent in 2013, now 56.1 percent below its record high near $50 an ounce in early-2011.
After the government shut down at midnight on Monday, the gold price tumbled more than $40 an ounce on Tuesday as shown below via INO.com, the bulk of the move coming just as markets opened when a large sell-order overwhelmed open bids and then triggered stop-loss orders, causing the price to plunge.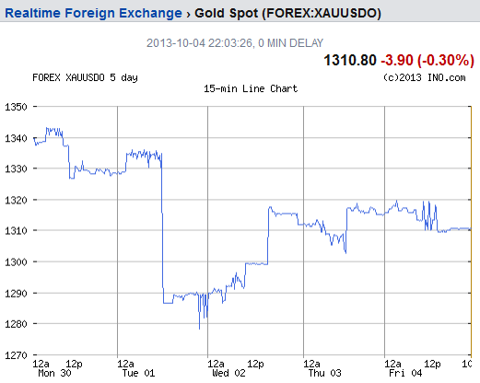 This is an all-too-familiar occurrence in metal markets as noted in this item on Wednesday, as this "smacks of market manipulation since any 'normal' seller would want to get the best price for his gold position, one that would definitely not be the result of quickly running through open buy orders at successively lower prices."
Admittedly, there were other gold-negative factors in the market when prices plunged, however, such concentrated selling has happened on a fairly regular basis this year, more so than in years past, and always to the same effect. Tuesday was the biggest one-day decline for gold since late June, and prices fell to their lowest level in two months before rebounding on Wednesday.
The gold price was the least of the concerns for elected officials in Washington as a government shutdown has shifted to a potentially far more dangerous debt ceiling debate and looming crisis that would result if the U.S. Treasury is unable to service its debt. To be sure, there is not much fear currently priced into financial markets in general and in the gold market in particular. That's not likely to change much in the days ahead, however, as the October 17th debt ceiling deadline draws closer, market sentiment will surely change and that may happen very quickly.
U.S. investors and money managers are clearly not afraid of what's happening in the nation's capital if gold ETF flows and coin sales are any indication. Last week, while the holdings at the iShares Silver Trust ETF (NYSEARCA:SLV) were little changed, still up more than five percent for the year despite a decline of nearly six times that amount in the silver price, outflows from the SPDR Gold Shares ETF (NYSEARCA:GLD) increased again. This was the fifth straight week of outflows, some 6.0 tonnes exiting the trust after declines totaling 15 tonnes the month prior. It also marked a fresh four-and-a-half year low for GLD holdings and cast new doubt on the idea that gold ETF selling has run its course after massive outflows earlier in the year.
The latest reports on gold and silver coin sales were similarly unimpressive as the U.S. mint reportedly sold 81 percent fewer gold coins in September than a year earlier and silver coin sales fell for the second straight month. Sales of American Eagle gold bullion coins fell to just 13,000 ounces last month versus 68,500 in September 2012, far below the monthly average of about 90,000 during the first eight months of this year. Though still on track for record sales in 2013 due to record buying earlier in the year, sales of American Eagle silver bullion coins fell to 3.01 million ounces last month, down some 16.9 percent from August and 7.4 percent lower than a year ago.
Part of the weakness in precious metals last week was surely due to markets for the world's most important gold buyer - China - being shut down due to the Golden Week holiday that concludes on Monday. Gold import data from Hong Kong is set to be released early this week and that should be a key factor in whether metal prices rise or fall in the days ahead. Reuters reported that gold premiums at the Shanghai Gold Exchange recently fell to as low as $7 after climbing to more than $40 over the summer in a sign that some analysts see as fading demand in the Middle Kingdom.
Last week, the Chinese government took further steps to deregulate the domestic gold market such as increasing the number of import licenses and easing restrictions on gold ownership by individuals, all moves that could bolster demand. For more on the Chinese gold market, see this fine report by Jan Skoyles at The Real Asset Company - Uncovering China's Rush for Gold - along with an excellent infographic here.
China is expected to become the world's number one gold consumer this year, surpassing India where the outlook for demand has grown more uncertain in the wake of the latest moves by the government to curb imports. A good example of this uncertainty were these two reports by major financial news organizations, both released last Tuesday:
India's Gold Imports Seen Declining on Curbs to Contain Deficit
India's October gold imports seen picking up sharply
One of the most important questions for precious metals markets that will be answered during the last few months of the year is how demand in Asia holds up now that the initial buying fervor prompted by sharply lower prices in the spring has worn off.
The views of central banks toward gold were in the news last week as Salvatore Rossi, director general of the Banca d'Italia, told those in attendance at a London Bullion Market Association conference that gold is a key component of bank reserves. Rossi said the metal "underpins the independence of central banks" and it "is unique among assets in that it is not issued by any government or central bank," implying that a financial asset with absolutely no "counter-party risk" is quite appealing.
Probably the most interesting central bank related gold market commentary last week was this story by Brett Arends at Marketwatch. It detailed a phone conversation with a U.S. Treasury official who was asked whether they would consider selling any of the nation's gold reserves in order to avoid a credit default later in the month if the debt ceiling is not raised.
Arends notes, "Their response? Not a chance."
In addition to government dysfunction in the U.S. and uncertain demand for precious metals in Asia, the question of if and/or when the Federal Reserve will taper its $85 billion per month money printing effort will be another key factor for precious metals prices here in the fourth quarter. Following talk over the summer of a near-certain reduction in Fed asset purchases this fall, we've now come full circle after recent events in Washington with Fed officials now "signaling" that bond purchases will continue at their current pace for, perhaps, many months to come.
In fact, analysts are now pondering whether the next change will be a decrease or an increase in Fed money printing and the latter would surely have negative ramifications for the U.S. dollar and, ultimately, inflation. Before rebounding on Friday, the U.S. dollar fell to an 8-month low and threatened a multi-year low, both of these developments being bullish for gold and silver.
As detailed in this recent commentary at U.S. Global Investors and as depicted below, some now see inflation as having put in an important bottom over the summer with nowhere to go but up.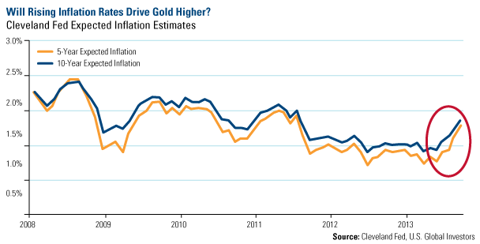 That is certainly not the view of most U.S. investors who, after the events of the last year, see inflation as posing no threat now or, seemingly, at any time in the future.
But that could change very quickly.
The report noted that data on inflation expectations compiled by the Cleveland Fed has recently shown a dramatic increase that, in the past, has signaled an imminent rise in inflation.
To be sure, there is widespread belief that if a quadrupling of the Fed's balance sheet doesn't cause higher inflation, nothing will, but that is at odds with such noted deflationists as David Rosenberg of Gluskin Sheff who made a dramatic about-face recently in calling for sharply higher levels of inflation, rather than disinflation or falling prices, due to rising labor costs and readings on inflation expectations such as the above.
In short, the long-awaited rise in inflation could be dead ahead and this would surely bolster gold and silver prices. The only problem is that we've heard those warnings so many times before in recent years and higher rates of inflation have yet to materialize.
Disclosure: I am long GLD. I wrote this article myself, and it expresses my own opinions. I am not receiving compensation for it (other than from Seeking Alpha). I have no business relationship with any company whose stock is mentioned in this article.
Additional disclosure: I also own gold and silver coins and bars.