There is a high likelihood that the majority of people reading this article have noticed a healthy degree of new home construction in their community. It is a great sign to see increased building activity, as this clearly illustrates a growing economy. I assume that most individuals who view a construction site see chaos for a few months that eventually becomes a new home. However for the analytical minded individuals (like myself), one cannot help but notice the amount of materials which go into building a new home. The mind starts racing with thoughts of how many companies are profiting from the housing recovery we are currently experiencing.
This led me to evaluate the highly fragmented and mostly privately held industry of building products suppliers. When you think of all the individual parts which go into a new home (windows, doors, lumber, appliances, flooring, paint, etc.) the task of picking one specific product segment to analyze can be rather overwhelming. Additionally, many of these individual product suppliers sell to various segments of the construction market (commercial buildings, apartments, etc.), and may not give you pure exposure to the housing recovery. One of my top picks in this industry with over 65,000 different product SKU's, is Builders FirstSource (NASDAQ:BLDR). The lack of single family housing starts over the past few years (see chart below), and expectations for a continued recovery moving forward keep this company well positioned to capture a large portion of this industries sales.

Source: Builders FirstSource Investor Presentations
Brief Understanding of the Business
Builders FirstSource is the third largest building products provider in the $129.2 billion single family home construction market (as measured by ProSales Magazine and NAHB, 2012). The company operates through five segments; lumber and lumber sheet goods, prefabricated components, windows and doors, millwork, and other products/services. Customers range from small custom homebuilders to large production homebuilders such as D.R. Horton (NYSE:DHI), PulteGroup (NYSE:PHM), Ryland Homes (NYSE:RYL), Lennar Corp. (NYSE:LEN), Standard Pacific Homes (SPF), Beazer Homes (NYSE:BZH), Hovnanian (NYSE:HOV) and M/I Homes (NYSE:MHO), to name a few. As you can see in the map below, Builders FirstSource operates in 33 markets across nine states. Approximately 45% of US housing permits issued in 2012 were in states which Builders FirstSource conducts business.
It is worth noting that the majority of the company's operations are in the southern portion of the country. While the South region may not be experiencing growth rates as rapid as the other three regions (Northeast, Midwest and West), the number of single family units is substantially higher. I will focus more on the importance of the housing starts statistic shortly. Keep in mind that in addition to the level of housing starts, the industry is affected by demographic trends, interest rates, employment levels, supply/demand for housing, credit availability, foreclosure rates and the economy in general.
Lack of Workers, good for business
A common theme in the homebuilding industry is a lack of construction workers. With demand for new homes far outpacing supply in the current market environment, builders are simply not able to find skilled labor quick enough. In the Federal Reserve's recently released Beige Book, the commentary from the Philadelphia region highlighted some of these issues:
"Significant cost pressures face builders as the long housing recession has disrupted the supply chain for materials and the pool of skilled workers. In addition, some builders have faced labor shortages due to higher wages offered for certain trades that are in demand for the Hurricane Sandy recovery."
Although this may appear to be just one part of the country, through my discussions with various homebuilders, in addition to a simple Google search of "shortage of construction workers", it appears the problem is widespread across the nation. In the chart below you can see employment levels for the entire country (blue line, left hand scale) and for the construction of buildings subsector (red line, right hand scale). Although this subsector includes both residential and nonresidential building construction (unfortunately the Bureau of Labor Statistics won't let you separate the two), the picture clearly shows that construction jobs have not recovered in a similar manner compared to the rest of the economy.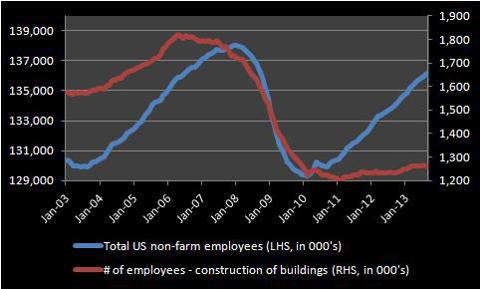 Source: Bureau of Labor Statistics
So why does this matter to Builders FirstSource? In the chart below you can see the breakdown of product segment sales. The prefabricated components segment stands to benefit greatly from the lack of skilled construction workers in the market. It takes much longer to build things like roof trusses, floor trusses, wall panels and stairs at the actual construction site. Additionally these components would have to be built by hand, thus increasing the likelihood of human error. Builders FirstSource constructs these components in their factories utilizing in house design teams and computers to cut and size wood, then delivers the finished good to the jobsite.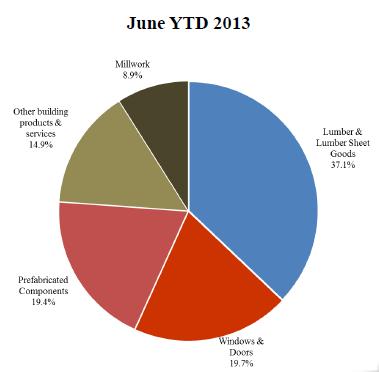 Source: Builders FirstSource Investor Presentations
Given the heightened demand for new homes, many builders are now outsourcing the building of prefabricated components to Builders FirstSource to save time as a result of the labor shortage. Of the five operating segments sales grew 28.5% from Q1 to Q2 of 2013 in prefabricated components, the fastest segment in the company. In the same quarter a year prior (Q2) sales grew 53% in this segment, only outpaced by lumber (although much of the lumber gain was a result of the commodity price increasing, not sales growth). Prefabricated components is currently the fastest growing segment for Builders FirstSource and one to keep your eye on moving forward. CEO Floyd Sherman shed some light on this during the recent earnings call, "… but I think even more than that is the labor issues that are cropping up in the field are certainly making components more attractive to the builders. We're seeing a continuation of the trend of builders wanting to make the switch back to components and even recognizing that traditional framing steel may be slightly more favorable from a cost standpoint. But from a labor standpoint, it definitely is a more attractive alternative, and I think that's probably as large a contributor to our increased sales of components."
Housing Starts
While Builders FirstSource has minimally expanded into multi-family and light commercial businesses, the primary focus still remains on single-family residential new construction. The company does not compete with home improvement retailers like Home Depot (NYSE:HD) and Lowes (NYSE:LOW), therefore remodeling activity indexes are not relevant for evaluating this company. The health of this company is largely tied to single family housing starts. In the table below you can see the past few years' worth of data for US Single family housing starts and Builders FirstSource's annual revenue. Although a short time period, the correlation between these two metrics is .9834, indicating a very strong positive correlation.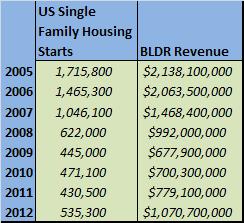 Source: Builders First Source SEC Filings and US Census Bureau data
The most recently released report on new home starts was made available in mid September and showed that single family starts were running at an annualized rate of 628,000 in August. The trend over the past few years has been that of increased new home starts, and given estimates from a number of housing research firms, is likely to continue growing over the next few years. If you reference the first chart at the top of this page, you can see that the lack of building throughout the downturn has lead to a substantial supply imbalance. The demand for new homes will take years to get back to sustainable levels based upon demographic and population growth, likely creating continued demand for products that Builders FirstSource offers.
I mentioned earlier that Builders FirstSource operates in the southern portion of the country. Although housing starts have not been growing as rapidly in this region, the table below shows the number of units started in this geographic location. There is tremendous opportunity to capture additional market share in this region even if housing starts were to remain stable. As Builders FirstSource continues to offer a high level of customer service, make strategic acquisitions and expand operations, the company stands well positioned to create a significant presence in its operating markets.
Source: US Census Bureau data
Valuation
With many investors looking to gain exposure to the housing recovery likely focusing on publicly traded homebuilders, the building product suppliers are likely overlooked. Additionally with a market cap just under $600 million and only five analysts listed on the investor relations page as offering coverage on the company, BLDR is relatively unknown. This offers an attractive investment opportunity for investors looking to build a position in the stock today. In the chart below is price-to-sales data from Thompson Reuters. As you can see, compared to the construction supplies industry and the broad stock market, shares appear to offer value utilizing a price-to-sales ratio. Sales have grown over 40% the past two quarters (year over year) compared to the S&P 500 growing at low single digit rates over the same period. Additionally, 2012 full year sales were 37% higher than the prior year, showing the performance potential during a continued housing recovery.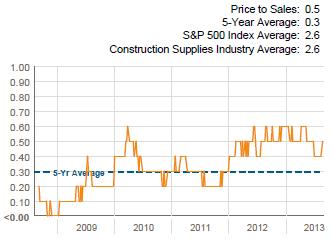 Source: Thompson Reuters
CFO Chad Crow estimated on the latest earnings call that sales could reach the $2 billion mark if housing starts were to reach the one million level. While we are likely years away from both of these scenarios, the potential is quite realistic. Focusing in on the short term opportunities, if we took a base case scenario of 30% sales growth in 2013, revenue would reach roughly $1.391 billion. Dividing this by a slightly higher diluted share count of 97,000,000 would leave shareholders with $14.35 in revenue per share. If the current P/S ratio remained at its current level (which may be too conservative), the share price by early 2014 would be roughly $7.18, 22% higher than current levels. Assuming my growth estimates are too low, shares could see significantly higher upside potential.
Risks and Concluding Remarks
There are a number of risks associated with investing in Builders FirstSource, for a full list I recommend reviewing the company's recently filed 10-K. It is worth mentioning that two firms own a significant portion of BLDR common stock. As of March 31st, 2013 JLL Building Holdings and Warburg Pincus Private Equity own 25.1% and 25.7% of the shares outstanding. While I am not waving any red flags at either of these companies, prospective investors should note that these two firms will have significant control over the operations and decision making at Builders FirstSource.
Builders FirstSource, like many companies, utilizes noncancelable operating leases. With 50 of the 70 facilities currently leased (the other 20 are owned), this is a significant expense for the company. Over the next three years (2013-2015), 62% of the $74 million in future minimum commitments will be coming due. These leases are likely to be extended, however rental rates may increase, thus reducing profit margins. Additionally during the period of 2007 - 2012 the company closed or idled a number of facilities and are still making payments per the lease obligations.
Consider your investment goals and objectives before initiating a position in Builders FirstSource and remember that the value of investments in equity securities, like BLDR, will fluctuate in response to general economic conditions and to changes in the prospects of particular companies and/or sectors in the economy. However in light of the opportunity to capture market share presented above, shares offer investors an attractive way to gain exposure to the recovery in single family housing starts.
Note: All data reported and graphed is pulled directly from Builders FirstSource SEC Filings, Press Releases, and Investor Presentations.
Disclosure: I have no positions in any stocks mentioned, and no plans to initiate any positions within the next 72 hours. I wrote this article myself, and it expresses my own opinions. I am not receiving compensation for it (other than from Seeking Alpha). I have no business relationship with any company whose stock is mentioned in this article.