(Editors' Note: This article covers a micro-cap stock. Please be aware of the risks associated with these stocks.)
How Will 3-D Printing and 3-D Modeling Come Together For a 21st Century Industrial Revolution? Ask Cimatron (NASDAQ:CIMT).
With the advent of 3-D printing and its much-hyped potential, 3-D modeling is often relegated to the sidelines in terms of coverage and importance. The main advantage of 3-D modeling in the manufacturing process is that it helps solve important design flaws and reduces costs. 3-D modeling helps designers and engineers further simplify complex designs such as buildings, engines and specialized machine tools.
According to a leading market research report, the 3-D modeling market is projected to grow to $7.7 billion by 2018.
Cimatron is an Israeli-based company that is the leading provider of integrated CAD/CAM software solutions for mold, tool and die makers as well as for the manufacturing of discrete parts in over 40 countries. With over 30 years of experience and over 40,000 installations, the company is very well established.
CIMT develops software that aids in 3D modeling through its two product lines, CimatronE and GibbsCAM. GibbsCAM offers solutions for programming machine tools while CimatronE is an integrated CAD/CAM solution for toolmakers and manufacturers of discrete parts. Cimatron is ranked among the top ten CAD/CAM suppliers worldwide, with subsidiaries in Asia, North America and Europe. Cimatron is in the same market alongside significantly larger companies such as Autodesk (NASDAQ:ADSK) and Dassault Systems (OTCPK:DASTY).
Why Cimatron Matters
Cimatron matters because it backs up its "The Future Is Now" hype. In August 2013, Cimatron and CoreTech System Co., Ltd., the makers of Moldex3D, together announced an agreement to deliver an integrated cooling simulation tool within Cimatron's software to address the growing need for more efficient cooling systems in the plastics industry.
Conventional cooling designs cannot cool down complex plastic parts evenly and efficiently, often resulting in poor quality and production problems. With the introduction of laser sintering technology in 3-D printing, mold cores and inserts manufactured by 3-D printing will become more reliable.
3D printing is considered additive manufacturing, which involves taking a raw material and melting it into microscopic layers until it creates a three-dimensional (3D) object. While the 3D printing industry itself is nearly three decades old, the 3D Printing industry has surged ahead in recent years. Driven by rapid technological developments, falling costs and new applications for 3D printing, the market for printed parts alone will be $8.5 billion by 2025.
The efficiency of Cimatron's software for use in 3-D printing solutions such as with Molded is also bolstered by an agreement signed in October with MachineWorks Ltd for the integration of Polygonica into its next release of CimatronE.
Polygonica's mesh/STL CAD capabilities augment the CimatronE hybrid modeling system by adding powerful enhancements to the existing solid/surface/wire frame CAD modeling by adding Mesh-based modeling capabilities. Mesh modeling is often used in a variety of end-user applications, such as reverse engineering and the production of complex 3-D models for use in such devices as artery stents or body armor.
In a press release detailing the agreement (linked above), CEO of Cimatron Danny Haran commented:

"MachineWorks is a long-time partner of Cimatron. Our recent agreement, enabling the integration of the Polygonica technology into CimatronE is yet another step in strengthening our partnership with MachineWorks in support of existing and future manufacturing technologies. We believe Polygonica's state-of-the-art mesh-based modeling can help us bring significant added value to both CAD and NC users."


"We are pleased to provide yet another leading technology to Cimatron and its customers", said David Manley, Managing Director of MachineWorks. "Polygonica is used in the CAD industry, but is also aimed at 3D Printing and Additive Manufacturing users and bureaus. It provides fast, built-in and fully automatic solid model healing to ensure that all models are ready for printing. We are excited about its future potential and look forward to continue working closely with Cimatron."
Real Profitability, Real Science
Cimatron's technology may be futuristic and far-fetched but its revenue and profitability are not. The company only maintains $57 million in market cap as of this writing, yet it reported revenue of $43 million and gross profit of $37 million on 9.36 million shares outstanding and 7.54 million in the float. The company maintains $9.5 million in cash and $2.5 million in debt.
Cimatron's results for the second quarter of 2013 include the following: second quarter revenues of $11.0 million, a new record. Along with a $3.4M increase in net cash to $7.1M, the company reported an 89% gross margin and 14% operating margin and earned $0.13 a share on a non-GAAP basis. Cimatron has grown revenues by 5% annually; profitability has grown at 20% while expenses have remained flat.
Chardon Capital Markets also released coverage on Cimatron, rating the company a "Buy" with a price target of $10, noting that:
"Acceleration in demand for 3-D Printing is expected to be driven by lower cost of 3D Printers, refinement in technology for its use in custom manufacturing and its increasing adoption by individuals."


"CIMT, by leveraging its deep expertise and experience in the CAD/CAM software, is well positioned to tap growth opportunities in the burgeoning 3-D Printing market, in our view."
Cimatron also completed a public offering of its shares in September. The total number of ordinary shares sold numbered 1,035,000, comprising 900,000 ordinary shares originally offered and 135,000 ordinary shares exercised as an over-allotment option at a price to the public of $6.00 per share. Net proceeds to Cimatron from the offering were approximately $5.8 million with Roth Capital Partners, LLC acting as the manager on the offering.
Cimatron maintains a $.16 quarterly dividend, while bigger companies such as Dassault Systems and Autodesk do not.
Technical Analysis by Harry Boxer (TheTechTrader.com):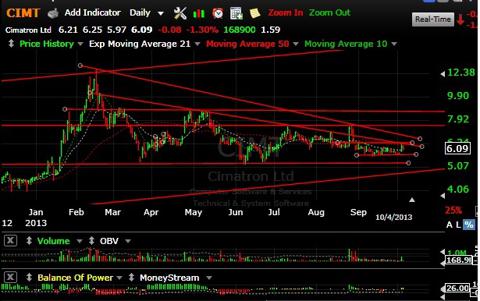 Cimatron: After a strong run from September 2012 to February 2013,running from $3 to near $13, CIMT then began a descent, which saw it drop back to just above the $5 level in March of this year and successfully retested that level twice this past June. That was followed by 2 rallies back to near $7.50 and a pullback consolidation over the last 5 weeks. Currently near $6, CIMT appears to be nearing the apex of a 8 month coil pattern that we believe will soon resolve in an upside surge and breakout. Once past the $7.50 double top resistance, we think CIMT can move to our targets are at $8.50, $ 10 & $12
Conclusion
Terry Wohlers, President of Wohlers Associates who is known as one of the leading authorities in 3-D printing, was also the first member nominated to an advisory board on 3-D printing established by Cimatron in March. Wohlers said that 3-D printers makers need to encourage software makers such as Autodesk, Dassault Systems and Siemens (SI) to integrate 3-D printing programs into their systems.
With exciting new developments unfolding in 3-D printing technology, there is no question that this industry is capturing the attention of investors. Based on its astronomical profitability, relatively low trading price and huge growth potential, Cimatron should also be capturing investors' attention. We believe that with a larger volume of sales and profitability, Cimatron will continue to climb in value.
Disclosure: I am long CIMT. I wrote this article myself, and it expresses my own opinions. I am not receiving compensation for it (other than from Seeking Alpha). I have no business relationship with any company whose stock is mentioned in this article.
Additional disclosure: I was assisted by my associate editor, Anthony Orbanic.