As anyone who pays attention to the realm of streaming video knows, the first legitimate challenger to Netflix (NASDAQ:NFLX) was Amazon (NASDAQ:AMZN) with its Prime service. Now, as the industry has expanded from streaming video services to streaming video devices, sources close to the company suggest that Amazon is again looking to become a disruptive force in the market by releasing a set-top device of its own. Competitors ranging from Apple (NASDAQ:AAPL) TV to Google (NASDAQ:GOOG) Chromecast to Roku have established beachheads in the device market; Samsung (OTC:SSNLF) recently purchased Boxee to get into the market and Intel (NASDAQ:INTC) is also working on its own version. While no specific release date has been mentioned for the Amazon device, as evidence of the device mounts, this is good news for shareholders and could serve as a catalyst to buy shares ahead of an official announcement.
The Complete Package
If Amazon brings a streaming device to market, it would make it the first major company to offer a complete video streaming and hardware package. Not only could Amazon then offer Prime content, but find ways to monetize other streaming sources like Netflix, Hulu and the myriad other apps and content providers that already reside on Roku and others. Wedbush Securities analyst Michael Pachter said in the article linked above, "If Amazon can produce a box that will have a truly complete package of streaming sources, that would be very compelling." Pachter told the Wall Street Journal that he is relying on the licensing deals various apps already have with other services as evidence that Amazon will be able to populate its device with the most popular options.
Where one can see Amazon really capitalizing -- as has always been CEO Jeff Bezos's vision for Amazon products and services -- is through the cross-selling functionality that Amazon could bring to the industry. By providing a streaming video box coupled with streaming video services, the company will be able to collect large quantities of valuable information about its customers. Beyond the obvious ideas, like providing streamlined merchandising for blockbuster movies, Amazon may put itself in the position to offer highly targeted ads to advertisers.
When competing with companies like Apple, Google, Intel and Samsung, Amazon has its work cut out for it -- particularly given the attention the industry receives. Apple TV, which retails for $99, offers great functionality to iOS users, and offers Apple's typical ease of setup and use. Google Chromecast is cheap by comparison at $35, although critics have found fault with the fact that the device does not accommodate casting local content. Intel's service promises to be high-end, but how successful it will be remains to be seen. Finally, if Samsung can make Boxee a central part of its ecosystem, the service could become a force to be reckoned with.
A Prime Enhancement
One of the reasons that Amazon may wish to introduce a set-top box is to help drive sales of its $79 per year Prime service. Amazon's service is slightly less than Netflix and also offers expedited shipping on many products sold by the online retailer. Particularly while the industry remains in its relative infancy, differentiation is critical. If Bezos follows his typical modus operandi of selling devices at roughly cost, then consumers will have an attractive option that will help get them into this world on the inexpensive end of the spectrum.
Is it Investible?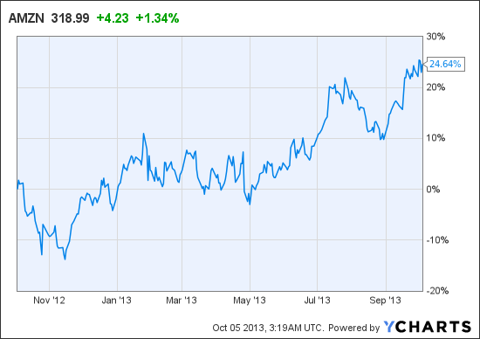 Amazon is currently trading just below its 52-week high, despite continuing to produce no positive earnings results. The most common criticism of the stock is that it will need to show some earning power eventually. Even with that background, the stock has continued to trade higher and gain ground in the industries in which it competes.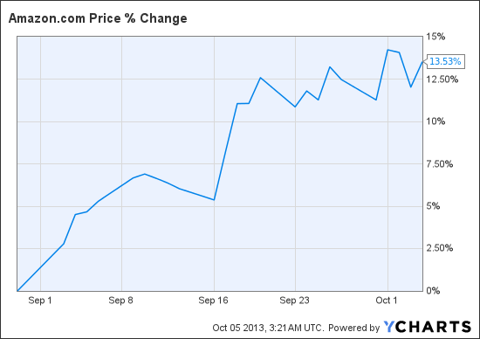 While the report may have helped the stock since the story broke, shares are still up nearly 14% since the beginning of September. Additionally, despite the lack of earnings, Amazon has seen year-over-year revenue growth of 22.4%, outpacing the industry average of 17.8%. Furthermore, with a debt-to-equity ratio of 0.35, Amazon is well cashed up. As we look ahead to the holidays, if Amazon can bring the set-top box to market in time for 4Q sales, these numbers could strengthen. As things currently stand, Amazon looks well positioned and should be considered for your tech portfolio.
Disclosure: I have no positions in any stocks mentioned, and no plans to initiate any positions within the next 72 hours. I wrote this article myself, and it expresses my own opinions. I am not receiving compensation for it (other than from Seeking Alpha). I have no business relationship with any company whose stock is mentioned in this article.